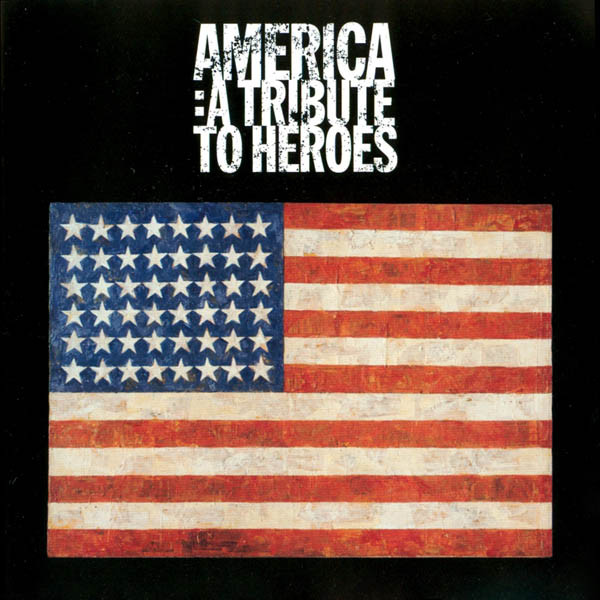 America: A Tribute to Heroes
Den 21 september 2001 såg jag direktsändningen på VH1 av "America: A Tribute to Heroes". Det var en välgörenhetskonsert som svar på terrorattackerna den 11 september 2001 till förmån för brandkåren och polisen i New York och alla som dog eller skadades i terrorattackerna.
Konserten arrangerades av och sändes direkt parallellt i Fox, ABC, NBC och CBS. Den sändes samtidigt i 210 länder och i en lång rad TV-kanaler. Jag såg den på Canal+ eller VH1.
Bruce Springsteen
Bruce Springsteen var lysande när han sjöng "My City of Ruins", som vid framträdandet ännu inte var släppt på skiva. I kören finns bl a Steve Van Zandt, Clarence Clemons och Patti Scialfa från The E Street Band.
U2
U2 fick hjälp av Dave Stewart och Natalie Imbruglia i en mycket bra "Walk on".
Tom Petty and the Heartbreakers
Tom Petty and the Heartbreakers bjöd på en bra "I Won't Back Down".
Limp Bizkit & John Rzeznik
Limp Bizkit och John Rzeznik (från Goo Goo Dolls) gjorde en mycket bra cover av Pink Floyds "Wish You Were Here".
Jon Bon Jovi & Richie Sambora
Jon Bon Jovi och Richie Sambora gjorde en bra akustisk version av "Livin' on a Prayer".
Eddie Vedder, Mike McCready & Neil Young
Eddie Vedder och Mike McCready (från Pearl Jam) fick hjälp av Neil Young under "Long Road".
Willie Nelson & Ensemble
"America: A Tributo to Heroes" avslutades av Willie Nelson och hela den Los Angeles-baserade ensemblen som sjöng "America the Beautiful" tillsammans.
Det är många kändisar på scenen. Allt från musiker som Willie Nelson, Neil Young, Mariah Carey, Tom Petty och Stevie Wonder, till skådespelare som Julia Roberts, Brad Pitt, Clint Eastwood, Cameron Diaz och Halle Berry, samt boxningslegendaren Muhammad Ali.
Alla band/artister som spelade på America: A Tribute to Heroes
Bruce Springsteen – My City of Ruins
Stevie Wonder (with Take 6) – Love's in Need of Love Today
U2 (with Dave Stewart & Natalie Imbruglia" – Peace on Earth (intro) / Walk on
Faith Hill – There Will Come a Day
Tom Petty and the Heartbreakers – I Won't Back Down
Enrique Iglesias – Hero
Neil Young – Imagine
Alicia Keys – Someday We'll All Be Free
Limp Bizkit & John Rzeznik – Wish You Were Here
Billy Joel – New York State of Mind
Dixie Chicks – I Believe in Love
Dave Matthews – Everyday
Wycleaf Jean – Redemption Song
Maria Carey – Hero
Jon Bon Jovi & Richie Sambora – Livin' on a Prayer
Sheryl Crow – Safe and Sound
Sting – Fragile
Eddie Vedder & McCready (with Neil Young) – Long Road
Paul Simon – Bridge Over Troubled Water
Celine Dion – God Bless America
Willie Nelson & Ensemble – America the Beautiful
Mer om America: A Tribute to Heroes