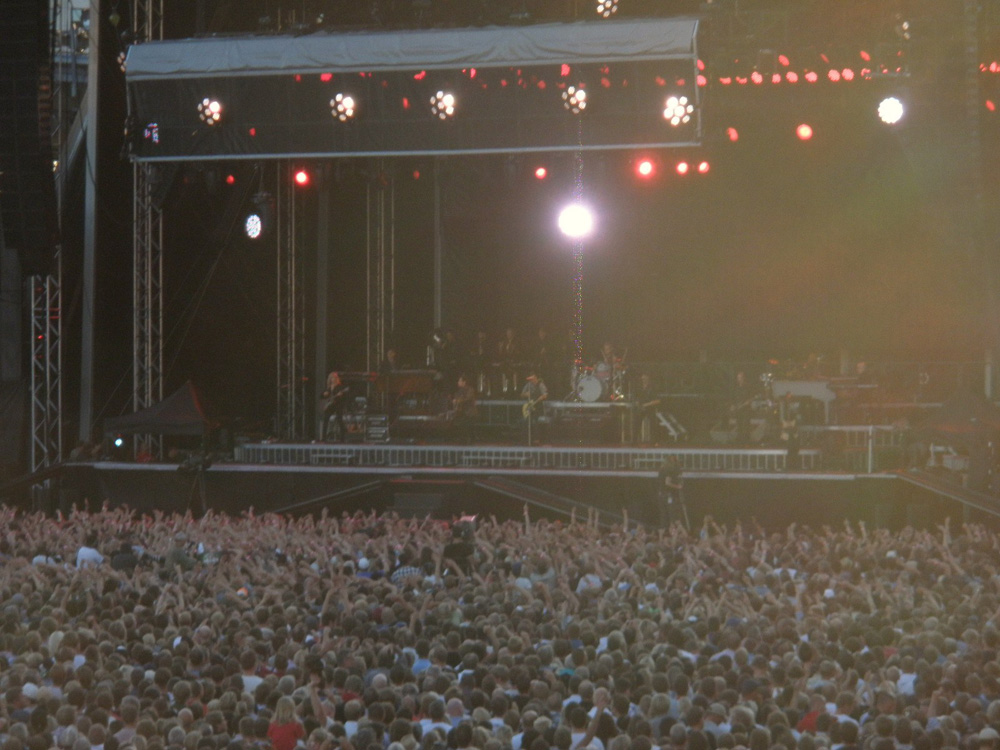 Bruce Springsteen & The E Street Band live i Göteborg

Den 27 juli 2012 såg jag och Maria en mycket bra konsert med Bruce Springsteen & The E Street Band på Nya Ullevi i Göteborg. Den var min 15:e Springsteen-konsert. Det skulle bli en till dagen därpå.
Fredagen var mycket varm och vi njöt i solen när Bruce körde igång med en grymt bra version av The Promised Land. Det är få låtar som är bättre än denna när Bruce spelar munspel som få andra. Den följdes av en mycket bra Prove It All Night där Bruce och Steve delar mikrofon nästan hela låten.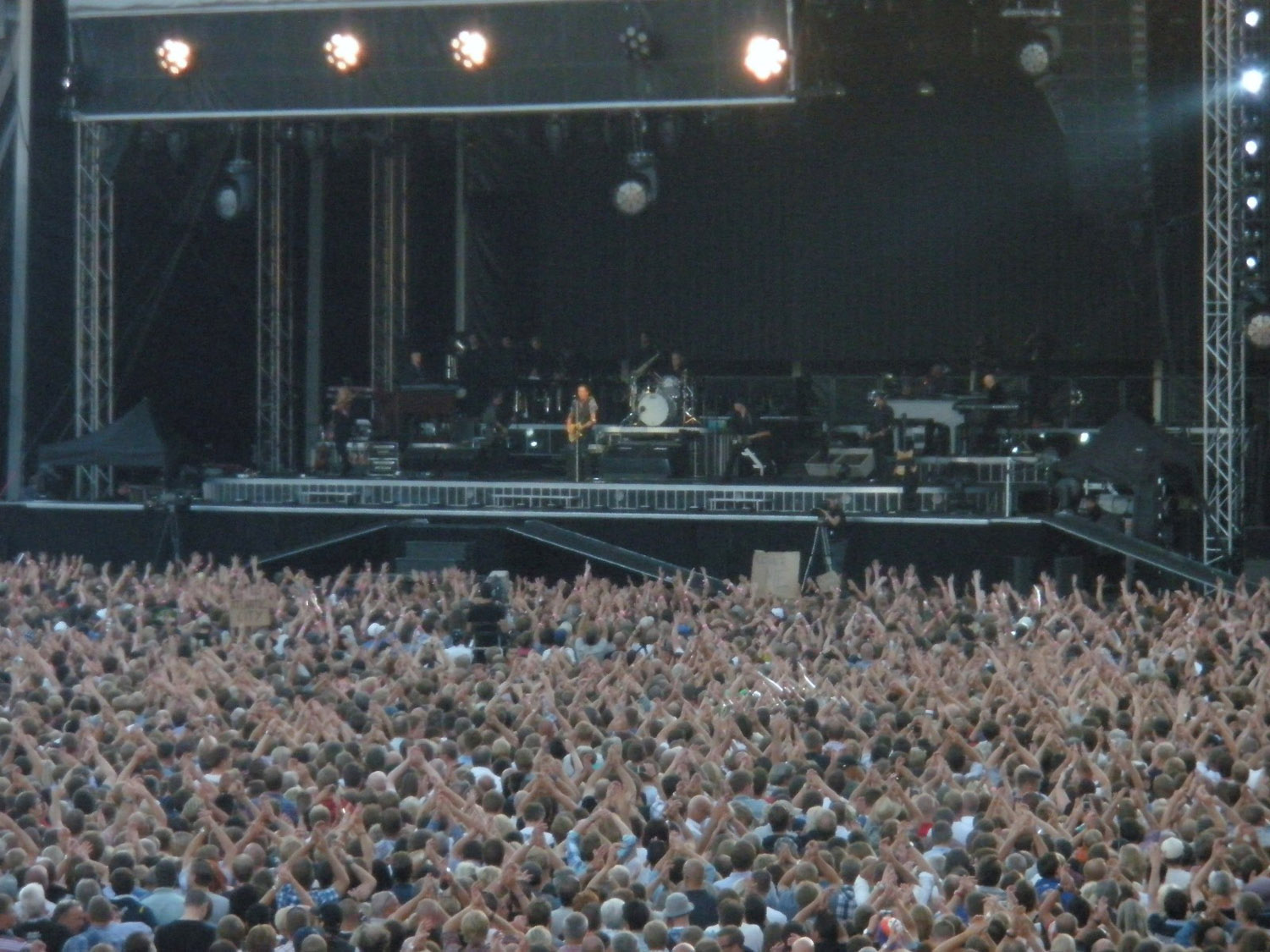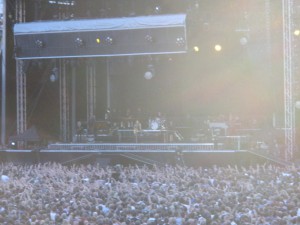 Lite senare var det fullt ös igen med My Love Will Not Let You Down som är en av de bästa låtarna från Tracks. Sedan 4 bra låtar från nya albumet, We Take Care of Our Own, Wrecking Ball, Death to My Hometown och My City of Ruins.
Bruce är ofta nere vid publikhavet medan Nils Lofgren, Little Steven, Roy Bittan, Max Weinberg, Gary Tallent och de andra rockar vidare på scen.
Sedan kom tyvärr ett lite mindre bra parti med lugna och halvlugna låtar. Konserten tog fart igen med Working on the Highway, Darlington County och Waitin' on a Sunny Day. Dessutom en fullständigt lysande version av den fantastiska balladen Drive All Night. Bruce säger efteråt att det var den bästa version de någonsin gjort av låten.
Sista låtarna före extranumren var grymt bra. The Rising, Radio Nowhere och så världens bästa låt – Badlands. Det var en sagolikt tryck på konserten då, men det skulle komma ännu mer…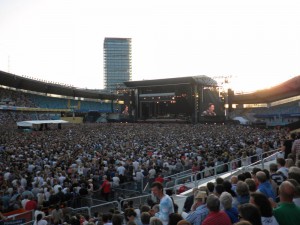 Konserten varade 3 timmar och 45 minuter, men det var de avslutade 2 timmarna som var helt otroliga. Extranumren började med en mycket bra We Are Alive och sedan Born in the USA och Born to Run på raken.
Rosalita (Come Out Tonight) har alltid varit en stor favorit, men det var en bit ifrån konserten 1985. Dancing in the Dark som jag aldrig varit så förtjust i på skiva är numera live kanonbra.
Sedan var det dags för Tenth Avenue Freeze Out… När Bruce sjunger "and the Big Man joined the band" stannar musiken och en fantastisk hyllning till Clarence "Big Man" Clemons visas på storbildsskärmarna. Publiken bara jublar över denna mäktiga uppvisning innan låter fortsätter.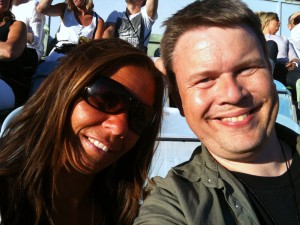 När Danny Federici dog tog Charles Giordano platsen vid keyboardsen, men Clarence Clemons är oersättlig. Bruce har fått ta en en hel blåssektion för att någorlunda uppväga förlusten – däribland Clarence brorson Jake Clemons.
Avslutningsvis blir det en grym version av Twist and Shout. Jag och Maria lämnar Ullevi lyckliga över ännu en fantastisk Springsteen-konsert. Vi anade inte hur morgondagen skulle bli…
Bruce Springsteen & The E Street Band
Bruce Springsteen (Sång, gitarr, munspel)
Roy Bittan (Piano, synthesizer)
Little Steven (Gitarr, mandolin, sång)
Nils Lofgren (Gitarr, sång)
Gary Tallent (Bas, sång)
Max Weinberg (Trummor)
Övriga musiker
Charles Giordano (Klaviatur)
Soozie Tyrell (Violin, gitarr, sång)
Jake Clemons (Saxofon)
Barry Danielian (Trumpet)
Clark Gayton (Trombon)
Ed Manion (Saxofon)
Curt Ramm (Trumpet)
Curtis King (Sång)
Cindy Mizelle (Sång)
Everett Bradley (Slagverk, sång)
Michelle Moore (Sång)
Turné
Wrecking Ball Tour
Publik
66 018 st (publikrekord)
Recensioner
4 – Bossen är tillbaka på allvar – Anders Nunstedt, Expressen
4 – Svettigast någonsin – Markus Larsson, Aftonbladet
Videos
Wrecking Ball
Death to My Hometown
Spirit in the Night
We Are Alive