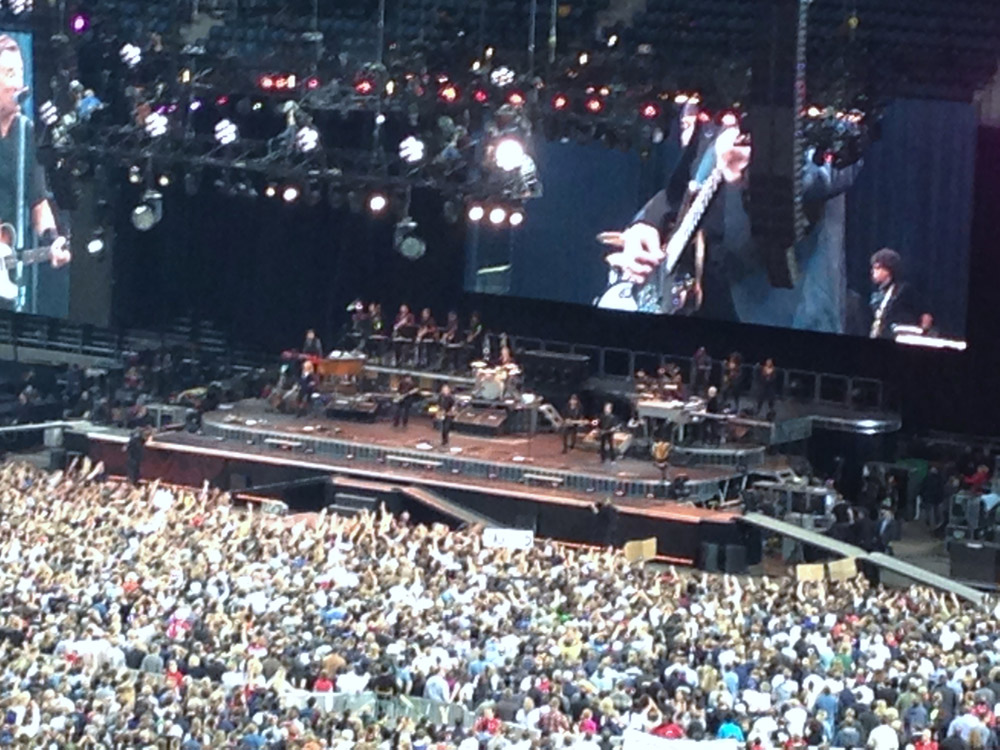 Bruce Springsteen & The E Street Band live i Stockholm

Den 3 maj 2013 såg jag en fantastisk konsert med Bruce Springsteen & The E Street Band på Friends Arena i Stockholm. Bruce är världens bästa artist och det visade han ännu en gång.
Kvällen på Friends Arena började dock sådär. Jag är grymt höjdrädd och när jag öppnade dörren till läktaren och såg var min plats var darrade det rejält i benen – översta läktaren och bara en rad till stupet till läktaren under… det darrade rejält i hela kroppen och jag kunde knappt titta. Det blev dock bättre när bandet kom in på scen och ljusen släcktes ner.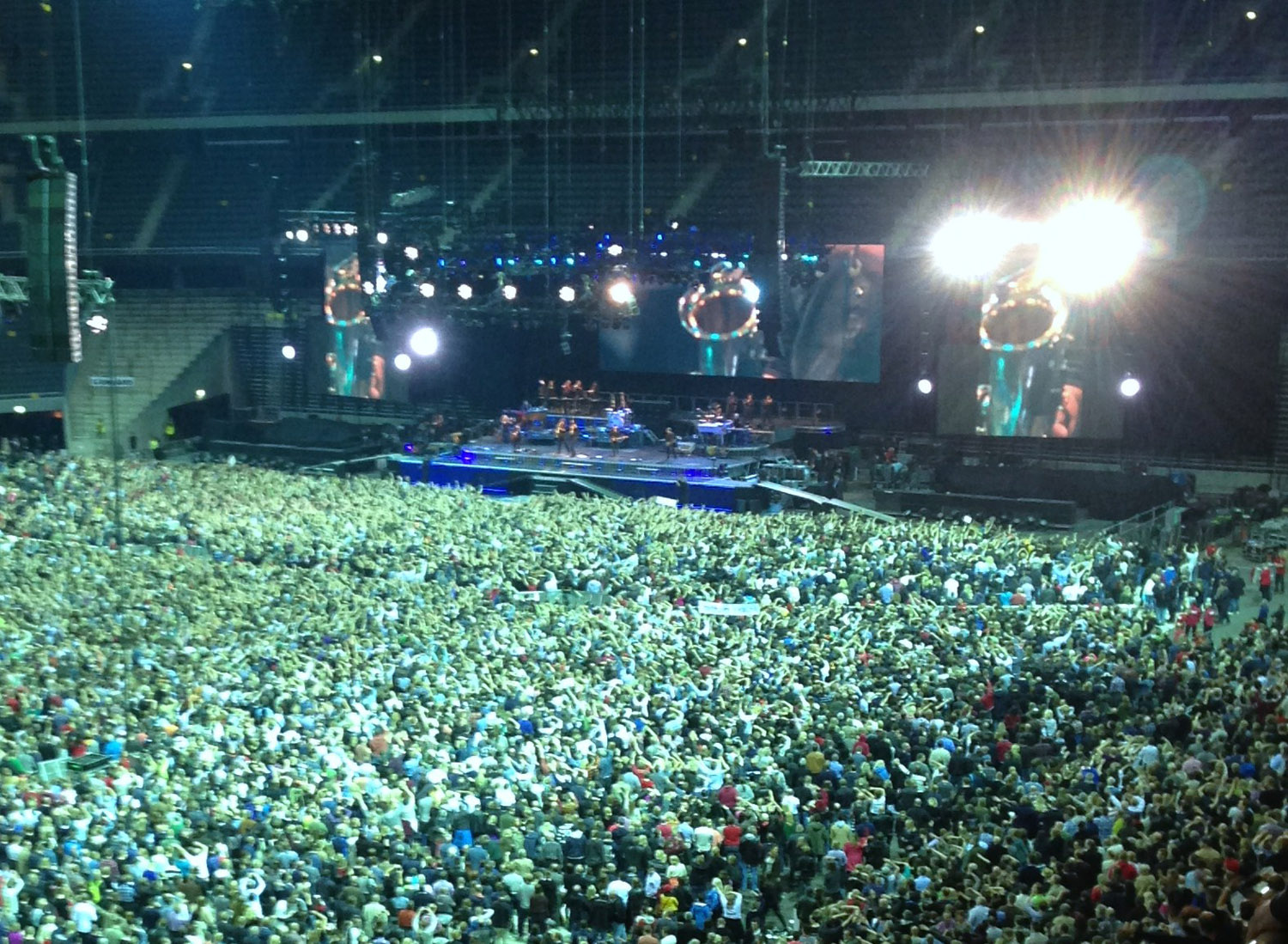 Bruce startade i fullt ös med We Take Care of Our Own och inte minst Out in the Street där Jake Clemons briljerade på saxofonen. Titellåten från senaste plattan Wrecking Ball följdes av suveräna The Promised Land med grymt munspel, Death to My Hometown och Spirit in the Night.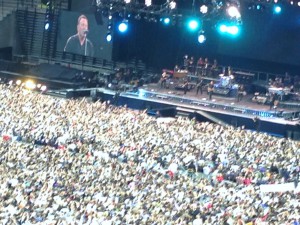 Då kommer sensationen. Bruce berättar hur mycket han och The E Street Band gillar Sverige och att de spelade i Stockholm 1975 på en av sina första spelningar utanför USA och kommit tillbaka med glädje många gånger sedan dess. Han vill tacka sina fans, deras föräldrar, vänner osv och hade funderat på hur. Så därför kommer man ikväll att spela hela Born to Run-skivan, låt för låt, från början till slut. Det blir ett enormt jubel och munspelet kommer fram igen i en formidabel version av Thunder Road.
Under hela Wrecking ball-turnén har Tenth Avenue Freeze-Out haft en stor hyllning till Clarence Clemons, så också ikväll. När textraden "The Big Man joined the band" kommer blir det en vacker kavalkad av bilder med klassiska ögonblick med Clarence. Fruktansvärt mäktigt!
Night och Backstreets är två grymt bra rocklåtar som alltför sällan spelas live. Jag har hört dom ett par gånger live tidigare, men sällan så bra som ikväll.
När Born to Run drar igång tänds hela arenan upp och det blir en fullständigt lysande uppvisning i hur rock'n'roll ska spelas. Grymt ös och kvällens bästa låt.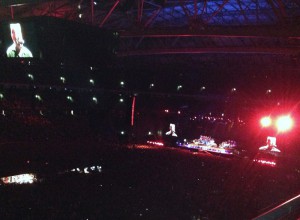 She's the One har alltid varit en av mina favoriter och den är mycket bra även ikväll. Meeting Across the River är också en bra låt.
Born to Run-delen avslutas med en magnifik version av den enastående Jungleland. Detta mästerverk var också Clarence Clemons stora höjdpunkt med det enorma saxofonsolot. Hans brorson Jake Clemons gör det också lysande.
Det var slutet på Born to runs 8 låtar – det bästa album som någonsin gjorts. Det var riktigt stort att höra det live. Bruce gjorde det några gånger i USA för ett par år sedan, men jag tror det är första gången han gjort det i Europa.
Bruce säger "And now, on with the show" och bandet börjar spela Darlington County. Bruce rör sig som massor av gånger under konserten nere bland publiken framför scenen.
Kvällens enda dåliga låt, Pay Me My Money Down följs av Shackled and Drawn, Waitin' on a Sunny Day och The Rising.
Badlands är världens bästa kväll och det är som alltid en magisk stämning. Sista låten före extranumren är Land of Hope and Dreams.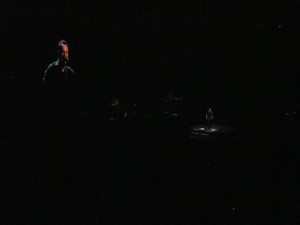 The E Street Band lämnar scenen, men Bruce stannar kvar och gör en sällsynt cover av Mountain of Love, som inte är någon av de bästa låtar av andra artister han spelat, men ändå kul att höra live.
Resten av konserten är en magisk uppvisning om hur man ska avsluta en konsert. Det börjar med en mycket bra version av Born in the USA med Mighty Max Weinberg som bankar på trummorna.
Bruce showar loss ordentligt under Glory Days där även Elliott Murphy gästar. Bobby Jean är fruktansvärt bra. Även Dancing in the Dark har de sista åren utvecklats till en mycket bra rocklåt.
Sist men absolut inte minst är det dags för "The Stadium Breaker" – Twist and Shout. Det blir den 27:e och sista låten för kvällen. Man går från arenan och har lite svårt att ta in att detta förmodligen är den bästa inomhuskonsert jag sett med Bruce Springsteen & The E Street Band. Den når inte riktigt upp till Ullevihöjderna, men det kan man inte begära. Att höra hela Born to Run var grymt!!!
Bruce Springsteen & The E Street Band
Bruce Springsteen (Sång, gitarr, munspel)
Roy Bittan (Piano, synthesizer)
Little Steven (Gitarr, mandolin, sång)
Nils Lofgren (Gitarr, sång)
Gary Tallent (Bas, sång)
Max Weinberg (Trummor)
Övriga musiker
Charles Giordano (Klaviatur)
Soozie Tyrell (Violin, gitarr, sång)
Jake Clemons (Saxofon)
Barry Danielian (Trumpet)
Clark Gayton (Trombon)
Ed Manion (Saxofon)
Curt Ramm (Trumpet)
Curtis King (Sång)
Cindy Mizelle (Sång)
Everett Bradley (Slagverk, sång)
Michelle Moore (Sång)
Elliott Murphy (Gitarr, sång på låt 24)
Turné
Wrecking Ball tour
Publik
55 020 st (fullsatt)
Recensioner
4 – Anders Nunsted, Expressen
4 – Håkan Steen, Aftonbladet
Videos
Thunder Road
She's the One
Hela konserten (audio)