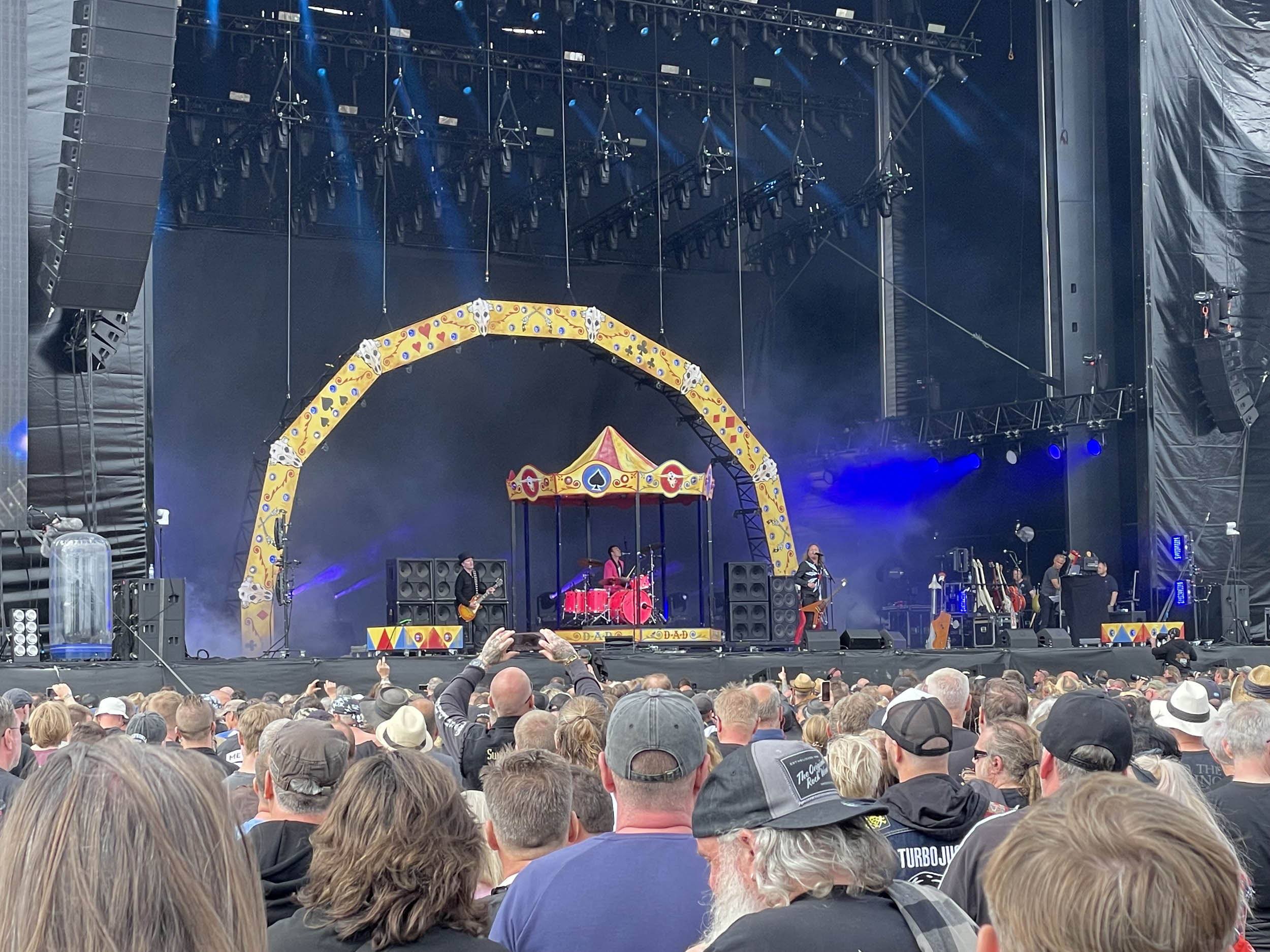 Den 10 juni 2022 såg jag D-A-D live på Festival Stage under Sweden Rock Festival i Norje.
D-A-D är Danmarks bästa rockband och jag hade sett dem live 4 gånger tidigare.
Det är en skön eftermiddag när D-A-D kommer in på scen och öppnar i bästa stil med "Riskin' It All" från albumet med samma namn (vilket är deras bästa). Den följs av "Burning Star" från senaste albumet "A Prayer for the Loud" och därefter en fenomenal version av "Jihad". Jäklar vilken start på konserten.
D-A-D har ibland lite spektakulära scenbyggen. Denna gång ser det ut som ett litet tivoli. Trummisen Laust Sonne sitter inne i en karusell som snurrar då och då – ofta i samband med ett trumsolo.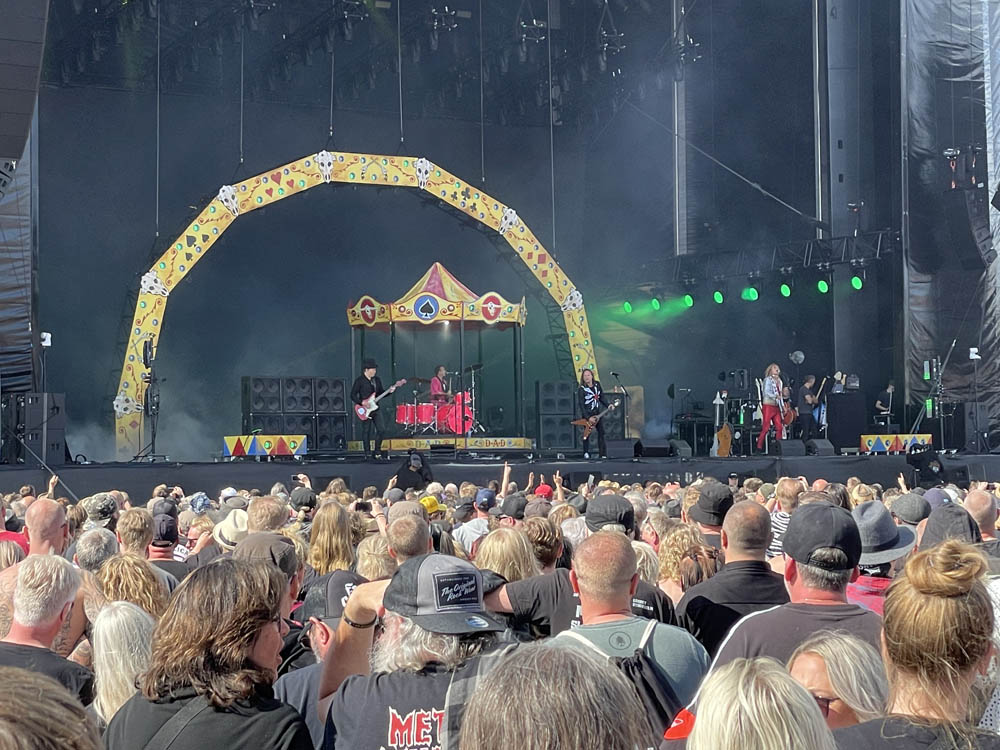 Bandet är på ett strålande humör, inte minst sångaren Jesper Binzer som skojar och pratar svenska emellan låtarna. De gör en lysande version av "Grow or Pay". En bit in i låten drar karusellen igång. Stora applåder efteråt.
Resten av konserten är makalöst bra. Det börjar med en ösig "Riding with Sue" från första plattan "Call of the Wild" och sedan en tung version av "Rim of Hell" från "No Fuel Left for the Pilgrims".
"Bad Craziness" är lysande. Basisten Stig Pedersen har en rad helt unika baser som han skiftar från låt till låt. Jesper Binzer är en kanonbra sångare. Hans bror Jacob Binzer är en sjukt bra gitarrist. Sist men inte minst trummisen Laust Sonne som är helt grym.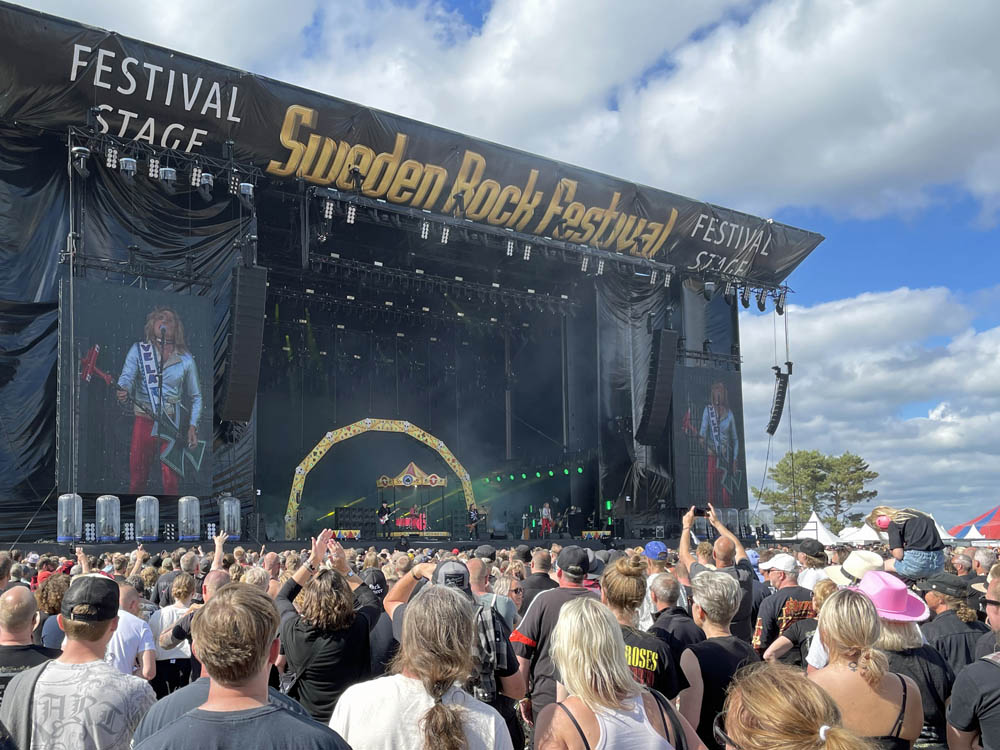 Dagens bästa låt är "Sleeping My Day Away". Herregud vilket ös det är. D-A-D är helt fantastiska. Publiken är strålande. En eftermiddag på Sweden Rock Festival kan inte bli bättre än så här. Jesper och Stig går upp och ställer sig i karusellen hos Laust medan Jacob Binzer tar över hela scenen. Herregud vilken gitarrist han är. Sjukt bra!
Till stormande applåder tackar Jesper Binzer publiken och D-A-D lämnar scenen. Efter en liten stund kommer Jesper och Jacob Binzer tillbaka och kör en strålande akustisk version av "Laugh 'n' a Half".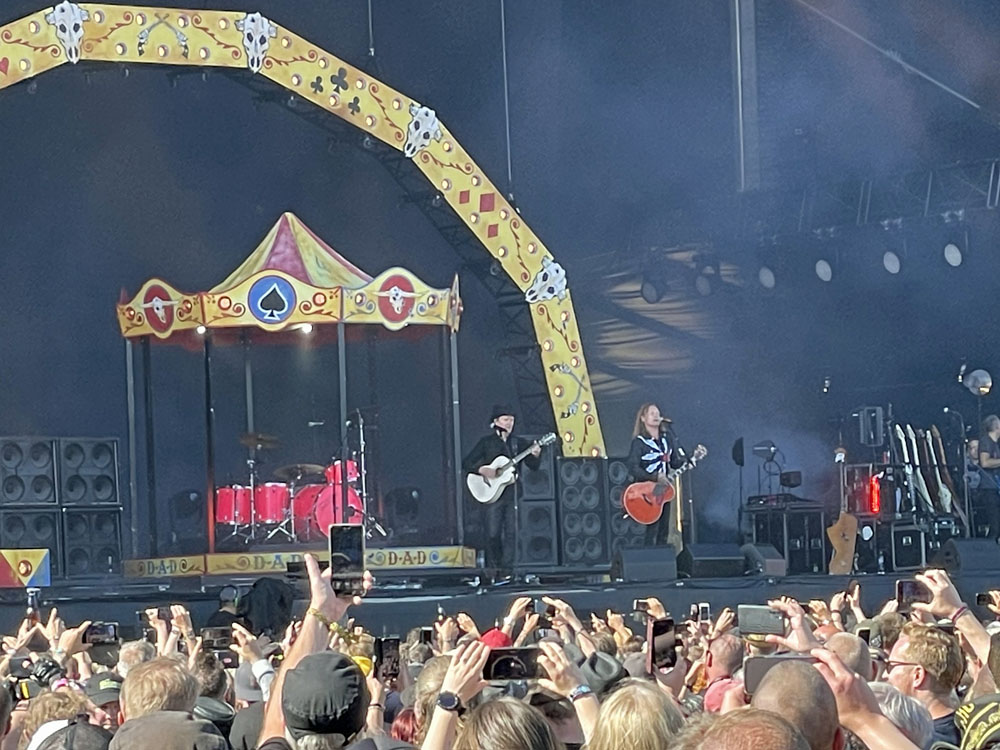 En helt fantastisk konsert avslutas på allra bästa sätt. "I Won't Cut My Hair" från skivan "Draws a Circle" är en av D-A-D:s bästa låtar och dagens version är mer än 11 minuter lång och helt suverän. Mitt i låten drar Laust Sonne igång sitt första trumsolo.
Jesper: Hur har du lärt dig att spela så bra trummor?
Laust: 23 år i D-A-D…
Jesper ger sig ut bland publiken, får igång en allsång till en liten egenkomponerad visa, "ringer" upp Laust, som förstås svarar. Det visar sig att båda är i Sverige… Det blir ny allsång och sedan exploderar Laust Sonne bakom trummorna. Är det någon som vill lära sig hur man skapar publikkontakt är det bara att se en D-A-D-konsert.
D-A-D var helt fantastiska och det klart bästa bandet under fredagen på Sweden Rock Festival. Bästa låtarna var "Sleeping My Day Away", "Jihad", "I Won't Cut My Hair", "Bad Craziness" och "Laugh 'n' a Half".
D-A-D
Jesper Binzer (sång, gitarr)
Jacob Binzer (gitarr, sång)
Stig Pedersen (bas, sång)
Laust Sonne (trummor, sång)
Evenemang