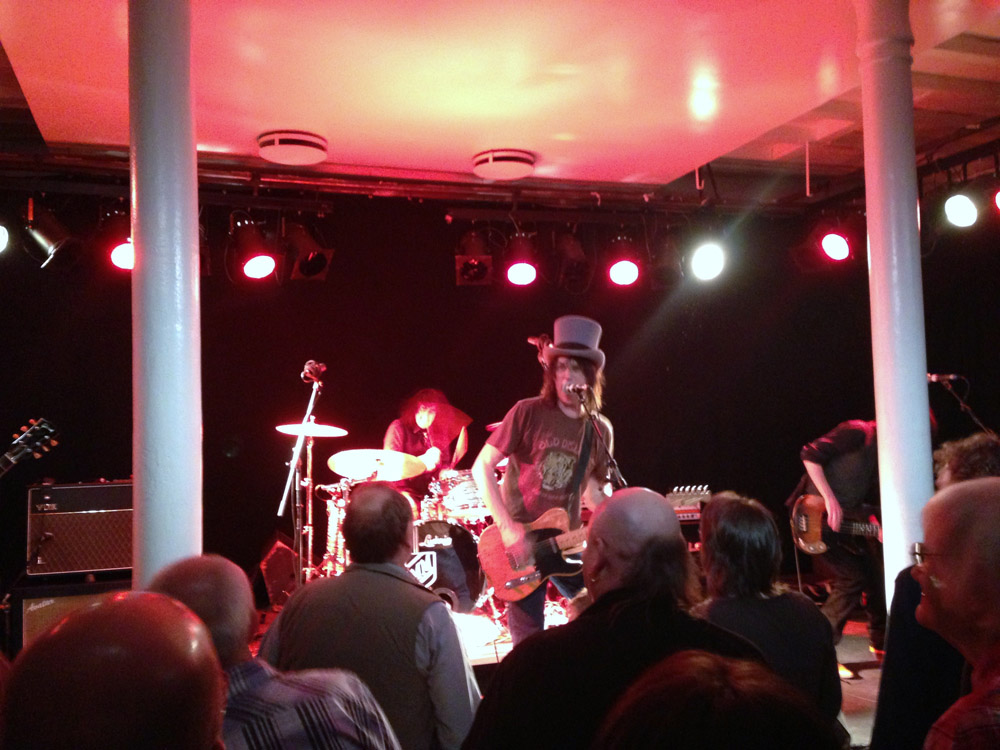 Dan Baird & Homemade Sin live i Helsingör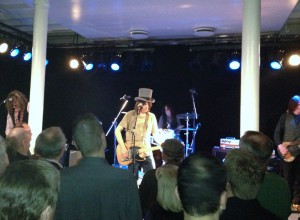 Den 19 april 2013 såg jag en helt fantastiskt bra rockkonsert med Dan Baird & Homemade Sin på Kulturvaerftet/Toldkammeret i Helsingör.
Homemade Sin består förutom Dan Baird även av Mauro Magellan, Keith Christopher (alla 3 har tidigare varit med i Georgia Satellites) samt Warner Hodges (som även är med i Jason & The Scorchers). Detta är ett av världens absolut bästa rockband och jag hade mycket höga förväntningar…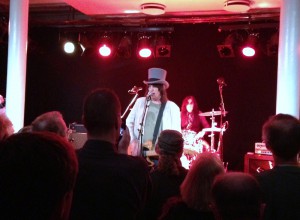 Man öppnade kanonstarkt med Dixie Beauxderaunt och Keep Your Hands to Yourself. Lite senare kom andra grymma rocklåtar som Crooked Smile och I Love You Period.
Two for Tuesday är en helt suverän låt där Dan sjunger om Creedence och John Fogerty. Passande nog vävde dom in Proud Mary under låten 🙂
Dan hade en hög hatt på sig spelningen igenom och både han och bandet var på ett strålande humör och spelade fantastiskt bra.
Mitt i konserten blev det en kvarts paus, men före dess hade man bl a även spelat Railroad Steel, Julie & Lucky och L'il Bit.
Andra halvan började med Dan som spelade solo under Another Chance. Resten av bandet intog scenen och man rockade loss ordentligt under Younger Face.
Keith Christopher sjöng She Dug Me Up och Warner Hodges sjöng Don't Pass Me By.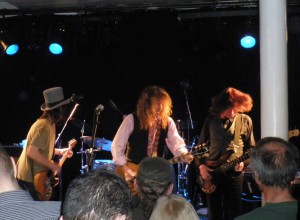 Andra halvan bjöd också på några covers i form av Long Black Veil (Lefty Frizzell), A Hard Day's Night (Beatles) och American Girl (Tom Petty). Nja förresten… Nights of Mystery innehöll även delar av Get it on (T Rex). I synnerhet American Girl var helt lysande.
På slutet kom även klassiker som I Dunno, Dan Takes 5, All Over But the Cryin' och Sheila. Räknar man bort pausen tror jag Dan Baird & Homemade Sin spelade drygt 2 timmar, men herregud vilket ös det var konserten igenom!!!
Det var årets bästa konsert!!!
Setlista
Dixie Beauxderaunt
Keep Your Hands to Yourself
Crooked Smile
Two for Tuesday / Proud Mary / Two for Tuesday (Dan Baird / Creedence / Dan Baird)
Lazy Monday
I Love You Period
Railroad Steel
Julie & Lucky
L'il Bit
Well Enough Alone
Another Chance
Younger Face
Damn Thing to Be Done
She Dug Me Up
Long Black Veil (cover av Lefty Frizell)
I Dunno
Don't Pass Me By
Nights of Mystery / Get it on / Nights of Mystery (Dan Baird / T.Rex / Dan Baird)
All Over But the Cryin'
Dan Takes 5
A Hard Days Night (The Beatles)
American Girl (Tom Petty)
Sheila
Övriga låtar minns jag inte
Dan Baird & Homemade Sin
Dan Baird (sång, gitarr)
Warner Hodges (gitarr, sång)
Keith Christopher (bas, sång)
Mauro Magellan (trummor)
Videos
Keep Your Hands to Yourself
Nights of Mystery