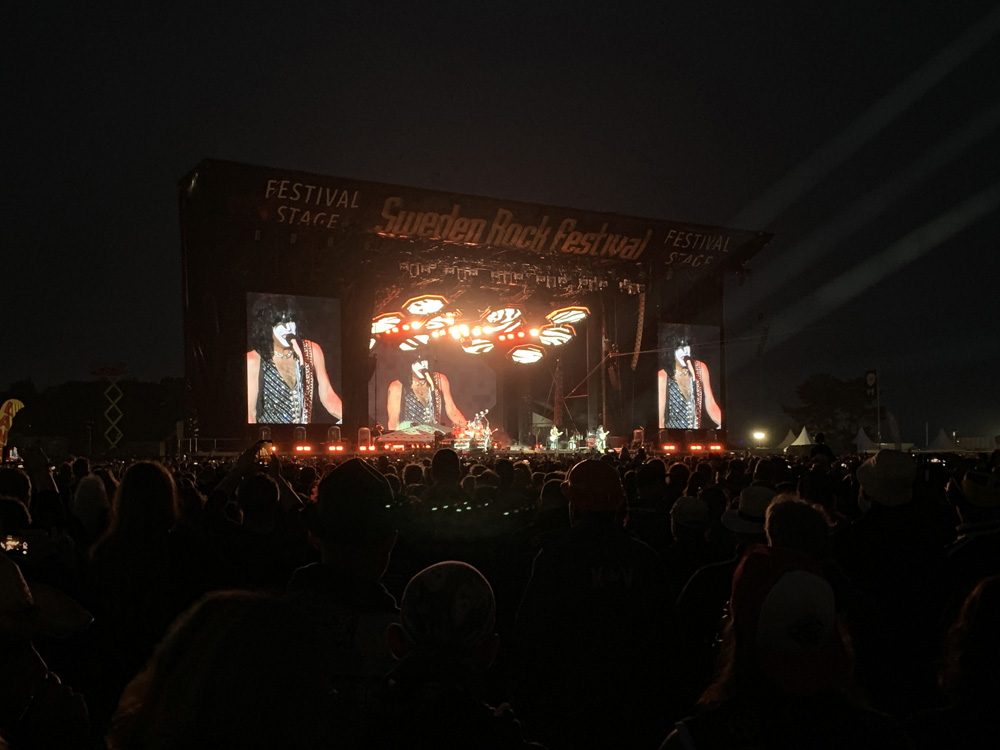 Den 7 juni 2019 såg jag Kiss live på Sweden Rock Festival i Norje. De spelade på Festival Stage.
Kiss var förstås det stora dragplåstret på årets Sweden Rock Festival. Jag har lyssnat sporadiskt på Kiss sedan 70-talet, men de har aldrig varit några stora favoriter. De har några bra låtar, men mer än så är det inte för mig.
Jag hade aldrig sett dem live tidigare och såg därför fram emot spelningen. Den skulle visa sig vara både bra och dålig. Det var bra i början och i slutet, men däremellan riktigt tråkigt.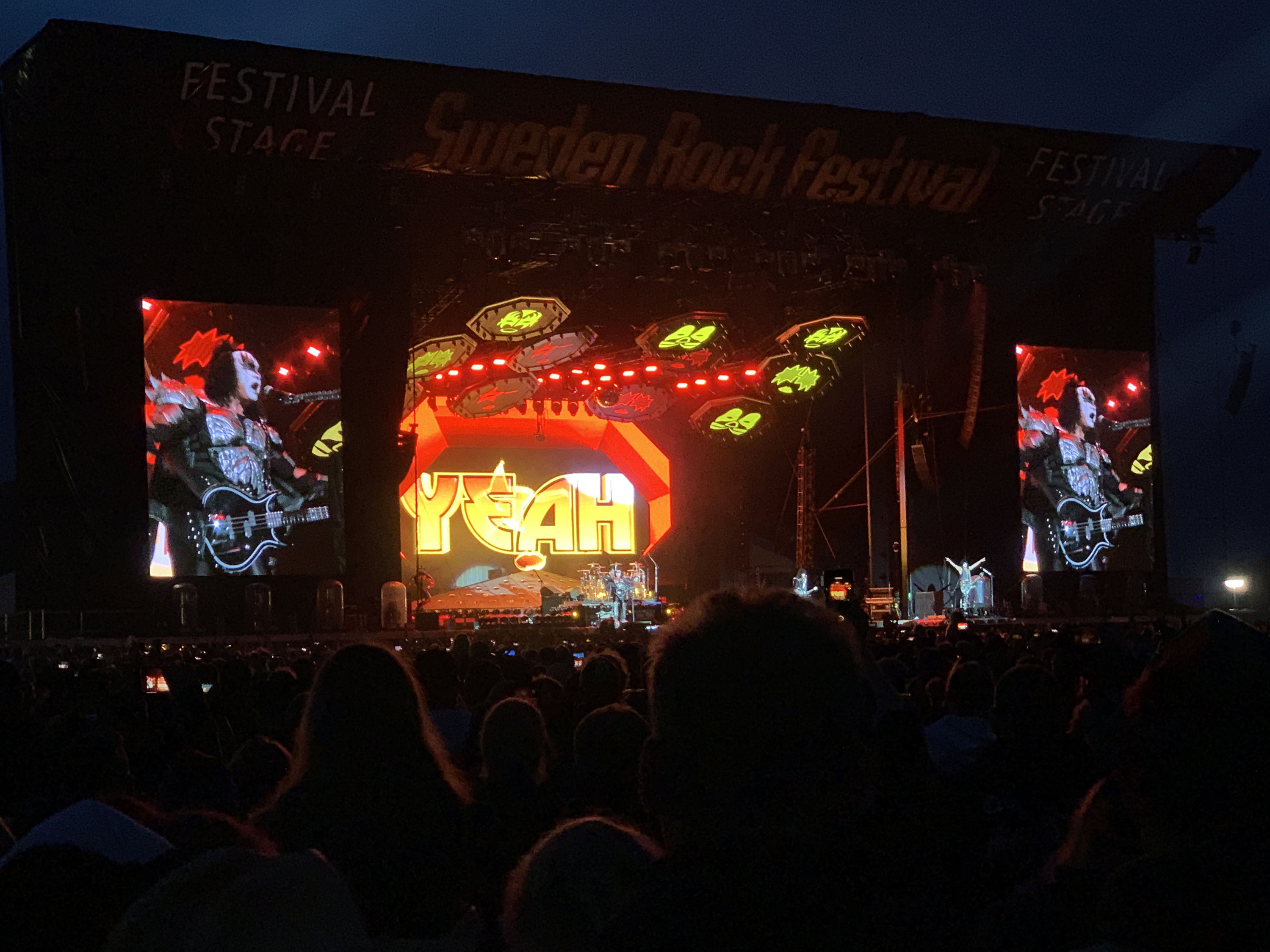 Kiss öppnade bra med "Detroit Rock City", fyrverkeriet och att Paul, Gene och Tommy hissades ner från taket på scenen. Det var en ganska häftig inledning. Det följdes av en bra version av "Shout It Out Loud".
Gene Simmons tog över sången i "I Love It Loud" som var spelningens bästa låt.
"Heaven's on Fire" är en av mina favoritlåtar och den var också ganska bra.
Sedan var det en timme som var riktigt dålig. Kassa låtar, dålig sång (om det överhuvudtaget var livesång – jag tvivlar starkt), tråkiga solon osv.
Konserten tog lite fart igen med "Love Gun". Min enda skiva med Kiss är faktiskt albumet just "Love Gun".
"I Was Made for Loving You" är en av Kiss bästa låtar, men denna kväll fanns det andra låtar som var bättre.
Efter "Black Diamond", men efter en stund kom Eric Singer tillbaka till scen och gjorde en helt lysande soloversion av "Beth" där han sjöng och spelade piano.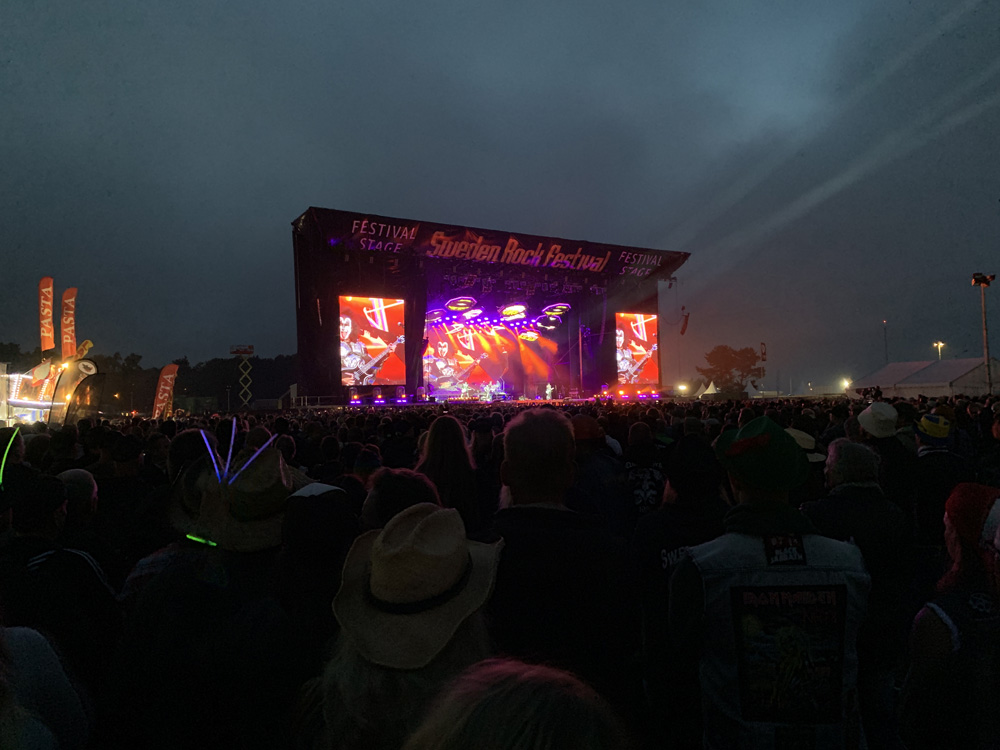 Resten av bandet kom därefter tillbaka och tillsammans gjorde de en hyfsad version av "Crazy Crazy Nights" även om publiken sjöng bättre än Paul Stanley.
Kiss avslutade på bästa sätt med en mycket bra version av "Rock and Roll All Nite". Det var fyrverkerier, konfettiregn, rök, rock'n'roll och en allsång av yppersta klass.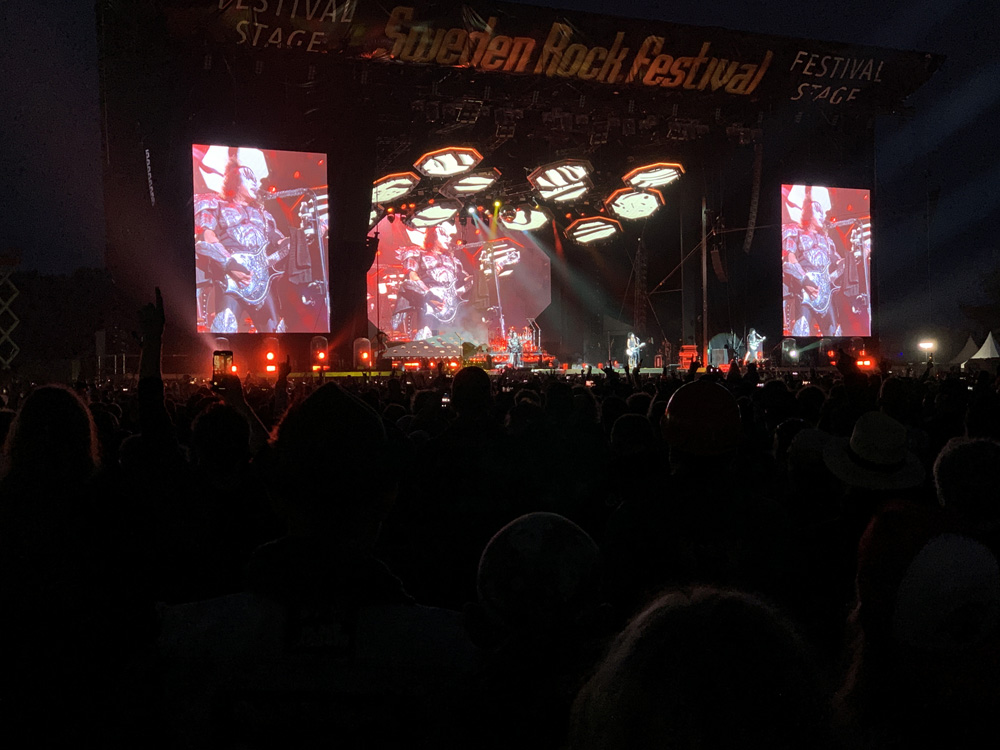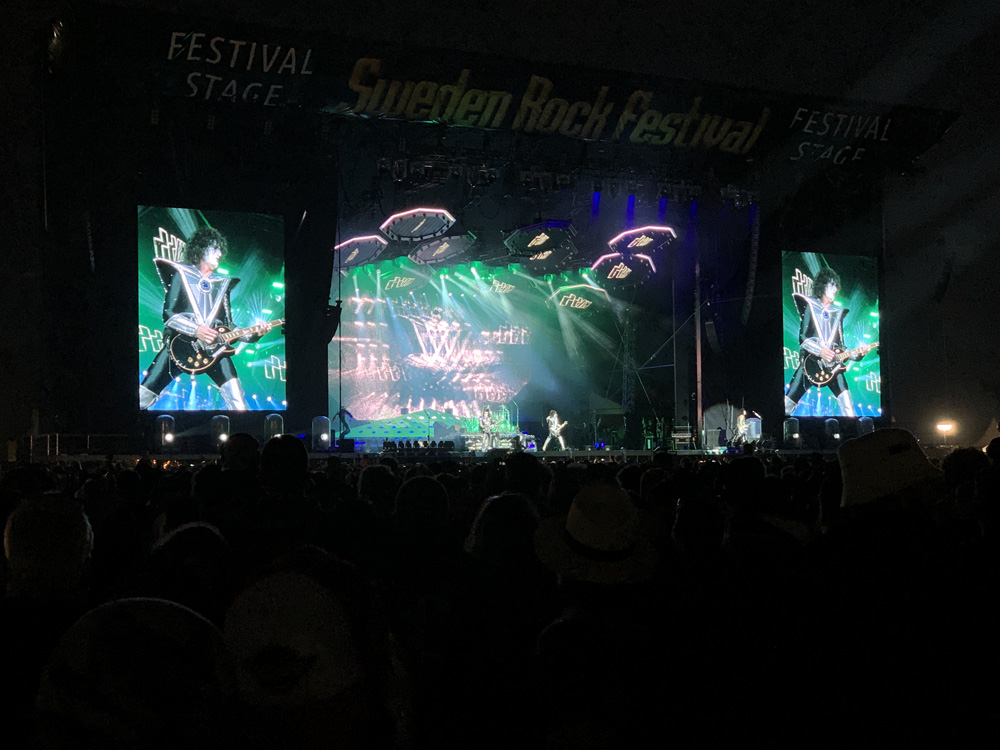 Det var kul att se Kiss. De har en riktigt häftig show. Tyvärr var låtarna lite upp och ner. När det var bra var det riktigt bra, men när det var dåligt var det också riktigt dåligt. Det sämsta är tyvärr Paul Stanleys röst. Man kunde läsa i flera tidningar om att åtminstone delar av sången är förinspelad och tyvärr tror jag det stämmer. Det var alldeles för stor skillnad på den kraxiga rösten i mellansnacket och i vissa av låtarna. Då låt det betydligt bättre när Gene Simmons, Tommy Thayer och Eric Singer sjöng.
Bästa låtarna var "I Love It Loud", "Heaven's on Fire", "Beth" och "Rock and Roll All Nite".
Kiss
Paul Stanley (sång, gitarr)
Gene Simmons (bas, sång)
Tommy Thayer (gitarr, sång)
Eric Singer (trummor, piano, sång)
Evenemang