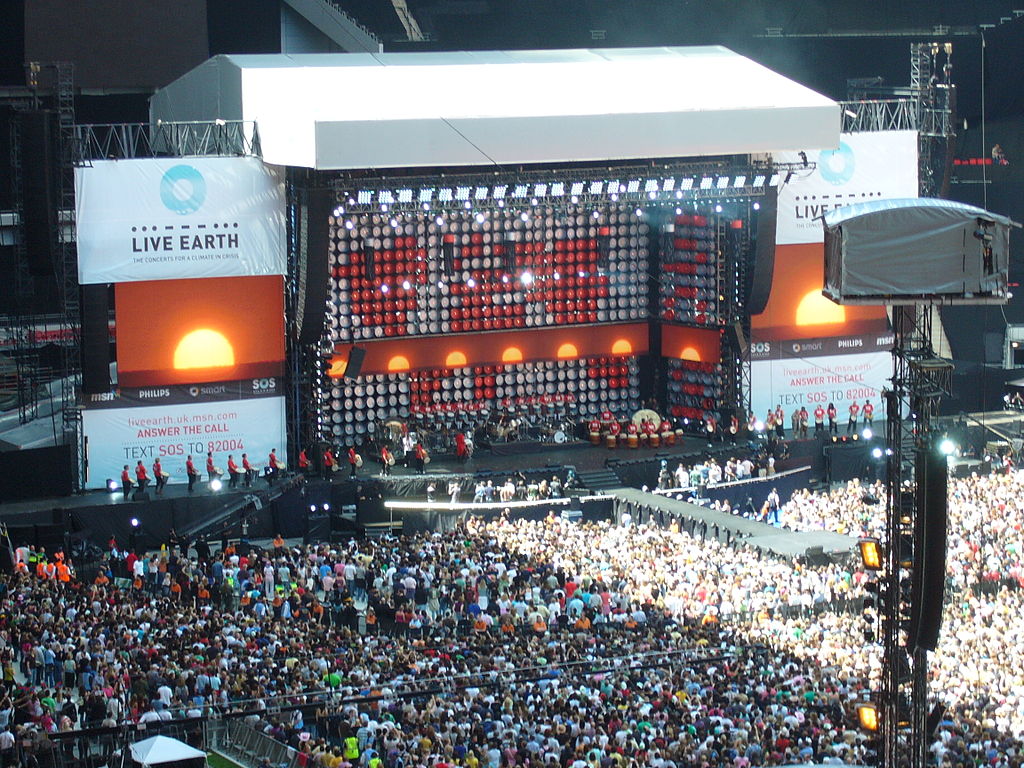 Live Earth ägde rum den 7 juli 2007 i London, East Rutherford, Washington, Sydney, Randburg, Chiba, Kyoto, Hamburg, Rio de Janeiro, Shanghai och Rom.
Jag kollade visserligen lite till och från när det sändes på SvT, men det beror mest på att det var så få bra band.
Wembley Stadium, London
Metallica
Metallica var nog under Live Earth på Wembley. Det var kanonbra på Wembley där de spelade sina 3 bästa låtar; "Sad But True", "Nothing Else Matters" och "Enter Sandman".
Spinal Tap
Spinal Tap är en kul komedifilm från 1984. På scen 2007 blev det inte lika kul, trots en massa gäster från de andra banden som spelade på Wembley.
Foo Fighters
Foo Fighters gjorde liksom Metallica en riktig kanonspelning och de fick igång publiken ännu mer. Bäst var passande nog "Best of You". Även de övriga låtarna "All My Life", "My Hero", "Times Like These" och "Everlong" var bra.
Madonna
Madonna är bra live, men tyvärr var hennes låtval inget vidare på Live Earth. Bäst var "Ray of Light". Madonna fick också igång hela publiken.
Giant's Stadium, East Rutherford
Keith Urban & Alicia Keys
Keith Urban fick hjälp av Alicia Keys och det gjorde en strålande cover av The Rolling Stones "Gimme Shelter". Keith Urban var bra, men Alicia Keys var helt makalös.
Både Keith Urban och Alicia Keys spelade även flera egna låtar var för sig under Live Earth.
Melissa Etheridge
Jag tycker normalt sett Melissa Etheridge är kanonbra, men på Live Earth valde hon tyvärr 3 mindre bra låtar; "Imagine That", "What Happens Tomorrow" och "I Need to Wake Up".
Kelly Clarkson
Kelly Clarkson var hyfsat bra. Hon sjöng "Walk Away", "Sober" och "Since U Been Gone".
Bon Jovi
Bon Jovi var på hemmaplan i New Jersey och var också klart bäst på Giant's Stadium. De öppnade med "Lost Highway" och "It's My Life". Sedan kom bra versioner av "Wanted Dead or Alive" och "Who Says You Can't Go Home". Bästa låten var den avslutande "Livin' on a Prayer". Publiken var tyvärr ganska kass.
Coca Cola Dome, Randburg
UB40
UB40 spelade under Live Earth på Coca Cola Dome i Randburg utanför Johannesburg i Sydafrika. Bästa låten var "Red Red Wine". De spelade även bl a "Johnny Too Bad" och "Kingston Town".
HSB Nordbank Arena, Hamburg
Shakira
Shakira spelade inledde Live Earth på HSB Nordbank Arena i Hamburg. Bästa låten var "Inevitable", men även "Don't Bother" var hyfsad.
Copacabana Beach, Rio de Janeiro
Lenny Kravitz
Lenny Kravitz var klart bäst under Live Earth på Copacabana i Rio. Han gjorde en lysande version av "Are You Gonna Go My Way" och spelade i övrigt bl a även "American Woman".
Washington, Sydney, Chiba, Kyoto, Shanghai och Rom
Live Earth hade också konserter i Washington, Sydney, Chiba, Kyoto, Shanghai och Rom, men där spelade inga bra artister.
Mer om Live Earth
Se alla band/artister och läs mer om Live Earth på Wikipedia.