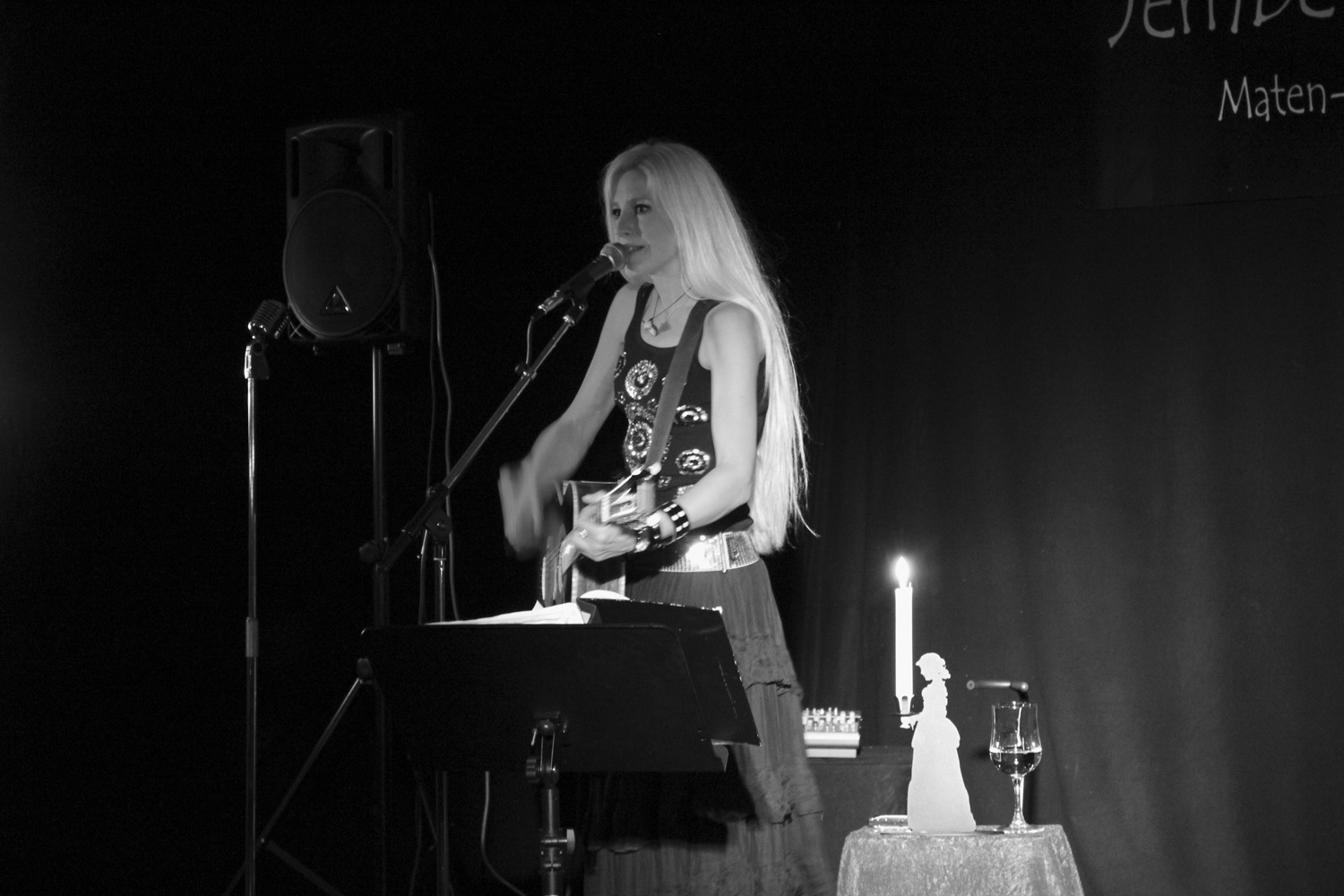 Nilla Nielsen live i Eskilstuna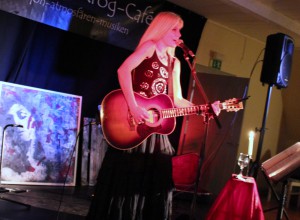 Den 29 september 2012 såg jag en helt makalös konsert med Nilla Nielsen på Jernberghska Krogen på Rademachersmedjorna i Eskilstuna.
Nilla spelade enorma 4,5 timmar och hela 61 låtar helt solo (det var förmodligen några till, men dessa är de vi tillsammans kom ihåg efteråt). Jag har sett Bruce Springsteen & The E Street Band spela i 4 timmar och Ulf Lundell spela i 4,5 timmar. Nilla spelade alltså i 4,5 timmar och helt själv!!! En makalös uppvisning av en fantastisk artist!!!
Under första setet spelade Nilla 18 låtar (15 egna och 3 covers). Hon öppnade grymt med Kommer inte att sova i natt, Så nära, The UFO Song och Himmelen måste saknat sin ängel. Publiken satt långa stunder helt knäpptyst och lyssnade på Nillas otroliga sångröst och hennes akustiska gitarr.
Hon gjorde en vacker tolkning av Baby Can I Hold You. Ain't Got Much och Sima var jättebra. Roligaste låten under första setet var den Skånska reggaelåten En annorlunda kontaktannons som fick publiken att både skratta och sedan sjunga med.
Jag har alltid gillat mellansnack på konserter. Bruce Springsteen har alltid varit en mästare på detta med historier som får publiken att skratta och känna sig ännu närmare. Det finns flera andra som också är duktiga, som t ex Rainmakers, Steve Earle, Björn Afzelius, D-A-D, Perssons Pack och Quireboys. Nilla brukar säga att hon pratar för mycket, men det är inte sant. Hon är helt briljant på mellansnack och får ofta publiken att skratta. Några av de bästa exemplen är under låtarna The UFO Song, Sima, En annorlunda kontaktannons, Håll mig, Goldfish in a Bowl och inte minst Not Ready.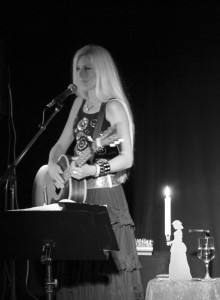 Fler höjdpunkter under första setet var Not Ready, You Should Know By Now, The Girl You Used to Know, Om jag var Gud för ikväll och otroliga Higher Ground.
Efter en kort paus stod Nilla åter på scen. Hon spelade ytterligare några av sina bästa låtar, t ex fenomenala Snow Leopard, Goldfish in a Bowl och Indian Heart. Nilla frågade publiken om de hade några önskemål och de hade många, väldigt många.
Några av önskningarna tror jag aldrig Nilla spelat tidigare, men det hon bjöd på under denna kväll är något av det mest imponerande jag sett någon artist göra någonsin. Denna sångerska verkar kunna allt… har hon hört en låt så tycks den finnas kvar där någonstans. En i publiken önskade Bon Jovi, Nilla var tveksam om hon kunde någon av deras låtar, men en stund senare sjöng hon Bed of Roses…
Det verkade kvitta vilken typ av genre önskemålen handlade om. Nilla spelade heavy metal-låtar som Nothing Else Matters, Patience, Paradise City och Sweet Child O' Mine.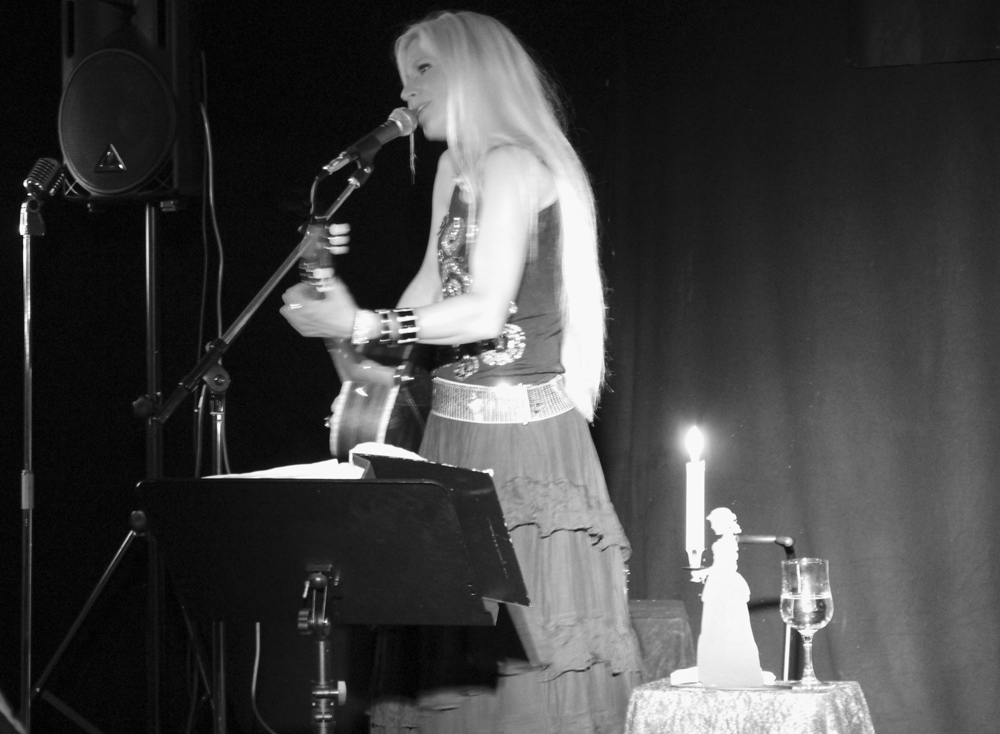 Hon gjorde grymt bra covers av I Still Haven't Found What I'm Looking for, One och With or Without You, Me and Bobby McGhee och Mercedes Benz och Nothing Compares to U.
Allra bäst sjöng hon i Goodbye och framförallt Hallelujah, som var helt makalös. Vilken otrolig sångröst denna otroliga liveartist har!!!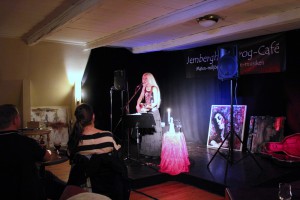 När klockan närmade sig midnatt och Nilla spelat i nästan 3 timmar tittade jag på klockan och undrade lite hur länge hon skulle hålla på… Det visade sig bli i nästan 2 timmar till…
De blev även många önskningar av 90-talslåtar som Zombie, One of Us, What's Up, Nobody's Wife, Weak, Ironic och Head Over Feet.
Nilla gjorde en lysande version av No Woman No Cry, Just Like a Woman och Knockin' on Heaven's Door och många andra.
När Nilla sa att det var dags för sista låten var det otroligt kul att höra den tjej som önskat flest covers under kvällen säga "kan du inte spela en av dina egna låtar som avslutning?". Nilla avslutade med en magnifik version av Higher Ground och fick långa applåder av en fantastisk publik.
Eller som Jernberghska Krogens ägare Robert sa efteråt "att spela i över 4 timmar visar en stor kärlek till musiken och publiken".
Detta är utan tvekan en av de bästa konserter Nilla någonsin gjort – och definitivt den allra bästa solokonserten. Stort tack, Nilla – du var helt magisk denna kväll!!! Jag kommer aldrig att glömma den!
Setlista
Kommer inte att sova i natt
Så nära
The UFO Song (the Guinea Pig Song)
Himmelen måste saknat sin ängel
Vänster och höger
Baby Can I Hold You (cover av Tracy Chapman)
Ain't Got Much
Sima
Men bara om min älskade väntar (Nationalteatern)
En annorlunda kontaktannons
Not Ready
You Should Know By Now
Balladen om herr Fredrik åkare och den söta fröken Cecilia Lind (Cornelis Vreeswijk)
Håll mig
The Girl You Used to Know
Man from the North
Om jag var Gud för ikväll
Higher Ground
Wonderful Tonight (Eric Clapton)
Snow Leopard
Bed of Roses (Bon Jovi)
Wish You Were Here (Pink Floyd)
Nothing Else Matters (Metallica)
Head Over Heels
I Still Haven't Found What I'm Looking for (U2)
Paradise City (Guns n'Roses)
Patience (Guns n'Roses)
Blood Money / American Honey
Hallelujah (Leonard Cohen)
Goodbye (Steve Earle / Emmylou Harris)
One (U2)
What's Up (4 Non Blondes)
Ännu doftar kärlek (Marie Fredriksson)
Indian Heart
Fever (Elvis Presley)
Jolene (Dolly Parton)
Goldfish in a Bowl
Me and Bobby McGhee (Kris Kristofferson / Janis Joplin)
Sweet Child O'Mine (Guns n'Roses)
With or Without You (U2)
Zombie (Cranberries)
Nobody's Wife (Anouk)
Weak (Skunk Anansie)
Ironic (Alanis Morissette)
One of Us (Joan Osborne)
Set Fire to the Rain (Adele)
Mercedes Benz (Janis Joplin)
Suspicious Minds (Elvis Presley)
Mr Jones (Counting Crows)
Fix You (Coldplay)
Moonshadow (Cat Stevens)
Just Like a Woman (Bob Dylan)
No Woman No Cry (Bob Marley)
Nothing Compares to U (Prince / Sinead O'Connor)
Black Velvet (Alannah Myles)
Head Over Feet (Alanis Morissette)
This is My Life (Gasolin')
It's a Heartache (Bonnie Tyler)
Himlen runt hörnet (Lisa Nilsson)
Knockin' on Heaven's Door (Bob Dylan)
Higher Ground (#2)
Band
Nilla Nielsen (sång, gitarr, munspel)
Videos
Not Ready
Wish You Were Here
Nothing Else Matters
Goodbye
One