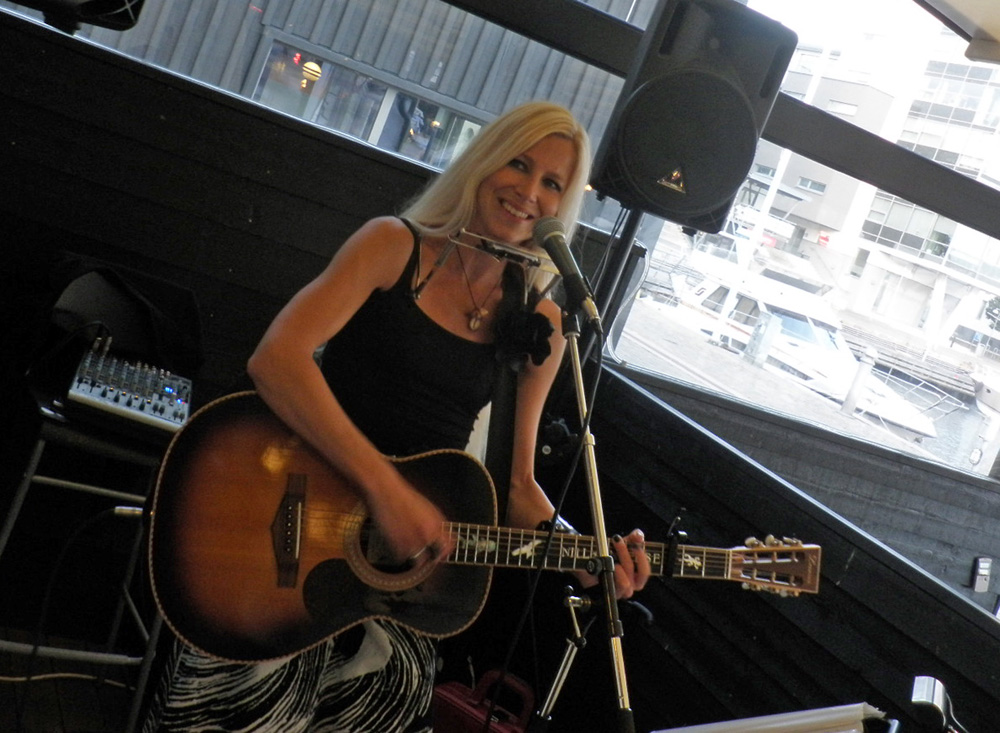 Nilla Nielsen live i Helsingborg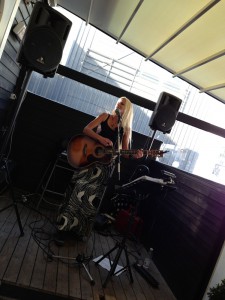 Den 29 juni 2013 såg jag ännu en bra spelning med Nilla Nielsen. Denna gång var det på Pub Ro i Helsingborg.
Nilla inledde konserten alldeles strålande. I början spelade hon Kommer inte att sova i natt, magnifika Så nära, Ain't Got Much och The Girl You Used to Know.
Lite senare kom skönt munspel i Not Ready och ett härligt avsnitt med Alanis Morissette-covers; Ironic, You Oughta Know, Hand in My Pocket och Head Over Feet. Det är Alanis 4 bästa låtar och speciellt Head Over Feet tycker jag är en helt fantastisk låt.
Nilla följde upp med sitt eget mästerverk Higher Ground och senare sin egen reggaelåt En annorlunda kontaktannons. Snow Leopard, The UFO Song och You Should Know By Now var grymt bra.
Bland övriga covers som var extra bra fanns Ännu doftar kärlek, Leaving on a Jet Plane, Weak, Hallelujah, You're Still Standin' There och Goodbye, härlig allsång på What's Up och Piece of My Heart.
Kvällens höjdpunkt var utan tvekan Bite Me. Detta är en av Nillas allra bästa låtar, en rocklåt som Nilla även gör kanonbra på en akustisk gitarr. Den är aldrig släppt på skiva, men det finns en härlig musikvideo på YouTube. Att Nilla dessutom tillägnade mig låten gör ju bara det hela ännu bättre.
Tack, Nilla! Ännu en kanonspelning!
Setlista
Kommer inte att sova i natt
Baby Can I Hold You (cover av Tracy Chapman)
Så nära
Ain't Got Much
The Girl You Used to Know
I Still Haven't Found What I'm Looking for (U2)
Not Ready
Ironic (Alanis Morissette)
You Oughta Know (Alanis Morissette)
Hand in My Pocket (Alanis Morissette)
Head Over Feet (Alanis Morissette)
Higher Ground
Leaving on a Jet Plane (John Denver)
Weak (Skunk Anansie)
Hallelujah (Leonard Cohen)
En annorlunda kontaktannons
Snow Leopard
You Should Know By Now
You're Still Standin' There (Steve Earle)
Bite Me
Piece of My Heart (Janis Joplin)
What's Up (4 Non Blondes)
The UFO Song (the Guinea Pig Song)
Övriga låtar minns jag inte
Band
Nilla Nielsen (sång, gitarr, munspel)
Videos
Bite Me