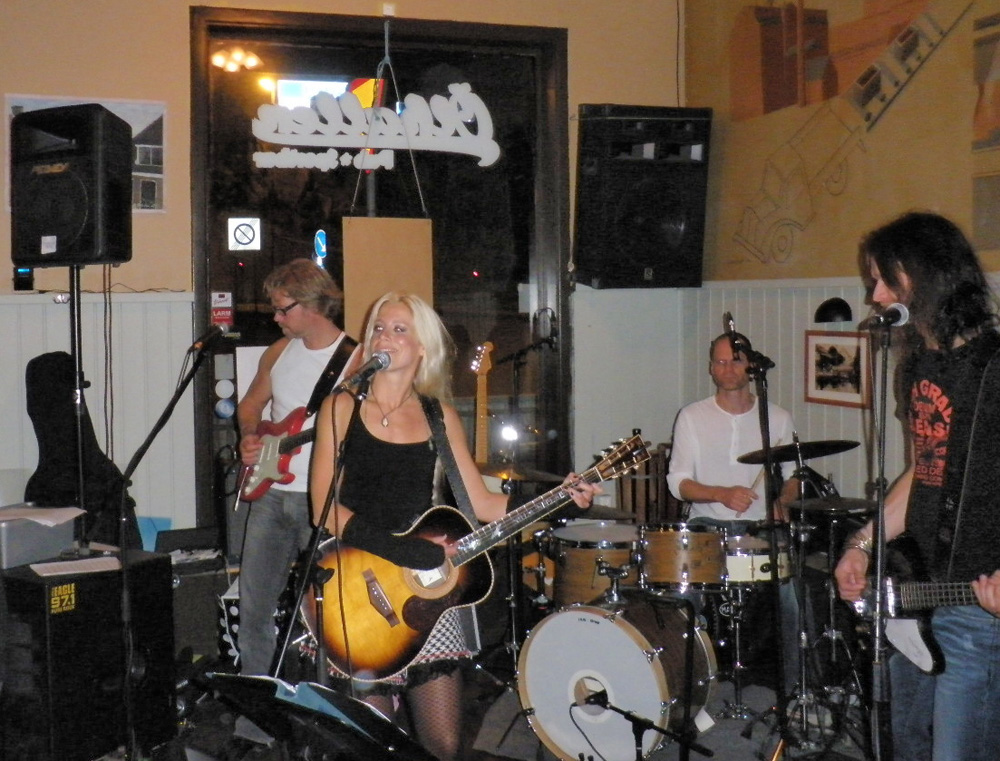 Nilla Nielsen live i Karlshamn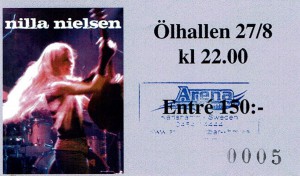 Den 27 augusti 2010 åkte jag till Ölhallen i Karlshamn för att se en konsert med den bedårande Nilla Nielsen. Jag har sett Nilla tillsammans med Dan Hylander ett antal gånger och hört ett par av hennes låtar live, men detta var första gången jag skulle höra henne spela en hel konsert med eget band. Nilla hade dagen till ära även premiär på sin alldeles nya specialbyggda gitarr (lägg märke till texten på gitarrens hals).
Jag hade ganska höga förväntningar – Nillas senaste skiva är årets bästa svenska album. Men inte kunde jag tro att kvällen skulle bli så suverän. Kvällens låtar är en blandning av Nillas egna och många mycket bra covers. Inte nog med att hon sjunger som en ängel – hon har bra musiksmak också.
En av kvällens första låtar är Tracy Chapmans Baby Can I Hold You. Nilla gör en helt fantastisk version av denna. Nilla Nielsen har en helt underbar sångröst. Jag är nästan stum av beundran.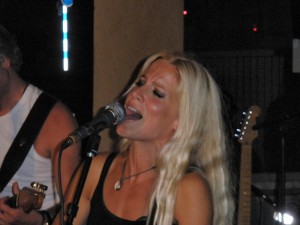 I början kommer dessutom flera riktigt bra egna låtar – t ex The Girl You Used to Know, Goldfish in a Bowl och de bästa versionerna jag hört av You Should Know By Now och inte minst Ain't Got Much, som är helt grym.
Valet av covers gillar jag verkligen. Nillas versioner av One of Us (Joan Osborne), What's Up (4 Non Blondes), Free Fallin' (Tom Petty) och Goodbye (Emmylou Harris / Steve Earle) är lysande.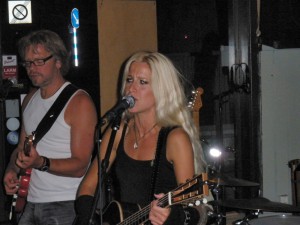 Allra bäst av de egna låtarna är Higher Ground och Snow Leopard. De är båda från Nillas senaste skiva. En annan av Nillas egna bästa låtar är Then You Said I Made You Feel Unfaithful – i en rockig version. Nilla har ett riktigt bra band med sig.
I Still Haven't Found What I'm Looking for (U2), Wonderful Tonight (Eric Clapton) och Ironic (Alanis Morissette) är några andra höjdpunkter. Jag kan nästan räkna upp varenda låt…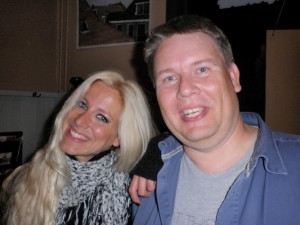 Konserten är ca 2,5 timmar (med en kort paus i mitten), men det känns som den kunde fortsatt hela natten. Vi som var där fick en suverän konsert.
Det var jätteroligt att få träffa Nilla igen, prata med henne och lyssna på en egen konsert med henne. Denna vackra tjej från Helsingborg med en härlig sångröst är också en mycket bra låtskrivare och en duktig musiker (extra kul att höra henne även på munspel). Dessutom är hon underbart glad och trevlig. Tack för en suverän konsert, Nilla!
Setlista
The Girl You Used to Know
Baby Can I Hold You (cover av Tracy Chapman)
Goldfish in a Bowl
You Should Know By Now
Ain't Got Much
Not Ready
Hallelujah (Leonard Cohen)
Goodbye (Emmylou Harris / Steve Earle)
Snow Leopard
Higher Ground
One of Us (Joan Osborne)
What's Up (4 Non Blondes)
Free Fallin' (Tom Petty)
Man from the North
Head Over Heels
Then You Said I Made You Feel Unfaithful
I Still Haven't Found What I'm Looking for (U2)
Ironic (Alanis Morissette)
Wonderful Tonight (Eric Clapton)
Me and Bobby McGhee (Janis Joplin)
That's All Right (Elvis Presley)
No Woman No Cry (Bob Marley)
Come Together (Beatles)
Knockin' on Heaven's Door (Bob Dylan)
Hotel California (Eagles)
Övriga låtar minns jag inte
Band
Nilla Nielsen (Sång, gitarr & munspel)
Niklas Ekelund (Gitarr)
Martin Ekelund (Bas)
Bengt Johnsson (Trummor)
Recension
Nilla Nielsens härliga kväll – Peter Enckell (Commersen)
Videos
Snow Leopard
Baby Can I Hold
Goodbye