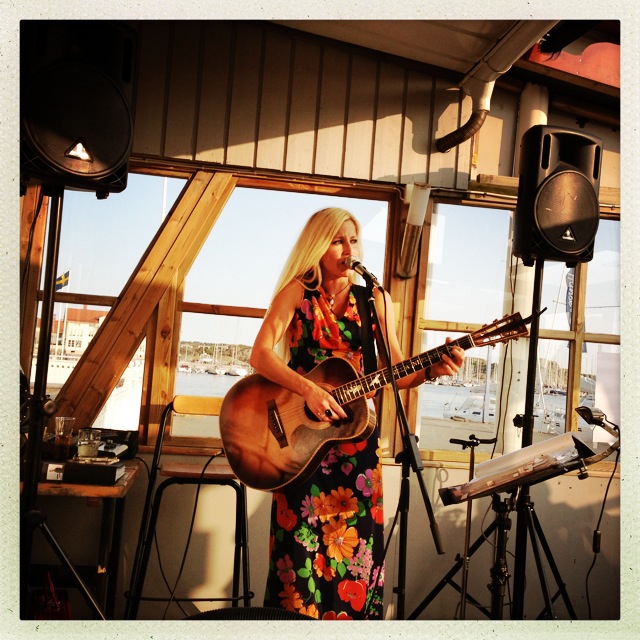 Nilla Nielsen live i Marstrand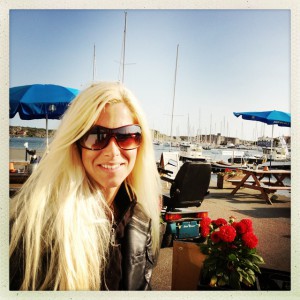 Den 12 juli 2013 såg jag en bra konsert med Nilla Nielsen på Hamnkrogen i Marstrand. Även förra sommaren spelade Nilla på Hamnkrogen och nu åkte vi tillbaka denna varma sommardag.
Nillas inledde med bl a Kommer inte att sova i natt, The Girl You Used to Know, Så nära, Not Ready och The UFO Song (the Guinea Pig Song). Solen gassade och det var riktigt varmt långt in på kvällen även när taket var öppet.
En ganska kul grej var att under tiden Nilla spelar ser jag att vid ett av borden vid kajen där det sitter några och äter landar plötsligt en gigantisk fiskmås på parasollet ovanför. Den var så stor så att parasollet började ge vika innan de fick bort den…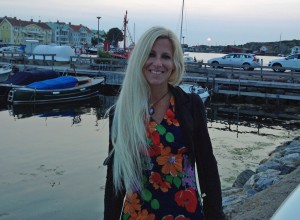 Bra covers i början var Men bara om min älskade väntar, I Still Haven't Found What I'm Looking for, Leaving on a jet Plane, Sång till friheten och Hallelujah.
Bra egna låtar under andra halvan var En annorlunda kontaktannons, You Should Know By Now och den fantastiska Higher Ground som avslutning.
Andra bra covers var You're Still Standin' There, Kom änglar, One of Us, Good Riddance och Piece of My Heart.
Nilla skulle komma tillbaka till Hamnkrogen även nästa kväll…
Setlista
Kommer inte att sova i natt
The Girl You Used to Know
Men bara om min älskade väntar (Nationalteatern)
I Still Haven't Found What I'm Looking for (U2)
Så nära
Leaving on a Jet Plane (John Denver)
Not Ready
Sång till friheten (Björn Afzelius)
Hallelujah (Leonard Cohen)
You're Still Standin' There (Steve Earle)
The UFO Song (the Guinea Pig Song)
Kom änglar (Lars Winnerbäck)
En annorlunda kontaktannons
You Should Know By Now
Den jeg elsker (Sanne Salomonsen)
Good Riddance (Green Day)
One of Us (Joan Osborne)
Piece of My Heart (Janis Joplin)
Knockin' on Heaven's Door (Bob Dylan)
Higher Ground
Övriga låtar minns jag inte
Band
Nilla Nielsen (sång, gitarr, munspel)
Videos
Not Ready