Nilla Nielsen live i Marstrand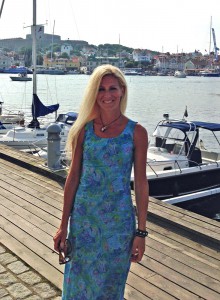 Lördagen den 13 juli 2013 var det dags för en ny bra konsert med Nilla Nielsen på Hamnkrogen i Marstrand. Efter en god lunch med jättefin utsikt i skärgården åkte vi tillbaka till Marstrand.
På eftermiddagen såg vi bl a Sanne Salomonsen ta båten över till andra sidan Marstrand där hon skulle ha en konsert på kvällen. De som valde den sidan vattnet gjorde helt klart ett misstag. Nilla var strålande denna kväll.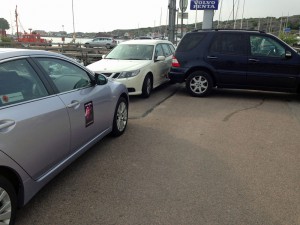 Kvällen började dock ganska tråkigt. Vi satt och åt inne på Hamnkrogen då vi plötsligt hör att det är något som händer och flera människor reser sig utanför. Det visade sig att en rattfyllerist backat rakt in i en bil som står precis vid kajkanten. Precis framför stod min bil… Tack och lov var det ingen som blev skadad och några personer tog bilnycklarna ifrån fanskapet. Just när Nilla börjat spela – en timme senare kom också polisen. Förhoppningsvis dröjer det mycket länge innan gubben får körkortet tillbaka.
Nåväl när Nilla intog scenen var det lätt att fokusera på mycket roligare saker. Hamnkrogen var mer välbesökt denna kväll och det kom många önskemål om låtar under kvällen.
Nilla började med Kommer inte att sova i natt och lite senare The Girl You Used to Know, den underbara Så nära och med vackert munspel i Not Ready.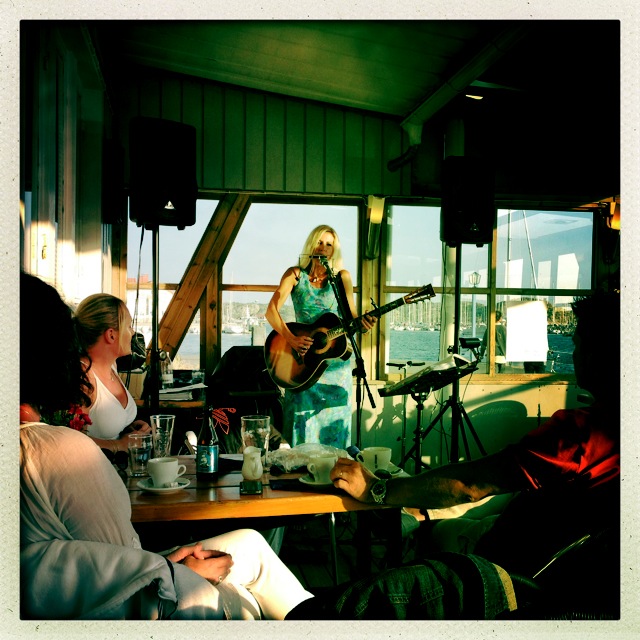 Bra covers var Baby Can I Hold You, Rose Garden, Ännu doftar kärlek och You're Still Standin' There.
Balladen om herr Fredrik Åkare och den söta fröken Cecilia Lind och Have You Ever Seen the Rain var så populära att Nilla fick spela dem två gånger.
Det var en minst sagt blandad publik, det började med flera barnfamiljer för att senare under kvällen lösas av med diverse båtfolk och ett MC-gäng. Ju längre kvällen led desto trängre blev det på dansgolvet.
Nillas egna You Should Know By Now och Higher Ground var grymt bra. Andra populära covers var Den jeg elsker, Ironic, What's Up och Piece of My Heart.
Tanken var att vi skulle lämna Hamnkrogen senast kl. 23 då vi skulle köra tillbaka till Skåne efteråt. Det var bara det att Nilla var så jäkla bra denna kväll att publiken inte ville höra talas om detta… De samlade självmant ihop en summa pengar för att få henne att spela en halvtimme till… De slutade med att Nilla spelade mer än en timme längre… Vi var inte tillbaka i Skåne förrän kl. 04 på morgonen, men det var det värt. En helt lysande spelning med en skön publik.
Setlista
Kommer inte att sova i natt
Balladen om herr Fredrik Åkare och den söta fröken Cecilia Lind (Cornelis Vreeswijk)
Baby Can I Hold You (Tracy Chapman)
The Girl You Used to Know
Men bara om min älskade väntar (Nationalteatern)
I Still Haven't Found What I'm Looking for (U2)
Så nära
Not Ready
Hallelujah (Leonard Cohen)
Rose Garden (Lynn Anderson)
Ännu doftar kärlek (Marie Fredriksson)
You're Still Standin' There (Steve Earle)
The UFO Song (the Guinea Pig Song)
Kom änglar (Lars Winnerbäck)
En annorlunda kontaktannons
You Should Know By Now
Den jeg elsker (Sanne Salomonsen)
Ironic (Alanis Morissette)
Good Riddance (Green Day)
Have You Ever Seen the Rain? (Creedence)
One of Us (Joan Osborne)
Piece of My Heart (Janis Joplin)
Knockin' on Heaven's Door (Bob Dylan)
Higher Ground
Mercedes Benz (Janis Joplin)
Övriga låtar minns jag inte
Band
Nilla Nielsen (sång, gitarr, munspel)
Videos
Higher Ground