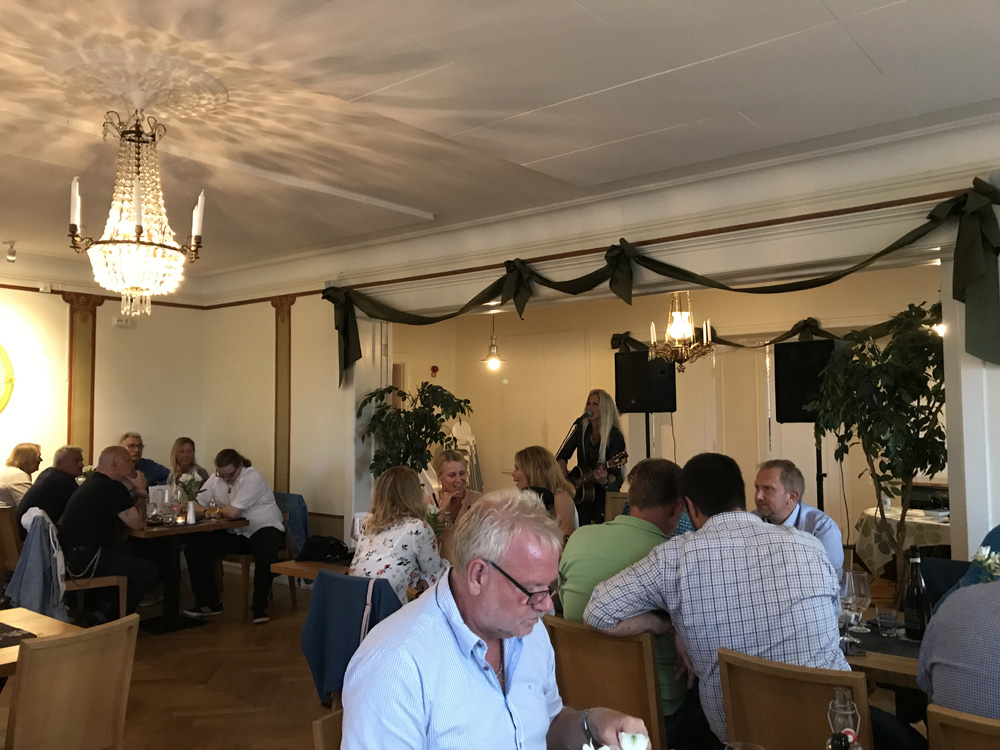 Nilla Nielsen live i Staffanstorp
Den 21 juli 2017 såg jag Nilla Nielsen live på Staffanstorps Gästis.
Nilla inledde spelningen mycket bra med sköna "Kommer inte att sova i natt" och en fin version av "Fields of Gold".
Staffanstorps Gästis var fullsatt och inför sin låt "Ain't Got Much" skojar Nilla:
"Den här låten handlar om att dela med sig så är det någon som har en chokladdessert så är jag intresserad".
Hon fortsätter med en strålande version av låten Nilla kallar sin största hit, "Goldfish in a Bowl", som var med i soundtracket till filmen "Hata Göteborg".
Under första set spelar Nilla många egna låtar. "Snow Leopard" är kanonbra och det var länge sedan jag hörde "Om jag var Gud för ikväll" live. Dessutom härliga versioner av "Ironic" och "Free Fallin'".
Efter en kort paus är Nilla på scen igen och får igång publiken i "Jolene" och härliga "The UFO Song (the Guinea Pig Song". Lite senare kommer jättebra versioner av "I Still Haven't Found What I'm Looking for" och en härlig "You're Still Standing There" med skönt munspel.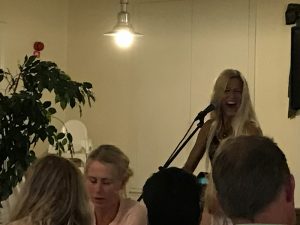 "Så nära" är bästa låten på Nillas album med låtar på svenska med samma namn.
Sista setet inleds med en mycket bra "Proud Mary". Först kör hon låten i Creedence tempo, men sedan bara ökar och ökar hon i Tina Turner-versionen.
Precis som i "Proud Mary" skiftar Nilla i låten "Tusen bitar". Först blir det Björn Afzelius version på svenska och mitt i låten byter hon till att sjunga Anne Linnets originalversion "Tusind stykker" på danska. Hade vissa delar av publiken varit lite mer uppmärksam på vilken makalös sångerska som står på scen och lite mindre på vad som fanns i glasen så hade de fått en lika stor behållning av kvällen som jag.
Det blir allsång både i "Take Me Home, Country Roads" och rockiga "What's Up".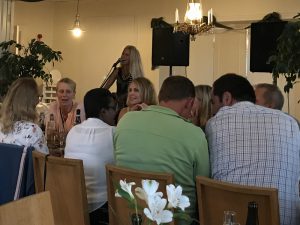 "Only One Crying" är en av de bästa låtarna från senaste albumet "Good Day". Ännu mer härligt munspel. Nilla sjunger fantastiskt i "Hallelujah" och avslutar med "Knockin' on Heaven's Door". Eller hade tänkt avsluta. Publiken applåderar och applåderar och vill ha extranummer.
Nilla visar vilken makalös sångröst hon har ännu en gång i underbara "Piece of My Heart". Den följs av "Talkin' Bout a Revolution" och slutligen av "Mercedes Benz". Tack för ännu en jättebra spelning Nilla!
Setlista
Kommer inte att sova i natt
Fields of Gold (Sting)
Ain't Got Much
Goldfish in a Bowl
Snow Leopard
Ironic (Alanis Morissette)
Om jag var Gud för ikväll
Free Fallin' (Tom Petty)
Jolene (Dolly Parton)
The UFO Song (the Guinea Pig Song)
I Still Haven't Found What I'm Looking for (U2)
You're Still Standing There (Steve Earle / Emmylou Harris)
Så nära
Proud Mary (Creedence Clearwater Revival / Tina Turner)
Tusen bitar (Björn Afzelius) / Tusind stykker (Anne Linnet)
Take Me Home, Country roads (John Denver)
What's Up (4 Non Blondes)
Only One Crying
Hallelujah (Leonard Cohen)
Knockin' on Heaven's Door (Bob Dylan)
Piece of My Heart (Erma Franklin / Janis Joplin)
Talkin' Bout a Revolution (Tracy Chapman)
Mercedes Benz (Janis Joplin)
Övriga låtar minns jag inte
Band
Nilla Nielsen (sång, gitarr, munspel)