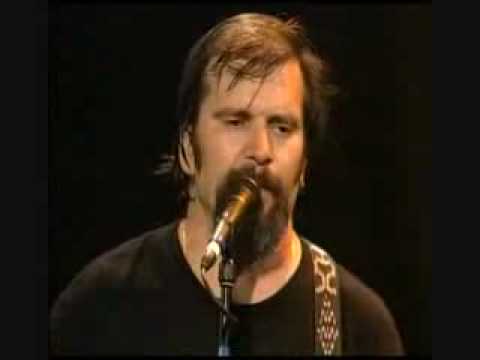 Steve Earle & The Dukes live i Malmö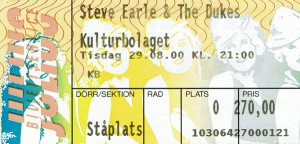 Den 29 augusti 2000 såg jag, Johan och Kristina en mycket bra konsert med Steve Earle & The Dukes på ett utsålt KB i Malmö.
Steve Earle bjöd på många klassiker. De bästa låtarna under kvällen var Transcendental Blues, Another Town, The Galway Girl, Telephone Road, Copperhead Road, The Devil's Right Hand, Guitar Town, I Feel Alright, Hard-Core Troubadour, Goodbye, I Ain't Ever Satisfied, Someday och Fearless Heart. De körde även en bra cover av Breed (Nirvana).
The Dukes som ofta bytt bandmedlemmar var denna gång extra bra då Eric Ambel (The Del-Lords) ingick i bandet.
Setlista
Transcendental Blues
Everyone's in Love With You
Another Town
The Boy Who Never Cried
The Galway Girl
Steve's Last Ramble
Wherever I Go
Halo 'round the Moon
All My Life
Over Yonder (Jonathan's Song)
Taneytown
Telephone Road
If You Fall
N.Y.C.
Copperhead Road
Devil's Right Hand
Guitar Town
I Feel Alright
Hard-Core Troubadour
Billy and Bonnie
Mystery Train
Goodbye
I Ain't Ever Satisfied
My Old Friend the Blues
Someday
Fearless Heart
Breed (cover av Nirvana)
Gettysburg
The Unrepentant
I Don't Want to Lose You Yet
Övriga låtar minns jag inte
Steve Earle & The Dukes
Steve Earle (Sång, gitarr, munspel & banjo)
Eric Ambel (Gitarr & sång)
Kelley Looney (Bas & sång)
Will Rigby (Trummor)
Övriga musiker
Patrick Earle (Trummor på 1 låt)
Dan Gillis (Tin whistle på The Galway Girl)
Turné
No Dry Cleaning Tour
Publik
750 (utsålt)
Andra recensioner
3 – Mer mellansnack Earle – Håkan Steen (Aftonbladet)
Earle mer dämpad i Malmö – Olle Berggren (Kvällsposten)
Videos
Livevideos från samma turné
The Galway Girl
Transcendental Blues
Goodbye