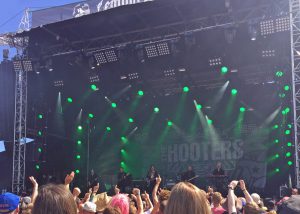 Den 11 juni 2016 såg jag The Hooters live på Sweden Rock Festival i Norje. De spelade i Lemmy Stage.
The Hooters är ett mycket bra rockband och var ett av de band jag såg mest fram emot att se. Jag hade sett 2 grymt bra konserter med dem tidigare.
De började mycket bra med Day By Day och All You Zombies.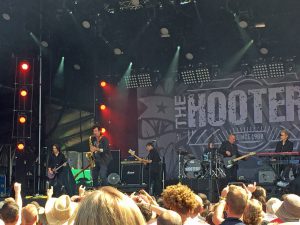 Eric Bazilian är en helt lysande musiker som verkar kunna spela hur många instrument som helst. Under 15 låtar spelade han gitarr (både 6- och 12-strängad), mandolin, mandola (4- och 8-strängad), melodika, saxofon och munspel. Kanske var det ytterligare något instrument som jag har glömt…
Eric har en svensk fru och brukar prata en svenska under spelningarna. En överraskning var dock när han spelade Idas sommarvisa på mandolin och fick igång en rejäl allsång.
Lite senare kom fler bra låtar, som 500 Miles och South Ferry Road.
Även om The Hooters gjorde en mycket bra spelning kunde det varit lite mer tryck. Avslutningen var dock mycket bra. Karla With a K, Twenty-Five Hours a Day, Satellite och And We Danced är lysande låtar.
The Hooters
Eric Bazilian (Sång, gitarr, munspel, mandolin, mandola, saxofon, melodika)
Rob Hyman (Sång, klaviatur, dragspel, melodika)
David Uosikkinen (Trummor, slagverk)
John Lilley (Gitarr, klaviatur, sång)
Fran Smith Jr (Bas, sång)
Tommy Williams (Gitarr, mandolin, sång)
Evenemang
Videos
Karla With a K / And We Danced
I'm Alive
500 Miles