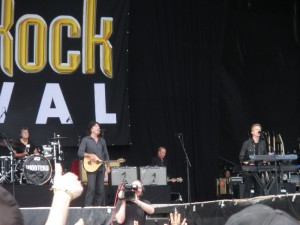 The Hooters var ett av mina största favoritband i slutet av 80- och början av 90-talet. Jag såg en mycket bra konsert med dem i Lund 1990. Jag blev trots detta överraskad av hur jäkla bra dom är fortfarande. Hooters gjorde en briljant spelning på Sweden Rock Festival på lördagseftermiddagen.
Det började i full fart med Dancing on the Edge, Day By Day, South Ferry Road m fl. Eric Bazilian pratade en hel del svenska med publiken under konserten. Det märktes att han är riktigt bra på svenska.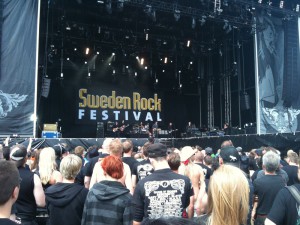 Senare kom fler höjdarlåtar som And We Danced, 500 Miles, Satellite, All You Zombies och 25 Hours a Day. Trots att de flesta i bandet nu är mellan 55-60 år var det en himla energi spelningen igenom.
Ibland undrar man hur många instrument en musiker kan spela. Eric Bazilian är en sådan – det tycks inte finnas någon gräns för vad han kan spela på (och då menar jag inte bara under denna spelningen). Han är en enastående musiker och en bra sångare.
The Hooters
Eric Bazilian (Sång, gitarr, munspel, mandolin & melodika)
Rob Hyman (Sång, melodika, klaviatur & dragspel)
David Uosikkinen (Trummor & slagverk)
John Lilley (Gitarr & sång)
Fran Smith Jr (Bas & sång)
Tommy Williams (Gitarr, mandolin & sång)
Andra recensioner
5 – Jakob Dahlin, Kristianstadsbladet
3 – Markus Larsson, Aftonbladet
Evenemang
Videos
Dancing on the Edge
Day By Day
500 miles
I'm Alive
Satellite
Karla With a K