The Quireboys live i Norje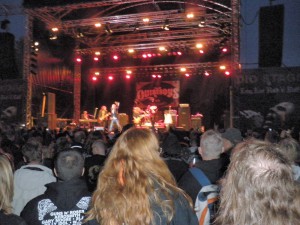 Den 9 juni 2010 såg jag The Quireboys live på Sweden Rock Festival i Norje.
The Quireboys spelade på Sweden Rock Festivals första dag och var dagens bästa band (knappt före Sator).
Det var andra gången jag såg Quireboys och de gjorde en lysande spelning från början till slut. Det var ett jäkla ös.
Quireboys spelade bl a Love This Dirty Town, I Don't Love You Anymore, There She Goes Again, This Is Rock'n'roll, Mona Lisa Smiled och Hey You.
Quireboys är ett fantastiskt bra liveband och bjöd på festivalens näst bästa spelning. Dagen därpå spelade de även akustiskt.
The Quireboys
Spike (Sång)
Guy Griffin (Gitarr & sång)
Paul Guerin (Gitarr)
Keith Weir (Klaviatur)
Phil Martini (Trummor)
Damon Williams (Bas)
Evenemang
Videos
Love This Dirty Town
Hey You