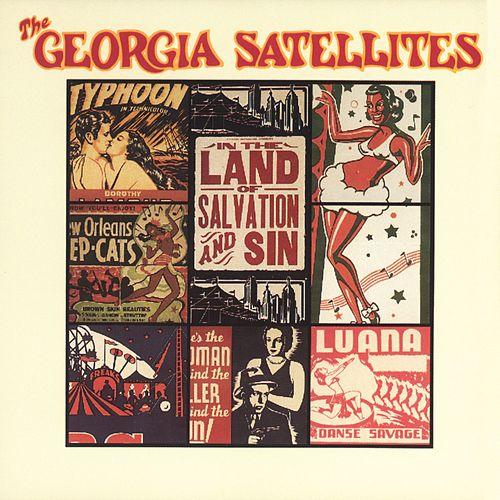 Bästa album
The Georgia Satellites – In the Land of Salvation and Sin
The Rainmakers – The Good News and the Bad News
Johnny Diesel & The Injectors – Johnny Diesel & The Injectors
Jason & The Scorchers – Thunder and Fire
Maria McKee – Maria McKee
Svenska
Perssons Pack – Kärlek och dynamit
Live
The Del-Lords – Howling at the Halloween Moon
Bästa låtar
The Rainmakers – Johnny Reb
The Georgia Satellites – Games People Play
The Beat Farmers – Girl I Almost Married
The Georgia Satellites – I Dunno
Wilmer X – Hon är ihop med en insekt
The Rainmakers – Reckoning Day
Johnny Diesel & The Injectors – Parisienne Hotel
Johnny Diesel & The Injectors – Don't Need Love
The Georgia Satellites – Dan Takes 5
Maria McKee – Drinkin' in My Sunday Dress
Svenska
Wilmer X – Hon är ihop med en insekt
Bästa konserter
Tommy Conwell & The Young Rumblers – Mejeriet, Lund
The Rainmakers – Nya Vågen, Göteborg
Jason & The Scorchers – Mejeriet, Lund
The Pogues – Olympen, Lund
Bob Dylan – Christinehofs Slott, Tomelilla
Svensk
Plura & Carla Jonsson – Christinehofs Slott, Tomelilla
Musikåret
1989 var ännu ett mycket bra musikår. Det kom många bra album och låtar. Och jag såg några fantastiska konserter.
The Georgia Satellites släppte årets bästa studioalbum med "In the Land of Salvation and Sin". Bästa låtarna på plattan är "Games People Play", "I Dunno", "Dan Takes 5", "Days Gone By" och "All Over But the Cryin'".
The Rainmakers "The Good News and the Bad News" är också kanonbra. Årets bästa låt är "Johnny Reb" – helt lysande. Andra bra låtar på plattan är "Reckoning Day", "Shiny Shiny", "Hoo Dee Hoo" och "Spend It on Love".
Johnny Diesel & The Injectors debutalbum var ännu ett exempel på vilken otroligt bra rockmusik som kommer från Australien. "Parisienne Hotel" och "Don't Need Love" är makalöst bra. Andra höjdare är "Looking for Love", "Cry in Shame" och "Soul Revival".
Jason & The Scorchers "Thunder and Fire" är mycket bra med låtar som "Six Feet Underground", "My Kingdom for a Car", "When the Angels Cry", "Bible and a Gun" och "Find You".
Maria McKee hade tidigare släppt mycket bra album som sångerska i Lone Justice. Hennes debut som soloartist var också mycket bra. "Drinkin' in My Sunday Dress" är bäst, men även "Am I the Only One (Who's Ever Felt This Way?" och "Nobody's Child" är bra.
Perssons Packs debutalbum "Kärlek och dynamit" var den bästa svenska skivan. Bästa låtarna är "Hanna", "Sista kvällen i april", "Poker / Nio timmars spel" och "Perssons dynamit".
Den bästa svenska låten gjorde dock återigen Wilmer X. "Hon är ihop med en insekt" är en lysande rocklåt och en av Wilmer X allra bästa. Andra bra låtar från "Klubb Bongo" är "Skjuta mej ut", "Vilken del av mej" och "Hon är som en vulkan".
"Girl I Almost Married" var den klart bästa låten på The Beat Farmers album "Poor and Famous".
The Del-Lords gjorde den bästa liveskivan. "Howling at the Halloween Moon" har bra låtar som "Judas Kiss", "Wastin' Time Talkin'" och "I Play the Drums".
1989 var också ett år jag såg flera grymt bra konserter. Allra bäst var Tommy Conwell & The Young Rumblers som gjorde en helt magisk spelning på Mejeriet i Lund. Bästa låtarna denna härliga rockkväll var "Half a Heart", "I'm Not Your Man", "If We Never Meet Again", "Love's On Fire" och "Workout". Olle Berggren skrev i Kvällsposten:
"Rock'n'roll för grabbar som kör Amazon, dricker pilsner, spelar luftgitarr alternativt ishockeyspel. Inget för posörer och Phil Collins-fans"
Nästan lika bra var The Rainmakers på Nya Vågen i Göteborg. Det var tyvärr inte jättemycket folk på plats, men Rainmakers öste på som om det vore fullsatt. De spelade många av mina favoritlåtar. Bäst var "Big Fat Blonde", "Long Gone Long", "The One That Got Away", "Government Cheese", "Drinkin' On the Job", "Information", "Reckoning Day", "Spend It on Love", "Tornado of Love" och "Shiny Shiny".
Jason & The Scorchers på Mejeriet i Lund var också grymt bra. Hög volym och många bra låtar som t ex "White Lies", "Broken Whiskey Glass" och "If Money Talks".
The Pogues på Olympen i Lund var en bra konsert. Shane MacGowan var ganska full, men klarade av att sjunga bra trots det. De bästa låtarna var "If I Should Fall from Grace With God", "Young Ned of the Hill", "A Rainy Night in Soho" och "The Sick Bed of Cuchulainn".
Bob Dylan live på Christinehof var en annorlunda konsertupplevelse. Det var en hyfsad konsert även om den fick usel kritik i tidningarna. Bästa låtarna var "Subterranean Homesick Blues", "Just Like a Woman", "Like a Rolling Stone" och "Girl from the North Country". Förband var Plura och Carla Jonsson från Eldkvarn.
Andra bra album under året var "Peace & Love" (The Pogues), "No Fuel Left for the Pilgrims" (D-A-D), "Zig Zag" (The Hooters), "Full Moon Fever" (Tom Petty), "Brave and Crazy" (Melissa Etheridge), "Change" (The Alarm), "Fuel Injected Dreams" (Karl Kanga) och "Big Daddy" (John Mellencamp).
Det kom många andra bra låtar, t ex "Alla vill till himlen" (Thåström), "Jihad" och "Sleeping My Day Away" (D-A-D), "House for Sale" (Drivin n Cryin), "Skin Deep" och "No Souvenirs" (Melissa Etheridge), 500 Miles (The Hooters), "Rock the House" (Karl Kanga), "Pet Semetary" (The Ramones), "Free Fallin'" och "I Won't Back Down" (Tom Petty), "Love in an Elevator" (Aerosmith), "Baby I Don't Care" (Transvision Vamp), "Like a Prayer" (Madonna), "I Want It All" (Queen), "Poison" (Alice Cooper), "Closer to Fine" (Indigo Girls), "Come Anytime" (Hoodoo Gurus), "Pop Singer" (John Mellencamp), "No Frontiers" (The Alarm) och "Walking Talking Johnny Cash Blues" (The Godfathers).
Spellista på Spotify
Videos
Aerosmith
,
Alice Cooper
,
Bob Dylan
,
D-A-D
,
Drivin n Cryin
,
Eldkvarn
,
Hoodoo Gurus
,
Hooters
,
Indigo Girls
,
Jason & The Scorchers
,
John Mellencamp
,
Johnny Diesel & The Injectors
,
Karl Kanga
,
Madonna
,
Maria McKee
,
Melissa Etheridge
,
Perssons Pack
,
Plura & Carla Jonsson
,
Queen
,
Ramones
,
Thåström
,
The Alarm
,
The Beat Farmers
,
The Del-Lords
,
The Georgia Satellites
,
The Godfathers
,
The Pogues
,
The Rainmakers
,
Tom Petty & The Heartbreakers
,
Tommy Conwell & The Young Rumblers
,
topplista
,
Transvision Vamp
,
Wilmer X