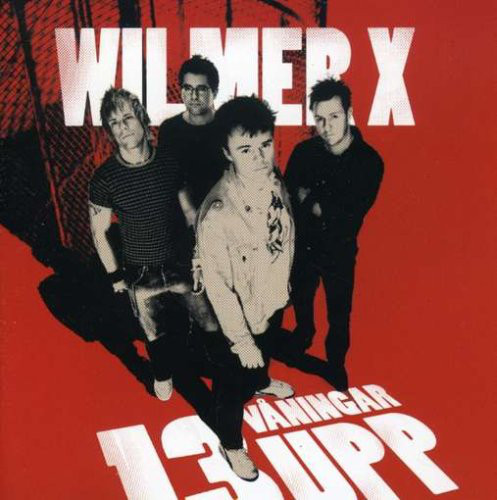 Bästa album
Wilmer X – 13 våningar upp
Bon Jovi – Have a Nice Day
Ulf Lundell – Högtryck
Dropkick Murphys – The Warrior's Code
Jimmy Barnes – Double Happiness
Svenska
Wilmer X – 13 våningar upp
Live
The Men They Couldn't Hang – Smugglers and Bounty Hunters
Bästa låtar
Ulf Lundell – Öppen väg, öppen bil
Volbeat – I Only Wanna Be With You
Melissa Etheridge – Piece Of My Heart
Bruce Springsteen – A Love So Fine
Bon Jovi – Have a Nice Day
Dropkick Murphys – I'm Shipping Up to Boston
Wilmer X – Fem ett fem
Lars Winnerbäck – Stort liv
Björn Afzelius – Lex Pentagon
Lars Winnerbäck – Som en hemlös själ
Svenska
Ulf Lundell – Öppen väg, öppen bil
Bästa konserter
U2 – Ullevi, Göteborg
John Fogerty – Baltiska Hallen, Malmö
Lars Winnerbäck & Hovet – Ovesholms Slott, Vä, Kristianstad
Ulf Lundell – Christinehofs Slott, Tomelilla
Per Persson & Band – Palace, Kalmar
Bruce Springsteen – Hovet, Stockholm
Svensk
Lars Winnerbäck & Hovet – Ovesholms Slott, Vä, Kristianstad
Musikåret
2005 var inget jättebra musikår. Några hyfsade album, några bra låtar och några riktiga kanonkonserter.
Årets klart bästa låt var Ulf Lundells "Öppen väg, öppen bil" som är lysande. Den kom på plattan "Högtryck". Där finns även låtarna "Om det här är vintern" och "Vitt regn" som också är bra. Lundell var verkligen produktiv – han släppte även dubbelalbumet "Lazarus" där de bästa låtarna är "FOXF", "Utanför byggnaden" och "Rött vin och whiskey". Jag såg även en mycket bra konsert med Ulf Lundell på Christinehof. Bästa låtarna var "Om det här är vintern", "Öppen väg, öppen bil", "(Oh la la) jag vill ha dej", "Om sommaren", "Förlorad värld", "Tillsammans vi två", "S:t Monica", "Älskling", "Kär och galen", "Lycklig lycklig", "Ut i kväll" och "Hon gör mej galen".
Wilmer X album "13 våningar upp" är årets bästa album (mest beroende på dålig konkurrens), men långtifrån deras bästa. Låtarna "Fem ett fem", "A till B", "Blind mans bluff", "15-12-10 1/2" är bäst.
Årets bästa konsert stod U2 för på Ullevi i Göteborg. De är utan tvekan ett av världens bästa liveband. Regnet öste ner under stora delar av konserten, men det märktes inte ett dugg på intensiteten. Bästa låtarna under kvällen var "Vertigo", "The Electric Co.", "Beautiful Day", "I Still Haven't Found What I'm Looking for", "All I Want Is You", "City of Blinding Lights", "Sunday Bloody Sunday", "Pride (In the Name of Love)" och "With or Without You".
Jag såg en mycket bra konsert med John Fogerty i Baltiska Hallen i Malmö. Bästa låtarna under konserten var "Travelin' Band", "Who'll Stop the Rain", "Rambunctious Boy", "She's Got Baggage", "Almost Saturday Night", "The Old Man Down the Road", "Centerfield", "Up Around the Bend", "Bad Moon Rising", "Fortunate Son" och "Rockin' All Over the World".
Lars Winnerbäck & Hovet var kanonbra live i regnet på Ovesholms Slott utanför Vä/Kristianstad. Bästa låtarna under konserten var "Min älskling har ett hjärta av snö", "För dig", "Pollenchock & stjärnfall", "Elegi", "Hjärter Dams sista sång", "Kom ihåg mig", "Elden", "Hugger i sten", "Kom änglar", "Kom" och "Solen i ögonen". Lars Winnerbäcks singel "Stort liv" var också bra.
Bon Jovis album "Have a Nice Day" är också ganska bra. Bäst är titelåten "Have a Nice Day" samt "Who Says You Can't Go Home", "Story of My Life" och "Last Cigarette".
Dropkick Murphys album "The Warrior's Code" är bra – i synnerhet "I'm Shipping Up to Boston". Andra bra låtar är "The Auld Triangle", "Your Spirit's Alive" och "The Green Fields of France (No Man's Land)". Dessutom släppte de en bra cover av "It's a Long Way to the Top (If You Wanna Rock'n'Roll)" (AC/DC).
Jimmy Barnes album "Double Happiness" innehåller många duetter och samarbeten med olika artister. Bästa låtarna är "Sit on My Knee" "Out of Time" och "Got You As a Friend".
Bruce Springsteen släppte soloskivan "Devils & Dust". Det är inte en av mina favoritskivor med Bruce, men låtarna "Long Time Comin'", "Matamoros Banks", "Maria's Bed" och "Devils & Dust" är ganska bra.
The Men They Couldn't Hang gjorde årets bästa liveskiva. "Smugglers and Bounty Hunters" är mycket bra, speciellt låtarna "The Ghosts of Cable Street", "The Colours", "Ironmasters" och "Going Back to Coventry".
Det kom flera mycket bra covers under året, speciellt "I Only Wanna Be With You" (Volbeat), "Piece of My Heart" (både av Melissa Etheridge och Jimmy Barnes), "A Love So Fine" (Bruce Springsteen), "Keep Your Hands to Yourself" (Rob Tognoni), "Manuel" (Thorsten Flinck), "Gimme Some Lovin'" (Living Loud) och "Som en hemlös själ" (Lars Winnerbäck).
Per Persson & band gjorde en bra livespelning trots det usla konsertstället Palace i Kalmar. Bäst var "Brooklandsvägen", "Då är det inte jag", "Vild som Jerry Lee", "Nyårsafton i New York", "Tusen dagar härifrån" och "Mördar-Anders".
Jag såg även en bra solokonsert med Bruce Springsteen på Hovet i Stockholm. Bästa låtarna under kvällen var "Downbound Train", "The Promise", "Point Blank", "The Rising", "Lucky Town", "This Hard Land", "Cadillac Ranch / Ramrod", "Bobby Jean" och "Blinded By the Light". "Lex Pentagon" (Björn Afzelius) och "Camping in Scandinavia" (D-A-D) är också bra.
Spellista på Spotify
Videos