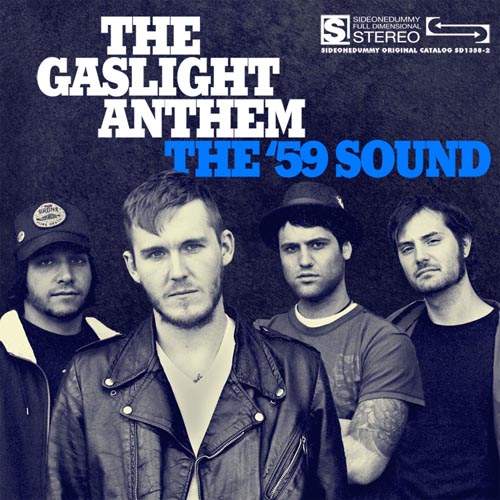 Bästa album
The Gaslight Anthem – The '59 Sound
Green Day – 21st Century Breakdown
Walkenhorst & Porter – No Abandon
Perssons Pack – Öster om heden
Tommy Conwell & The Young Rumblers – Thanks But No Thanks
Svenska
Perssons Pack – Öster om heden
Live
Jimmy Barnes – Live At the Enmore
Bästa låtar
Green Day – Know Your Enemy
The Gaslight Anthem – Meet Me At the River's Edge
The Gaslight Anthem – The '59 Sound
Walkenhorst & Porter – Overland Hill
The Gaslight Anthem – Great Expectations
The Gaslight Anthem – Old White Lincoln
The Gaslight Anthem – The Patient Ferris Wheel
Green Day – 21st Century Breakdown
The Gaslight Anthem – High Lonesome
Perssons Pack – Sångare utan orsak
Svenska
Perssons Pack – Sångare utan orsak
Bästa konserter
Bruce Springsteen & The E Street Band – Stockholms Stadion, Stockholm (5/6)
U2 – Ullevi, Göteborg
Dan Baird & Homemade Sin – Black Horn, Norrköping
Bruce Springsteen & The E Street Band – Stockholms Stadion, Stockholm (4/6)
AC/DC – Ullevi, Göteborg
Ulf Lundell – Slottsruinen, Borgholm
Dan Hylander & Orkester – Compagniet, Karlshamn
Ulf Lundell – Östersjöfestivalen, Stortorget, Karlshamn
Dan Hylander – Musik på Larmtorget, Karlshamn
Svensk
Ulf Lundell – Slottsruinen, Borgholm
Musikåret
2009 var inget bra musikår när det gäller album och låtar, med ett stort undantag – The Gaslight Anthems album "The '59 Sound". Jag såg även ett antal bra konserter.
"Know Your Enemy" är en kanonbra låt från Green Days album "21st Century Breakdown", som är årets bästa. Andra bra låtar på skivan är "21st Century Breakdown", "21 Guns" och "East Jesus Nowhere".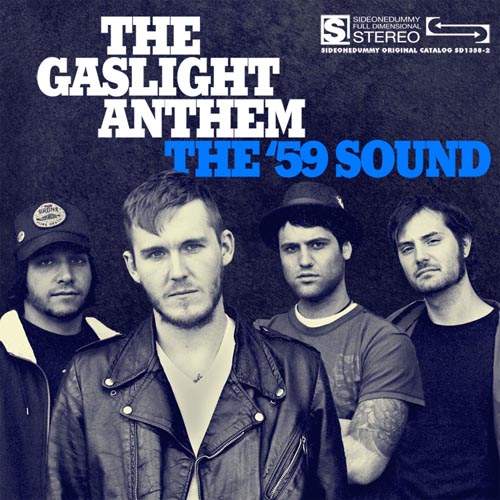 "The '59 Sound" av The Gaslight Anthem är ett mästerverk. Herregud vilken bra skiva. En av de absolut bästa under 2000-talet. Det finns knappt en dålig låt på skivan. Helt makalös rock'n'roll. Allra bäst är "Meet Me At the River's Edge", följd av titelspåret "The '59 Sound", "Great Expectations", "Old White Lincoln", "The Patient Ferris Wheel", "High Lonesome" och "The Backseat". Ingen annan platta under 2009 är i närheten av denna.
The Rainmakers hade inte släppt något album på många år, men nu kom istället ett album med Walkenhorst & Porter. Bob Walkenhorst är sångare/gitarrist/låtskrivare i The Rainmakers och även om plattan inte är lika bra som Rainmakers skivor finns här ändå flera bra låtar. Allra bäst är "Overland Hill", men även "Stay Ahead of the Wolves" och "No Abandon" är bra.
Perssons Pack hade inte heller släppt något album sedan 90-talet, men gav nu ut "Öster om Heden". Bästa låtarna är "Sångare utan orsak", "Bortom månen och mars", "Ikväll tar vi över stan" och "När du är ung".
Tommy Conwell & The Young Rumblers gav ut sitt första album på 19 år. "Thanks But No Thanks" spelades visserligen in många år tidigare, men det utkom 2009. Det har flera bra låtar, men allra bäst är "Up Around the Way".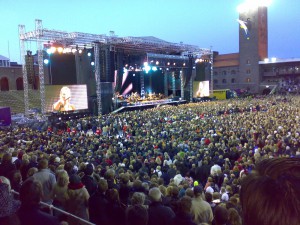 Bruce Springsteens album "Working on a Dream" tillhör definitivt inte hans bästa, tvärtom. Bästa låtarna på skivan är "My Lucky Day" och "Tomorrow Never Knows". Jag såg 2 konserter med Bruce Springsteen & The E Street Band i Stockholm. I första dagens skitväder var "Badlands", "The Ghost of Tom Joad", "Cadillac Ranch", "Because the Night", "The Promised Land", "Born to Run", "Bobby Jean" och "American Land". Konserten den andra dagen var bäst. Bästa låtarna var delvis samma, men även "Growin' Up", "Thunder Road", "Radio Nowhere", "Lost in the Flood" och "Glory Days".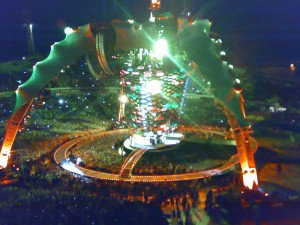 U2 bjöd på en fruktansvärt bra show på Ullevi i Göteborg även om låtvalen var väldigt ojämna. När man kommer in på Nya Ullevi möts man av den märkligaste scen jag någonsin sett. Bästa låtarna var "Beautiful day", "New Year's Day", "I Still Haven't Found What I'm Looking for", "Vertigo", "Sunday Bloody Sunday" och "Pride (In the Name of Love)".
Jag såg en grymt bra konsert med Dan Baird & Homemade Sin på Black Horn i Norrköping. Bästa låtarna var "Six Years Gone", "I Love You Period", "I Dunno", "Keep Your Hands to Yourself", "Sheila", "Two for Tuesday" och covern av "Like a Rolling Stone".
Jag såg en bra konsert med AC/DC på Ullevi. Bästa låtarna var "Back in Black", "Dirty Deeds Done Dirt Cheap", "Thunderstruck", "Hells Bells", "You Shook Me All Night Long", "T.N.T.", "Whole Lotta Rosie" och "Highway to Hell".
Jag såg Ulf Lundell live 2 gånger. Spelningen i Borgholm var klart bättre än den i Karlshamn.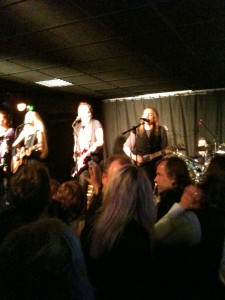 Jag såg även Dan Hylander live 2 gånger. Första gången i Kalmar var OK, men frågan är om inte den andra i Karlshamn var årets behållning. Inte pga Dan Hylander själv även om han var bra. Med sig på scen hade han ett nytt band. Janne Bark är Sveriges kanske bästa gitarrist och jag har sett honom live med Ulf Lundell många gånger, men det är inte heller Janne. I bandet fanns en vacker skånska med långt blont hår. Detta var första gången jag hörde Nilla Nielsen sjunga och herregud som hon sjöng. Nilla har en makalös sångröst och hennes låtar "Salt" och framförallt "Higher Ground" var riktiga höjdpunkter (de skulle komma på albumet "Higher Ground" året därpå). Sedan denna kväll har jag lyssnat på Nillas låtar otaliga gånger, sett henne spela live långt över 100 gånger och blivit god vän med henne. Men det var på Compagniet i Karlshamn år 2009 det började.
Andra bra låtar under året var "Never Miss Your Water" (Diesel), "Man from the North" (Nilla Nielsen), "Fill Your Head With Rock" (Bonafide) och "When Will I Be Loved" (John Fogerty & Bruce Springsteen).
Spellista på Spotify
Videos
AC/DC
,
Bob Walkenhorst
,
Bon Jovi
,
Bonafide
,
Bruce Springsteen
,
Bruce Springsteen & The E Street Band
,
Dan Baird & Homemade Sin
,
Dan Hylander
,
Dan Hylander & Orkester
,
Diesel
,
Green Day
,
Jeff Porter
,
Jimmy Barnes
,
John Fogerty
,
Nilla Nielsen
,
Perssons Pack
,
Steve Earle
,
The Elders
,
The Gaslight Anthem
,
Tommy Conwell & The Young Rumblers
,
U2
,
Ulf Lundell
,
Walkenhorst & Porter