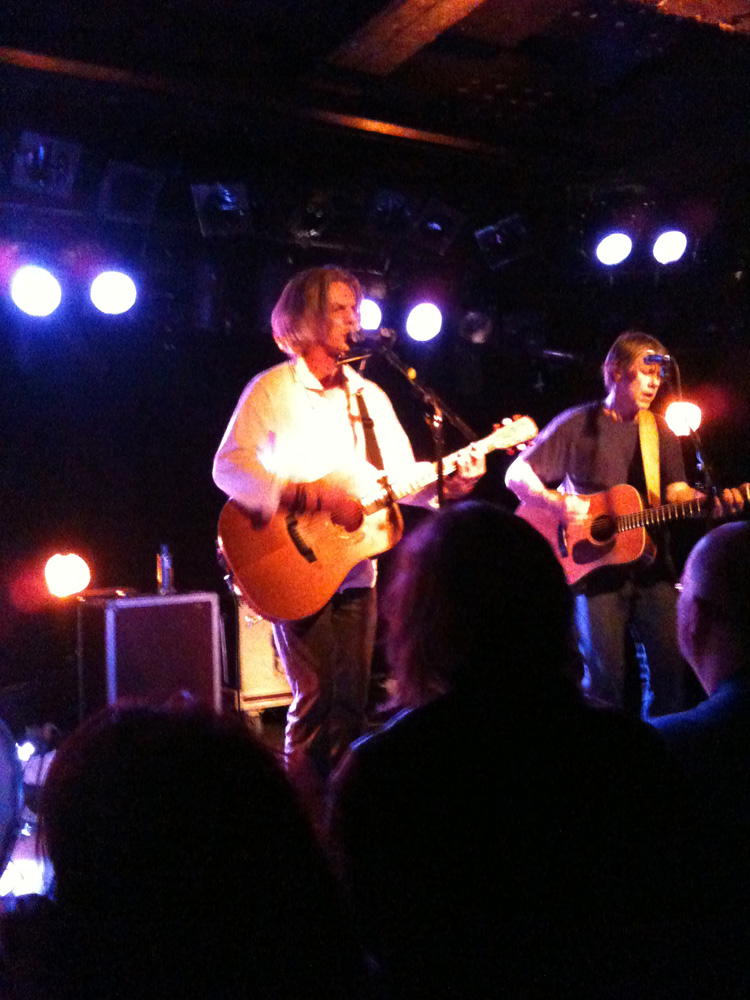 Walkenhorst & Porter live i Oslo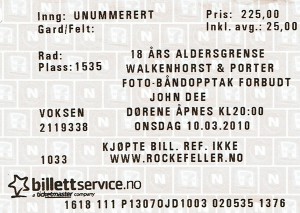 Den 10 mars 2010 såg jag en enormt bra konsert med Bob Walkenhorst och Jeff Porter på John Dee i Oslo. Underbara rocklåtar, lysande musiker och en kanonbra publik gav en konsert, som jag aldrig kommer att glömma.
Bob Walkenhorst var under 80- och 90-talet sångare i The Rainmakers och ungefär hälften av låtarna kommer från Rainmakers suveräna repertoar. Övriga låtar kommer från Walkenhorst & Porters nya album No Abandon.
För 20 år sedan såg jag The Rainmakers live i Göteborg och sedan dess har jag väntat på att få höra dessa underbara rocklåtar live igen. För mig så är det bara Bruce Springsteen som slår Rainmakers.
När jag kom in på John Dee blev jag lite konfunderad. Jag hade förväntat mig 2 akustiska gitarrer, men på scenen stod även en elektrisk gitarr, piano och ett trumset. Det visade sig att det går alldeles utmärkt att köra en rejäl rockkonsert också med två musiker. 2 akustiska gitarrer, gitarr & trummor, gitarr & piano eller trummor & piano – om inställningen är den rätta kan det kan bli ett jäkla ös oavsett vilket.
Konserten började kanonbra, efter nya No Abandon följde två av Rainmakers allra bästa låtar – The One That Got Away och Long Gone Long. Därefter blandades det av gamla och nya låtar. The One That Got Away var helt makalös – inte minst publikens allsång. Läs vad Bob Walkenhorst själv skrev på Rainmakers Facebooksida om detta nedan (man blir minst sagt väldigt glad – och videon av detta ögonblick kan ses nedan). Efter låten låten sa Bob till Jeff "I forgot to tell you that everybody sings along over here". Jeff svarade "You really are a rock star"…
"It's great when a life-changing decision can be captured on camera. Here is the moment in Oslo – the Walkenhorst & Porter acoustic tour of 2010, when we start playing The One That Got Away – first Rainmakers tune of the night, and the crowd just takes off singing without us. It was exactly then that I realized – "Oh, they want to hear the Rainmakers – well, why not!" And the reunion started.

thanks to our friend Peter Hemgard for providing the video."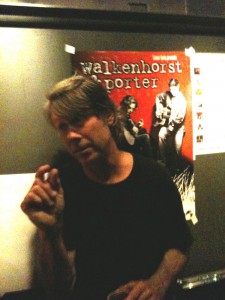 Jeff Porter berättade om sin farbror innan (och i) låten Jimmy Lee. Därpå sa Bob Walkenhorst: "Jag hade också en farbror…" – och så började den hejdlösa Lakeview Man.
Vi fick höra många av Rainmakers bästa låtar, såsom Government Cheese, Spend It on Love, Hoo Dee Hoo, Reckoning Day, Small Circles, Shiny Shiny, Rockin' at the T-Dance, Information, One More Summer, Let My People Go-Go och Big Fat Blonde.
Bland de nya låtarna gillade jag speciellt Overland Hill, Stay Ahed of the Wolves och Jimmy Lee.
Efteråt fick jag även möjlighet att växla några ord med Bob och Jeff, som verkar vara hur trevliga som helst.
Det var en lång och dyr resa till Oslo, men det var värt varenda tusenlapp – och jag gör gärna om det. Stort tack till Stian Omland, som arrangerar Norge-turnén. Och till Bob & Jeff för en makalös konsert jag aldrig kommer att glömma.
Setlista
No Abandon
The One That Got Away
Long Gone Long
Overland Hill
Hey Bird
View from the Tower
Silver Lake
Shiny Shiny
Sinking Hour
Hoo Dee Hoo
Stay Ahead of the Wolves
Spend It on Love
Rockin' at the T-Dance
Jimmy Lee
Lakeview Man
Reckoning Day
Ruin the Rain
Government Cheese
The Wages of Sin
Broken Radio
Downstream
Small Circles
Information
Let My People Go-Go (extranummer)
Width of a Line (extranummer)
Big Fat Blonde (extranummer)
One More Summer (extranummer)
Bob Walkenhorst & Jeff Porter
Bob Walkenhorst (sång, gitarr, munspel & trummor)
Jeff Porter (gitarr, sång & piano)
Audio – hela konserten
Denna lysande konsert kan laddas ner här
Mina videos från konserten
The One That Got Away
Shiny Shiny
Spend It on Love
Lakeview Man
Let My People Go-Go
Big Fat Blonde