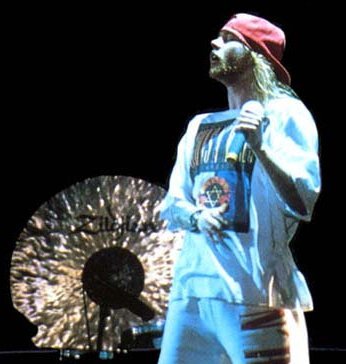 Guns n'Roses live i Köpenhamn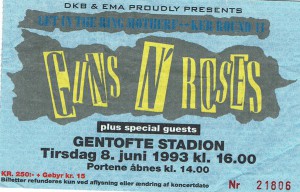 Den 8 juni 1993 såg jag en konsert som var sådär med Guns n'Roses på Gentofte Stadion i Köpenhamn.
Guns n'Roses har alltid varit mitt favorithårdrocksband och jag hade stora förväntningar på konserten, som dock blev en ganska stor besvikelse. Först kommer dom inte in förrän en och en halv timme efter utsatt tid. Visst fanns det en hel del låtar det var bra ös i, men man sitter fan inte ner och spelar akustiskt i en halvtimme om man heter Guns n'Roses. I synnerhet inte om konserten bara är en timme och 20 minuter lång.
Och hur kan Axl ha på sig en tröja med en bild på Charles Manson? Det är lika korkat som när man ser tröjor med Che Guevara eller andra mördare.
Bästa låtarna under konserten var Yesterdays, Welcome To the Jungle, Knockin' On Heaven's Door (cover av Dylan), November Rain, Dead Horse, Sweet Child O' Mine och Paradise City.
Guns n'Roses
Axl Rose (Sång)
Slash (Gitarr)
Duff McKagan (Bas & sång)
Dizzy Gillespie (Klaviatur)
Gilby Clarke (Gitarr)
Matt Sorum (Trummor)
Turné
Destruction, lies: The Road to Illusion
Förband
Recension
2 – Rebellerna har förvandlats till rena Gubbs n'Roses – Olle Berggren, Kvällsposten
Videos
Från Paris 2 dagar före konserten i Köpenhamn.
Sweet Child O' Mine
November Rain