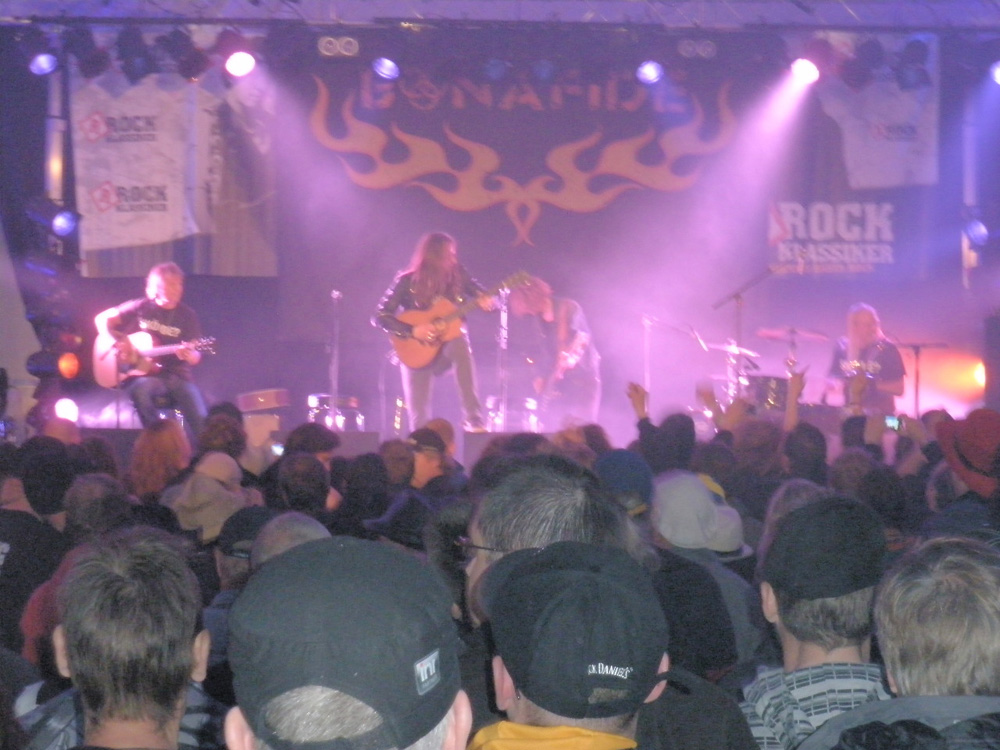 Den 11 juni 2010 såg jag Bonafide live på Sweden Rock Festival i Norje.
Fredagkvällen på Sweden Rock Festival bjöd tyvärr på en riktig krock – Bonafide, Billy Idol och Mustasch spelade samtidigt. Jag valde att se hela Bonafides och lite av Billy Idols spelningar.
Bonafide spelade akustiskt i Rockklassikertältet och gjorde en mycket bra spelning. Pga långa köer för att komma in på festivalområdet missade jag ett par av de första låtarna, men såg alla andra. Bäst var avslutningen med låten Fill Your Head With Rock när de hade hjälp av 20 gäster på den lilla scenen.
Jag började lyssna på Bonafide för ett par år sedan och tycker bara de blir bättre och bättre. Som de flesta andra bra svenska rockband kommer de från SKÅNE.
Sångaren/gitarristen Pontus Snibb spelar numera även trummor i ett av mina största favoritband – Jason & The Scorchers.
Setlista
Jag minns tyvärr inte vilka övriga låtar de spelade
Bonafide
Pontus Snibb (Sång & gitarr)
Mikael Fässberg (Gitarr)
Micke Nilsson (Bas)
Niklas Mattsson (Trummor)
Evenemang
Videos
Fill Your Head With Rock
Bonafides egen rockumentary