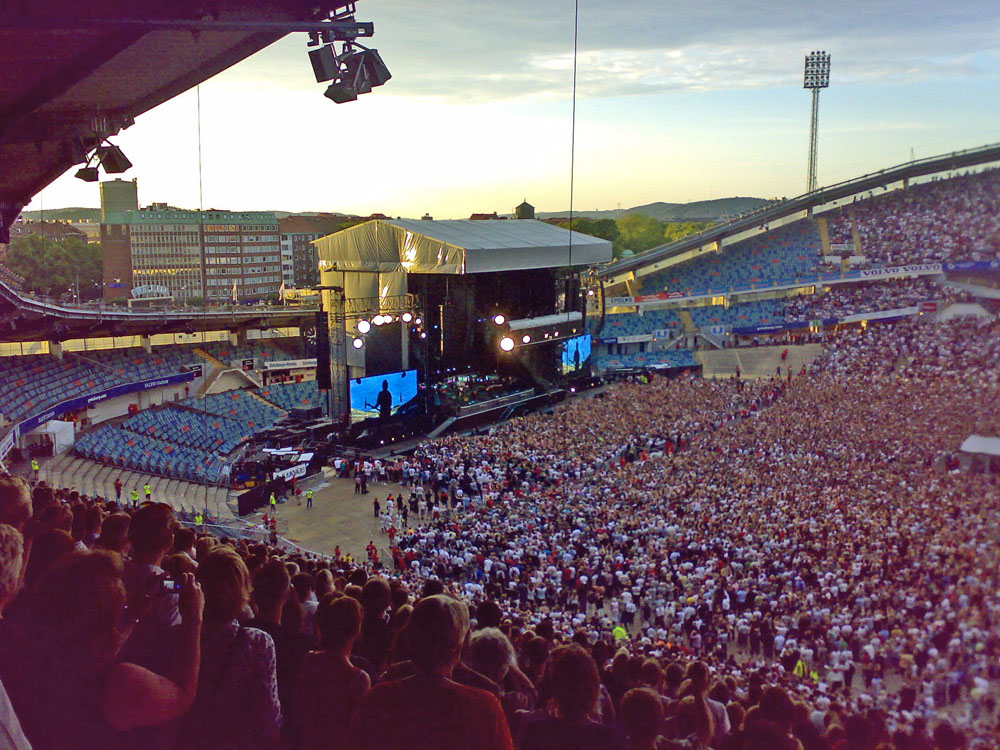 Bruce Springsteen & The E Street Band live i Göteborg

Den 4 juli 2008 såg jag Bruce Springsteen & The E Street Band på Nya Ullevi i Göteborg. Konserten var så in i helvete bra att jag fortfarande ryser när jag tänker på det. Detta är en av de bästa konserter jag någonsin sett – de enda som varit bättre är Springsteens tidigare spelningar på Ullevi (1985 och 2003).
Detta var min andra Springsteen-konsert på en vecka och jag trodde knappast det var möjligt, men… denna var mycket bättre än i Köpenhamn. Det är faktiskt lite märkligt – jag har nu sett 12 konserter med Springsteen (Göteborg, Stockholm och Köpenhamn). Det är alltid bättre i Sverige än i Danmark och det är alltid bättre i Göteborg än i Stockholm. Dock spelar det ingen roll om det är dag 1 eller 2 (vad än vissa journalister har inbillat sig).
Publiken på Ullevi måste vara en av de bästa i världen. Vi hade sittplatser, men det var inte många minuter man satt ner i stolarna – varken vi eller andra. När man ser alla händer i publikhavet bölja fram och tillbaka tror man knappast det är sant.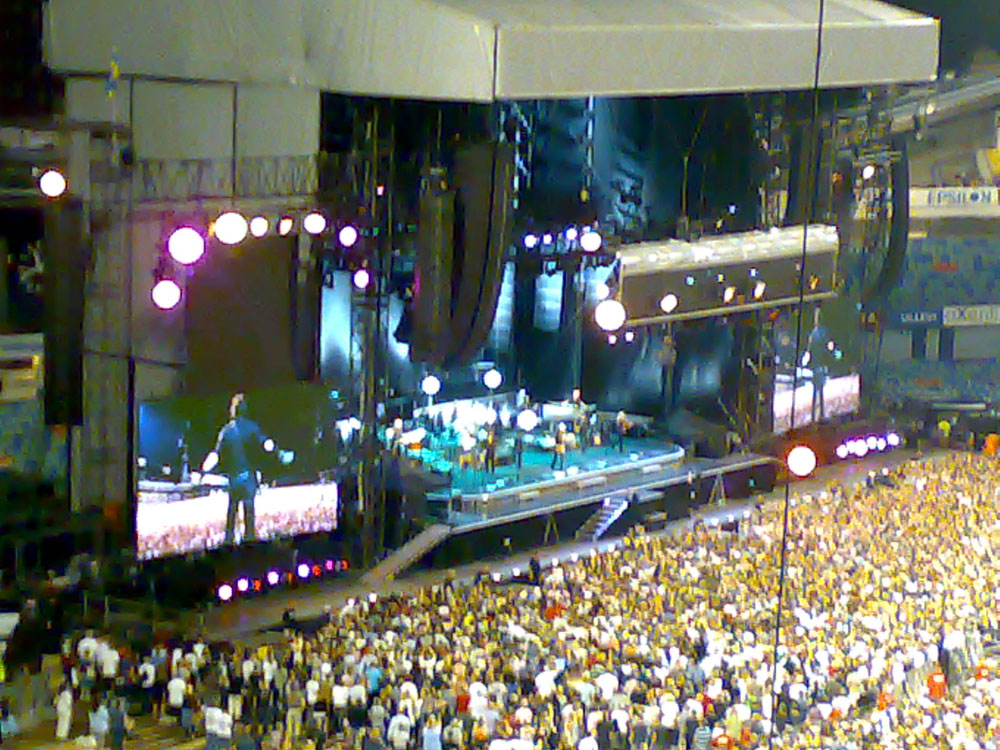 Låtlistan måste också vara en av de bästa någonsin. Bruce började med Born in the USA (som 1985) och det var därefter fullt ös hela tiden. Tidningsjournalisterna har en förmåga att klaga på Radio Nowhere, men jag tycker det är en skitbra låt. Sedan kommer Out in the Street, Two Hearts och The Promised Land i snabbt tempo. 4th of July, Asbury Park (Sandy) tillägnas de under våren avlidna Danny Federici och Madam Marie.
Jag undrar om jag någonsin hört Badlands så bra som under denna kväll (missa inte videoklippet nedan). Det är världens bästa låt och när publiken svarar som på Ullevi växer den till något helt enormt.
Extranummerna är en samling under fullständig lycka – Hungry Heart, Seven Nights to Rock, Born to Run, Rosalita, Dancing in the Dark och American Land. En sådan här kväll kan man egentligen inte begära något mer, men om jag fått en önskan vore det att allt hade avslutats med Twist and Shout (liksom 1985 och 2003 – denna skulle denna dock komma under morgondagen).
Bruce Springsteen är hur glad som helst, hoppar upp och ner från scenen till publiken, Nils Lofgren levererar ett grymt gitarrsolo under Because the Night, Little Steven skojar (bl a genom att sjunga Mamma Mia i Bruce öra under Rosalita) och Clarence "Big man" Clemons är i bättre form än på länge och drar av det ena solot efter det andra i sin saxofon.
En helt magisk konsert!!!
Bruce Springsteen & The E Street Band
Bruce Springsteen, sång, gitarr & munspel
Roy Bittan, piano & synthesizer
Clarence Clemons, saxofon, slagverk & sång
Little Steven, gitarr, mandolin & sång
Nils Lofgren, gitarr & sång
Gary Tallent, bas & sång
Max Weinberg, trummor
Övriga musiker
Charles Giordano, klaviatur
Soozie Tyrell, violin, gitarr & sång
Publik
57 942
Andra recensioner
4 – Anders Nunsted (Kvällsposten)
4 – Markus Larsson (Aftonbladet)
Videos
Mina videos från konserten
The Promised Land
Because the Night
Badlands