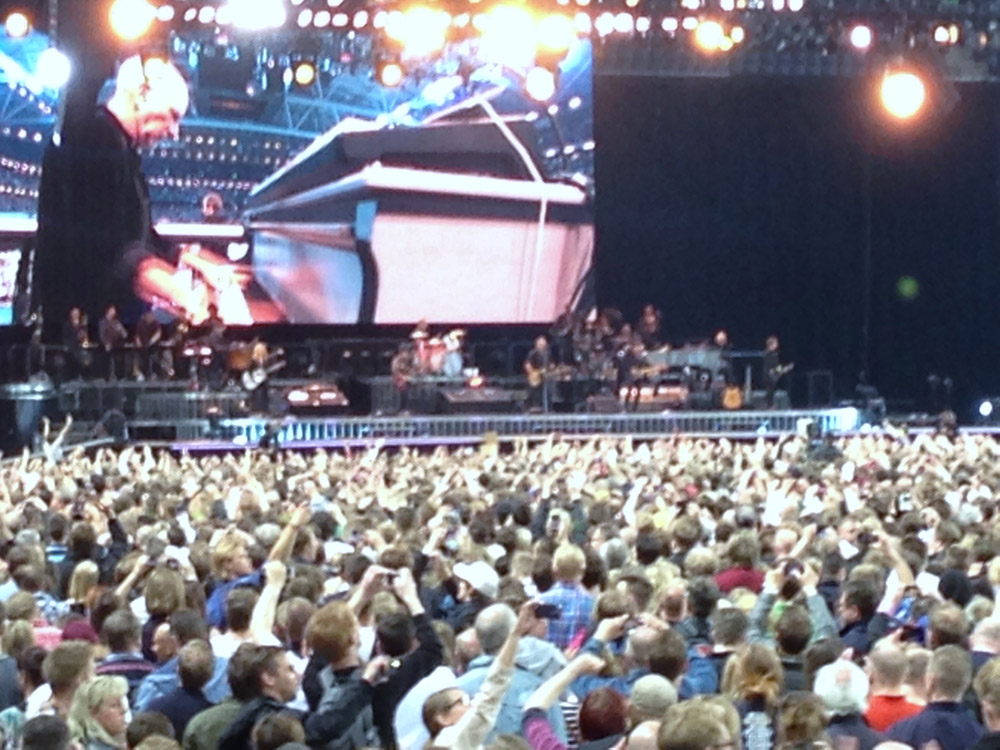 Bruce Springsteen & The E Street Band live i Stockholm

Lördagen den 4 maj 2013 var det dags för helgens andra konsert med Bruce Springsteen & The E Street Band på Friends Arena i Stockholm. Det skulle bli ännu en makalös konsert.
Till skillnad från gårdagen då jag var själv på läktaren har jag nu sällskap. Nu sitter vi på rad 2 på nedersta läktaren, vilket är avsevärt bättre! Här är det inga problem att stå upp under nästan hela konserten.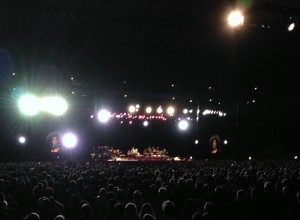 Bruce och The E Street Band kommer inte på scenen. Bruce säger "Hej Stockholm, är ni redo?" och så drar man igång en lysande version av suveräna My Love Will Not Let You Down med underbara elgitarrer.
Den följs av Leap of Faith som kanske är den allra bästa låten från Human Touch/Lucky Town-skivorna. Lite senare spelar han även Better Days. Däremellan dock en härlig version av I'm a Rocker som är ett önskemål från publiken.
Ingen av de inledande 4 låtarna spelades under gårdagen, men de följs av We Take Care of Our Own, Wrecking Ball och Death to My Hometown. Sedan blir det Hungry Heart och rejäl allsång.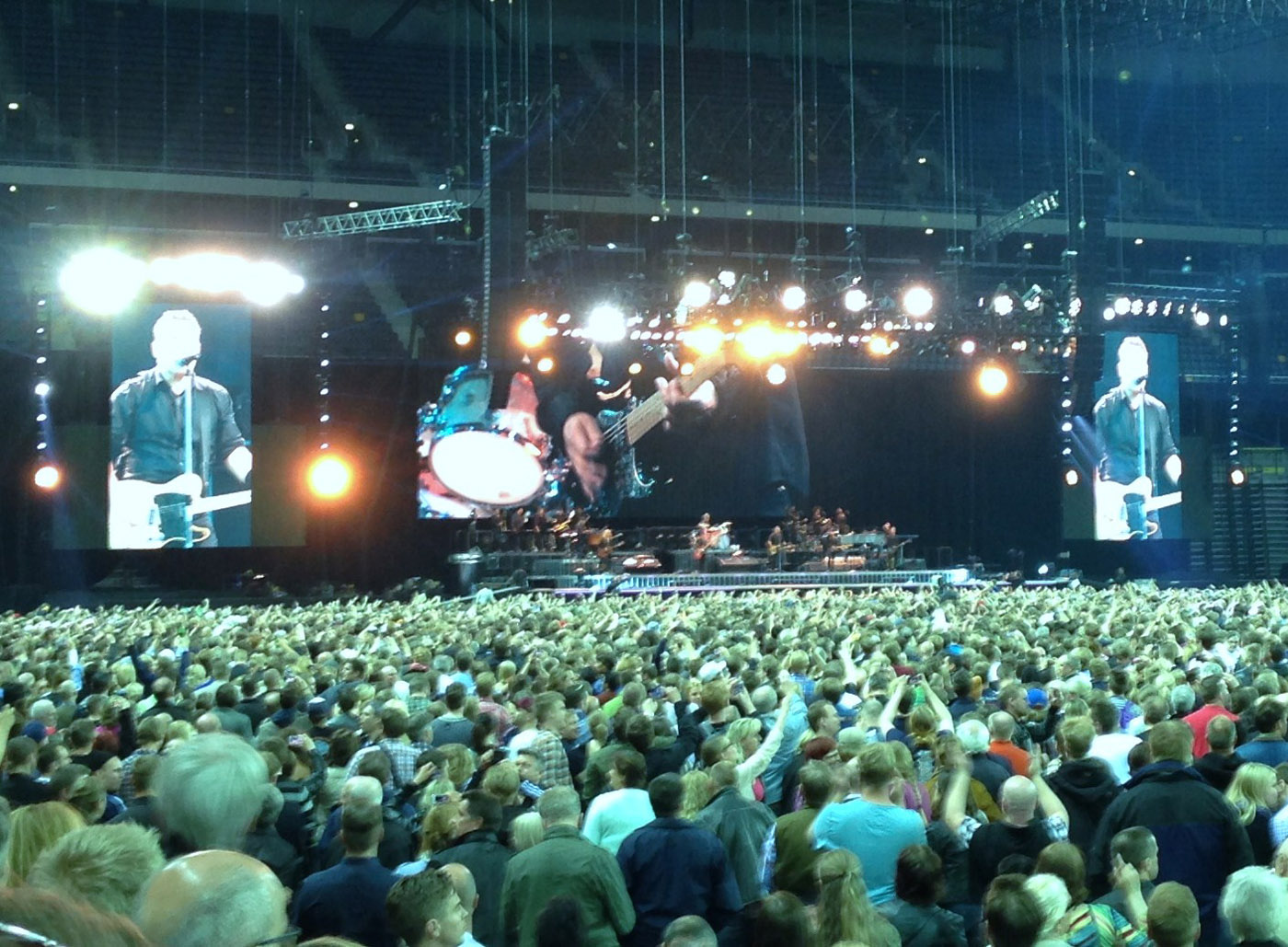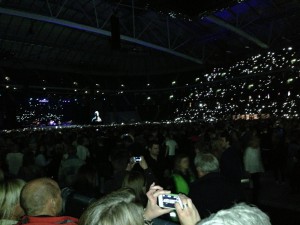 Igår körde de hela Born to Run och till min stora lycka följer de upp detta med att denna kväll spela hela nästa mästerverk – Darkness on the Edge of Town, låt för låt, från början till slut.
Öppningsspåret är underbara Badlands och det blir förstås ett härligt tryck. Adam Raised a Cain följer i en tung version. Scenen släcks ner under introt till Something in the Night och publiken lyser upp Friends Arena med sina mobiltelefoner – det ser otroligt ut.
I Candy's Room briljerar Max Weinberg bakom trummorna. Sedan är det dags för en av kvällens mest magiska ögonblick. Det blir en helt magisk 10-minuters version av vackra Racing in the Street. Ännu en gång förstärks stämningen av alla ljus från mobiler. Roy Bittan är sanslöst bra på piano.
Knappt har den ena makalösa låten slutat förrän nästa börjar. Bruce Springsteen är grym på munspel, men allra bäst är det under fantastiska The Promised Land. Ännu en av kvällens allra bästa.
Factory och Streets of Fire följer också dom helt lysande. Sedan är det dags för Nils Lofgren. Han nästan flippar ut fullständigt under sitt enorma gitarrsolo under Prove it All Night. Han dansar, snurrar, hoppar och till slut spelar han även gitarr med tänderna – herregud vilken gitarrist detta är (och då går inte heller de övriga gitarristerna på scenen av för hackor).
Titellåten avslutar det fantastiska avsnittet från Darkness on the Edge of Town. Bruce Springsteen & The E Street Band har spelat hela plattan och bjudit på ännu en klassisk konsertupplevelse.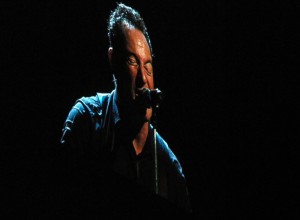 Showen fortsätter med en härlig version av Open All Night. Sedan Shackled and Drawn, Waitin' on a Sunny Day och en grym Radio Nowhere. The Rising och Thunder Road är sista låtarna före extranumren. Det är inte klokt så bra Thunder Road är – speciellt live. Bruce på munspel och Jake Clemons på saxofon!!!
Första extranumret är en kul cover av Moon Mullicans Seven Nights to Rock där Bruce spelar piano med både huvudet och näsan! Ser inte klokt ut, men Bruce verkar ha hur kul som helst.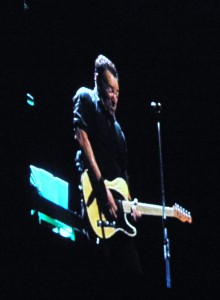 Precis som igår är Born to Run en av kvällens höjdare. Inte så konstigt när det är en av världens genom tidernas bästa låtar. Jake Clemons är åter grym på saxofon. På Dancing in the Dark får en ung påg komma upp på scen och spela gitarr med Bruce!
Tenth Avenue Freeze-Out innehåller den vackra hyllningen till Clarence Clemons (och Danny Federici). 29:e och sista låten för kvällen är härliga American Land. Detta är en av min systers favoriter och jag kan ana hur lycklig hon blir på en annan del av läktaren.
Två kvällar av enastående uppvisning i rock'n'roll är över, men det är inte slut. Måste dock tyvärr säga att Friends Arena inte är det bästa spelstället jag varit på – ljudet är bitvis sådär och kommunikationerna är fullständigt urusla. På lördag är jag tillbaka för en 3:e Springsteen-kväll och tisdagen därpå blir det en 4:e i Köpenhamn 🙂
Bruce Springsteen & The E Street Band
Bruce Springsteen (Sång, gitarr, munspel)
Roy Bittan (Piano, synthesizer)
Little Steven (Gitarr, mandolin, sång)
Nils Lofgren (Gitarr, sång)
Gary Tallent (Bas, sång)
Max Weinberg (Trummor)
Övriga musiker
Charles Giordano (Klaviatur)
Soozie Tyrell (Violin, gitarr, sång)
Jake Clemons (Saxofon)
Barry Danielian (Trumpet)
Clark Gayton (Trombon)
Ed Manion (Saxofon)
Curt Ramm (Trumpet)
Curtis King (Sång)
Cindy Mizelle (Sång)
Everett Bradley (Slagverk, sång)
Michelle Moore (Sång)
Turné
Wrecking Ball tour
Publik
55 300 st (fullsatt)
Recensioner
4 – Anders Nunstedt, Expressen
4 – Markus Larsson, Aftonbladet
Videos
Death to My Hometown
Racing in the Street