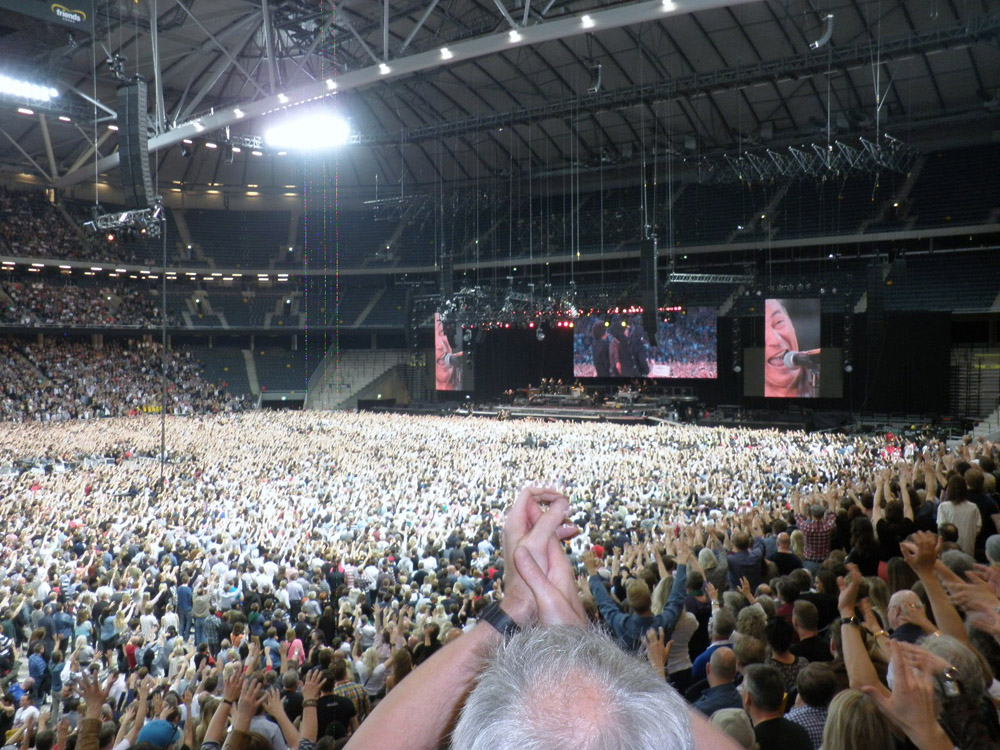 Bruce Springsteen & The E Street Band live i Stockholm

Lördagen den 11 maj 2013 var det dags för 3:e konserten med Bruce Springsteen & The E Street Band på en vecka. Det skulle bli en lika fantastisk konsert som de första två.
Kvällen/natten före hade jag sett en skön konsert med Nilla Nielsen i Helsingör och hade bara sovit några timmar när jag tog flyget från Sturup till Stockholm. Som tur var hann jag sova en dryg timme före konserten.
Bruce inleder med en grym version av The Promised Land med underbara solon på munspel och saxofon.
Därefter fullt ös i Out in the Street och sedan 3 bra låtar från senaste albumet, We Take Care of Our Own, Wrecking Ball och Death to My Hometown samt en mycket bra version av gamla Spirit in the Night.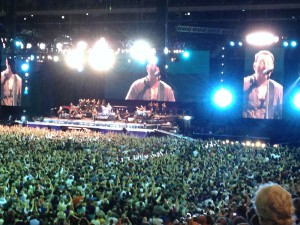 De 2 första konserterna hade Bruce spelat hela Born to Run respektive hela Darkness on the Edge of Town. Allra mest hade jag nog hoppats på hela The River, men insåg förstås att den dubbelplattan kanske var lite för lång, men är rätt jäkla nöjd med att det blev hela Born in the USA istället. Herregud vilket tryck det var i låtarna.
Det börjar med en sanslös version av titellåten Born in the USA, som följs av Cover Me. I normala fall tycker jag den låten inte är speciellt bra, men ikväll med är den något helt annat. Härliga elgitarrer!
Sedan blir det hur kul som helst med Darlington County och Working on the Highway när Bruce är mer nere bland publiken än uppe på scen. Downbound Train låter bättre än någonsin.
I I'm on Fire lyses hela arenan upp av tusentals ljus från mobiltelefoner. Det blir rock'n'roll-fest i No Surrender och Bobby Jean. Herregud vilka bra låtar det är och vilka otroliga versioner vi får höra!
I'm Goin' Down med härligt solo av Jake Clemons på saxofon följs av ren glädje i Glory Days och Dancing in the Dark. Det avslutas med en grymt bra version av My Hometown där mobiltelefonerna åter lyser och som avslutas med en mäktig allsång.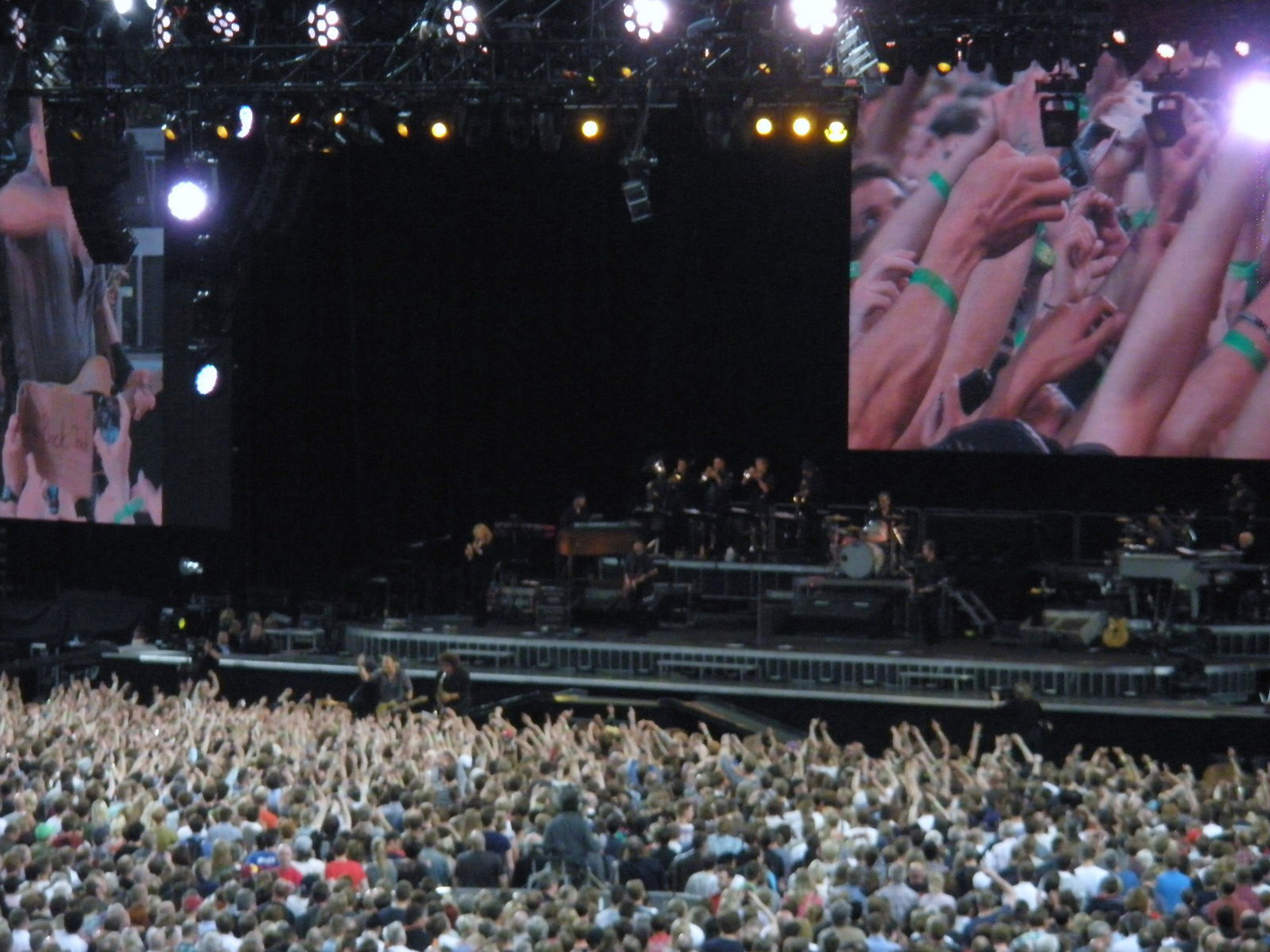 Bruce Springsteen & The E Street Band har spelat hela Born in the USA, men konserten är långtifrån över. Bruce säger "and now on with the show" och drar igång en lysande Cadillac Ranch. Shackled and Drawn, Waitin' on a Sunny Day och The Rising följer.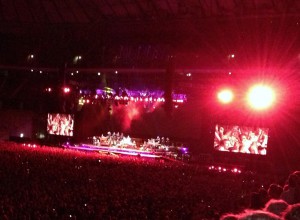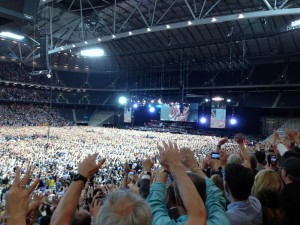 Sedan en fullständigt sanslös avslutning före extranumren. Radio Nowhere med Mighty Max Weinberg bakom trummorna. Badlands är världens bästa låt och det bevisas ännu en gång. Thunder Road är magnifik med nya härliga munspels- och saxsolon.
Extranumrena denna kväll är helt fenomenala. Först Raise Your Hand som avslutas med att Springsteen häller vatten över sig stående på Roy Bittans piano. Born to Run är helt makalös och hela arenan är ett stor jubel.
Rosalita (Come Out Tonight) är en helt otrolig låt, men det märks tyvärr lite att publiken idag inte kan låten lika bra som för 25 år sedan. Tenth Avenue Freeze-Out innehåller en mäktig hyllning till Clarence Clemons och Danny Federici. En lycklig Twist and Shout avslutar en fantastisk konsert. Eller som Aftonbladet skrev:
"Så bra att man blir knäpp"
Bruce Springsteen & The E Street Band
Bruce Springsteen (Sång, gitarr, munspel)
Roy Bittan (Piano, synthesizer)
Little Steven (Gitarr, mandolin, sång)
Nils Lofgren (Gitarr, sång)
Gary Tallent (Bas, sång)
Max Weinberg (Trummor)
Övriga musiker
Charles Giordano (Klaviatur)
Soozie Tyrell (Violin, gitarr, sång)
Jake Clemons (Saxofon)
Barry Danielian (Trumpet)
Clark Gayton (Trombon)
Ed Manion (Saxofon)
Curt Ramm (Trumpet)
Curtis King (Sång)
Cindy Mizelle (Sång)
Everett Bradley (Slagverk, sång)
Michelle Moore (Sång)
Turné
Wrecking Ball tour
Publik
55 300 st (fullsatt)
Recensioner
4 – Anders Nunstedt, Expressen
4 – Markus Larsson, Aftonbladet
Videos
Born in the USA
No Surrender
Radio Nowhere / Badlands
Hela konserten (audio)