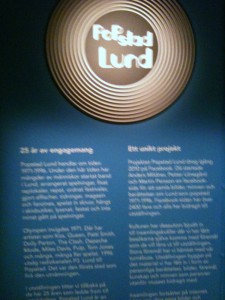 Den 2 mars 2012 på utställningen Popstad Lund på Kulturen i Lund. Den handlar om musiklivet i Lund mellan 1971-1996, då många stora band spelade på Olympen, Kulturmejeriet och andra ställen.
Jag gillade Popstad Lund, men hade kanske förväntat mig lite mer. Det var mycket intressant att läsa pressklipp, men jag har nästan fler själv hemma från olika konserter i Lund än vad som fanns på utställningen… Kul också att se konsertaffischer, instrument, kläder, skivor, fanzines m m – och lyssna på riktigt bra musik.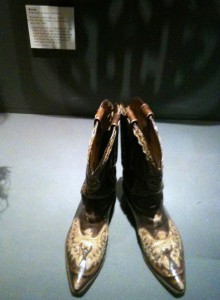 Ett tag var Lund en av Sveriges absolut bästa musikorter. Några av de bästa konserterna jag varit på är i Lund:
Wilmer X (Mejeriet, 1988)
Tommy Conwell & The Young Rumblers (Mejeriet, 1989)
Jason & The Scorchers (Mejeriet, 1989)
Pogues (Olympen 1989)
Georgia Satellites (Mejeriet, ca 1989-91)
Wilmer X (Mejeriet, 1990)
Hooters (Olympen, 1990)
Pogues (Olympen, 1990)
Maria McKee (Mejeriet, 1993)
Sinners (Mejeriet, 1993)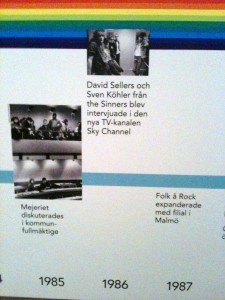 Utställningen handlar alltså om musiken i Lund fram till 1996. Naturligtvis har det hänt saker i Lund även senare, men det är tyvärr ingen tillfällighet att den senaste konserten jag såg i Lund var 1993. Hoppas detta snart ändrar sig och vi får se många bra band spela i Lund framöver. Kulturmejeriet är en av de bästa rockklubbar jag varit på.
Sven Köhlers boots fanns också med… The Sinners är ett av mina största svenska favoritband. Har sett 3 grymma live-konserter i Lund, Ystad och Malmö.