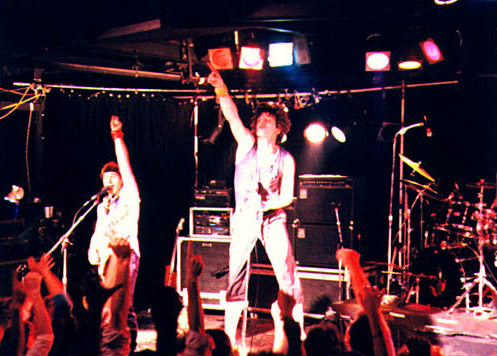 The Rainmakers live i Göteborg
Den 18 november 1989 såg jag och Mikael en fantastisk konsert med Rainmakers på Nya Vågen i Göteborg.
Det var tyvärr inte jättemycket folk på plats, men Rainmakers öste på som om det vore fullsatt. De spelade många av mina favoritlåtar. Bäst var Big Fat Blonde, Long Gone Long, The One That Got Away, Government Cheese, Drinkin' On the Job, Information, Reckoning Day, Spend It On Love, Tornado Of Love och Shiny Shiny.
Vi körde Mikaels gamla Volvo till Göteborg för att se mitt största favoritband vid sidan om Springsteen. Vad som var mindre begåvat var att även köra hem på natten… Det snöade när vi lämnade Göteborg, all värme i rishögen kom på fötterna vid passagerarsätet så man fick sitta med benen uppe… i resten av bilen var det svinkallt… vi var hemma halv sex på morgonen… varför inte lägga ut några hundralappar och bo kvar??? Nåja, vi fick i alla fall se en grymt bra konsert!
Setlista
Hoo Dee Hoo
Downstream
Johnny Reb
The Wages of Sin
Reckoning Day
Nobody Knows
Shiny Shiny
Spend it on Love
Snakedance
Lakeview Man
Tornado of Love
Long Gone Long
Small Circles
One More Summer
Big Fat Blonde
Drinkin' on the Job
Let My People Go-Go
Information
The One That Got Away
Government Cheese
Renaissance Man
Övriga låtar minns jag inte.
The Rainmakers
Bob Walkenhorst (Sång & gitarr)
Rich Ruth (Bas & sång)
Steve Phillips (Gitarr & sång)
Pat Tomek (Trummor)
Videos från samma turné
Hoo Dee Hoo