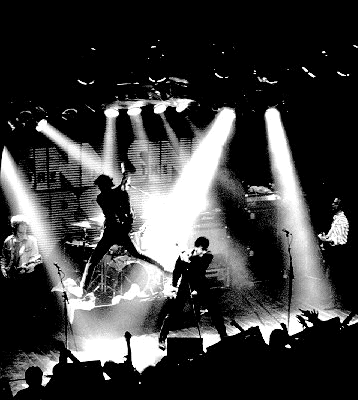 Jag, Mikael och Magnus såg Lumparrock utanför LV4 i Ystad den 31 maj 1990. Artisterna som spelade var The Sinners, Ystads RockOrkester (YRO) och Pernilla Wahlgren.
The Sinners var förstås överlägset bäst – inte så konstigt då de är ett av Sveriges absolut bästa band någonsin. De spelade många bra låtar, bl a Kiss Her To the Bone, Love You More Than This, Little Queen Of Hearts och When She Lies.
Foto av Johan Gislen. Tack till Sven Köhler och The Sinners för lån av foto.
Setlista
Kiss Her To The Bone
Love You More Than This
I Pushed My Luck
Little Queen Of Hearts
When She Lies
Övriga låtar kommer jag inte ihåg
The Sinners
Sven Köhler (Sång & tamburin)
Michael Sellers (Gitarr)
Henki van den Born (Gitarr)
David Sellers (Bas)
Kiddie Manzini (Trummor)
Evenemang
Övriga band/artister