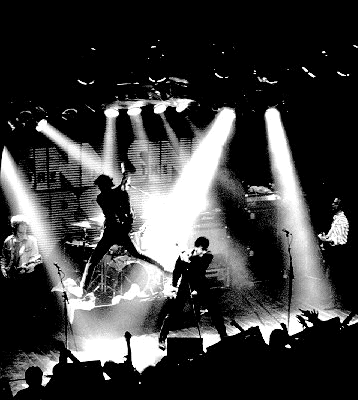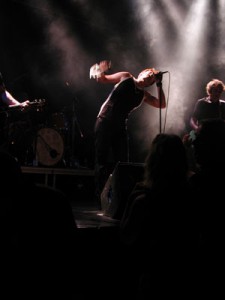 Den 13 september 2002 spelade The Sinners live på Mejeriet i Lund. Jag var inte själv på plats, men tar ändå med denna eftersom det var första gången jag lyssnade på en konsert live via Internet. Det var sångaren Sven Köhler som tipsade mig om spelningen i ett mail veckan före.
Sinners har alltid varit ett av mina största svenska favoritband och det hördes att detta också var en grymt bra konsert (jag har sett dom live 3 gånger).
Bästa låtarna var Sucking You Dry, Love You More Than This, When She Lies, Gimme Some Dreaming och Turn it Up.
Foto av Johan Gislen. Tack till Sven Köhler och The Sinners för lån av foto.
Setlista
Sucking You Dry
Feeling Fine
Love You More Than This
Hot Shot
When She Lies
Gimme Some Dreaming
Heading South
Hurricane Shuffle
Needy You So Bad
Busy Doing Nothing At All
Diving for Pearls
Burning Love (cover av Elvis Presley)
Gotta Go
Turn it Up
Open Your Door (extranummer)
Hey Bulldog (extranummer)
Wipe Away Those Tears (extranummer)
The Sinners
Sven Köhler (Sång & tamburin)
Michael Sellers (Gitarr)
Henki van den Born (Gitarr)
David Sellers (Bas)
Kiddie Manzini (Trummor)
Videos
Feeling Fine
Love You More Than This
When She Lies
Hurricane Shuffle & Gotta Go