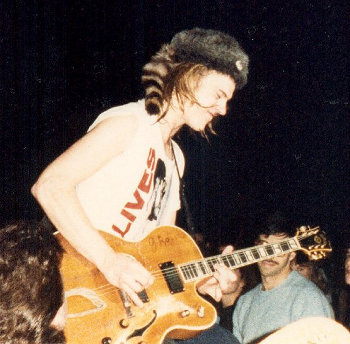 Tommy Conwell & The Young Rumblers live i Lund
Den 3 mars 1989 såg jag, Mikael och Magnus en helt fantastisk konsert med Tommy Conwell & The Young Rumblers på Mejeriet i Lund. Detta är en av de bästa inomhuskonserter jag någonsin sett. Det var ett helt makalöst ös konserten i genom.
I publiken fanns bl a Nisse Hellberg, Sticky Bomb, Karl Kanga och Jakob Hellman.
Bandet hade året före släppt plattan Rumble som är grymt bra och därifrån de flesta låtar var hämtade. Bästa låtarna under kvällen var Half a Heart, I Wanna Make You Happy, I'm Not Your Man, If We Never Meet Again, Love's On Fire, Walkin' On Water och Workout. Setlistan nedan är inte fullständig.
Under Workout tog sig Tommy Conwell (spelande gitarr och iförd Davy Crocket-mössa) uppför balkong-avsatserna, ner bakom och upp på scenen igen.
När bandet tackade för sig fick vi som stod längst fram high-fives och jag undrar om jag inte har kvar ett av Tommys plektrum någonstans.
Konserten fick högsta betyg av Olle Berggren i Kvällsposten som skrev:
"Rock'n'roll för grabbar som kör Amazon, dricker pilsner, spelar luftgitarr alternativt ishockeyspel. Inget för posörer och Phil Collins-fans"
Tommy Conwell & The Young Rumblers
Tommy Conwell (Sång & gitarr)
Chris Day (Gitarr)
Paul Slivka (Bas)
Jim Hannum (Trummor)
Rob Miller (Keyboards)
Recensioner
5 – Femstjärnigt Conwell – Olle Berggren (Kvällsposten)
Livsfarligt ös – Håkan Engström (Sydsvenskan)
Härlig bus-rock – Maria Anderberg (Arbetet)
Videos
Half a Heart
If We Never Meet Again
Workout