Baditudes live i Helsingborg
Den 17 november 2023 såg jag Baditudes live när de spelade på den lilla scenen på The Tivoli efter att Sator hade spelat på den stora scenen.
Jag hade aldrig hört Baditudes tidigare, men de är ett coverband från Eskilstuna som spelar punklåtar.
I inledningen spelar de bl a Sex Pistols "Holiday in the Sun", Ramones "I Wanna Be Sedated" och "Folk bits" från Ebba Gröns debutalbum "We're Only in It for the Drugs".
Lite senare är det dags för nästa Sex Pistols-låt, "Bodies".
Baditudes fortsätter med "Basket Case" (Green Day), "Suzy Is a Headbanger" och "Teenage Lobotomy" (Ramones) och "White Riot" (The Clash).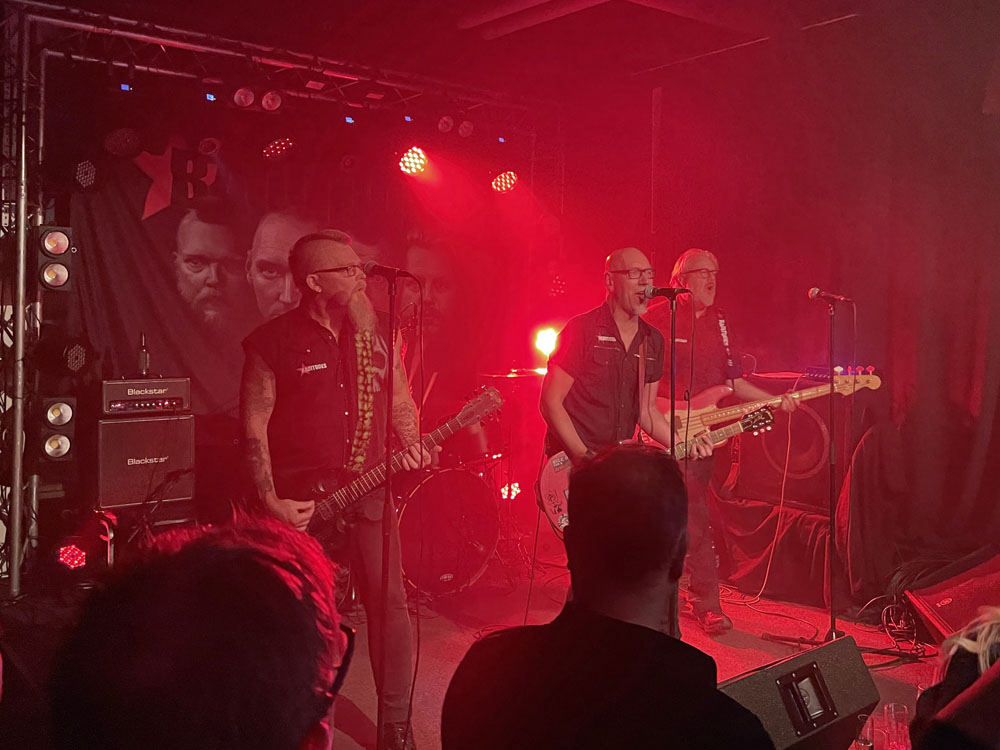 Det är absolut inget fel på urvalet av låtar. Tvärtom, verkar Baditudes ha riktigt bra musiksmak och låtarna de spelar tillhör verkligen mina favoriter bland punkband och deras bästa låtar.
Men även om låtarna de spelar är kanonbra så känns det efter en stund som något saknas. Dels tycker jag det hela låter lite för snällt. Dels är det samma sak som med i stort sett alla coverband/tribute-band. Det är en sak om man spelar några covers bland sina egna låtar (som Sator gjort en stund tidigare), men det är något annat när det enbart är coverlåtar. Och det är inte speciellt punkigt när alla i bandet har likadana skjortor på sig…
Jag såg inte riktigt hela spelningen utan gav mig även hemåt lite i förtid.
Baditudes
Jörgen Bröms (sång, gitarr)
Johan Liljegren (gitarr, sång)
Anders Friberg (bas, sång)
Christer Heldring (trummor)
Headliner
Andra förband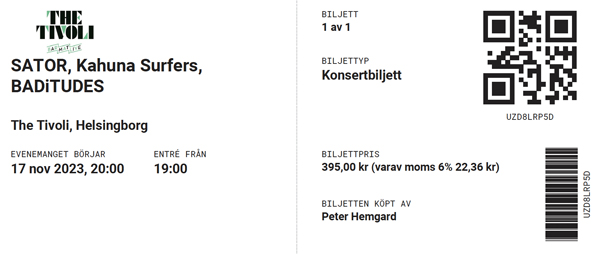 Setlista
???
Holiday in the Sun (Sex Pistols)
Folk bits (Ebba Grön)
I Wanna Be Sedated (Ramones)
Jag ska aldrig dö (Dr Zeke)
Too Drunk to Fuck (Dead Kennedys)
???
Bodies (Sex Pistols)
Basket Case (Green Day)
Suzy Is a Headbanger (Ramones)
Teenage Lobotomy (Ramones)
White Riot (The Clash)
???