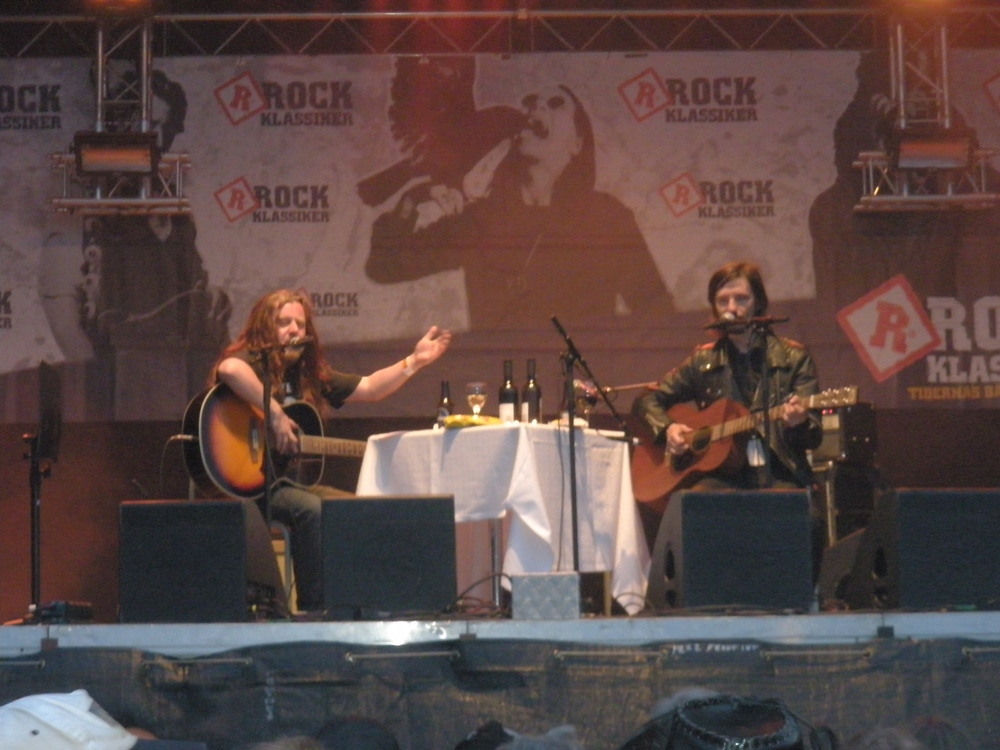 Chips & Kent live i Norje
Den 10 juni 2011 såg jag Chips & Kent live på Sweden Rock Festival i Norje. De spelade på Rockklassikerscenen.
Sator har alltid varit ett stort svenskt favoritband och jag har sett 2 mycket bra konserter med dem live – senast förra året på SRF. Jag blev därför mycket glad när jag såg att Chips Kiesby och Kent Norberg skulle göra en akustiskt spelning tillsammans på årets Sweden Rock Festival.
Det blev en fullkomligt lysande timme med Chips & Kent på Rockklassikerscenen. De kom in satte sig på varsin stol med ett borde med lite öl & vin. Med sig hade de varsin akustisk gitarr, hälsade välkomna hem till oss och började spela.
Det började bra direkt med låtar som Pigvalley Beach, Restless Again och This Is My Life (cover av Gasolin').
Efter några låtar tog sig Sators basist Heikki Kiviaho fram genom publiken, över staketet och upp på scen för att hjälpa till. Han blev kvar resten av spelningen… Efter ett tag skulle Heikki stå med ena foten på stolen och den andra på det lilla bordet – Kent sa: du trampar på din iPhone just nu… På sista låten kom även Sators trummis Michael Solén upp på scen.
Sedan skulle de ha en "tävling", som Kent hade hittat på. Vinnaren var den som fick publiken att sjunga mest allsång. Eftersom det var Kents tävling skulle han börja och valde I Wanna Go Home. Det blev förstås massor av allsång till Sators bästa låt. Chips kontrade med att ta fram elgitarren och sjunga covern Fuck You…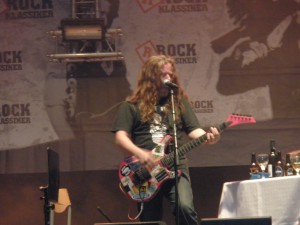 Chips & Kent sa att en av dagens höjdpunkter var Jason & The Scorchers spelning och det var uppenbarligen ömsesidigt för i början av spelningen hade jag Pontus Snibb och Al Collins från JATS bredvid mig.
Det blev fler bra låtar, bl a When You Lie Down With Dogs från nya plattan Under the Radar och hyllningen till Joey Ramone – Goodbye Joey.
På slutet kom även klassikerna I'd Rather Drink Than Talk och We're Right, You're Wrong.
Chips & Kent gjorde en av festivalens allra bästa spelningar!
Setlista
Pigvalley Beach
Rise Again
This Is My Life
I Wanna Go Home
Fuck You
When You Lie Down With Dogs
Goodbye Joey
We're Right, You're Wrong
I'd Rather Drink Than Talk
Övriga låtar minns jag inte
Chips & Kent
Kent Norberg (Sång, gitarr)
Chips Kiesby (Sång, gitarr)
Övriga musiker
Heikki Kiviaho (Bas, sång)
Michael Solén (Sång)
Evenemang
Videos
Rise Again
This Is My Life
Goodbye Joey
We're Right, You're Wrong