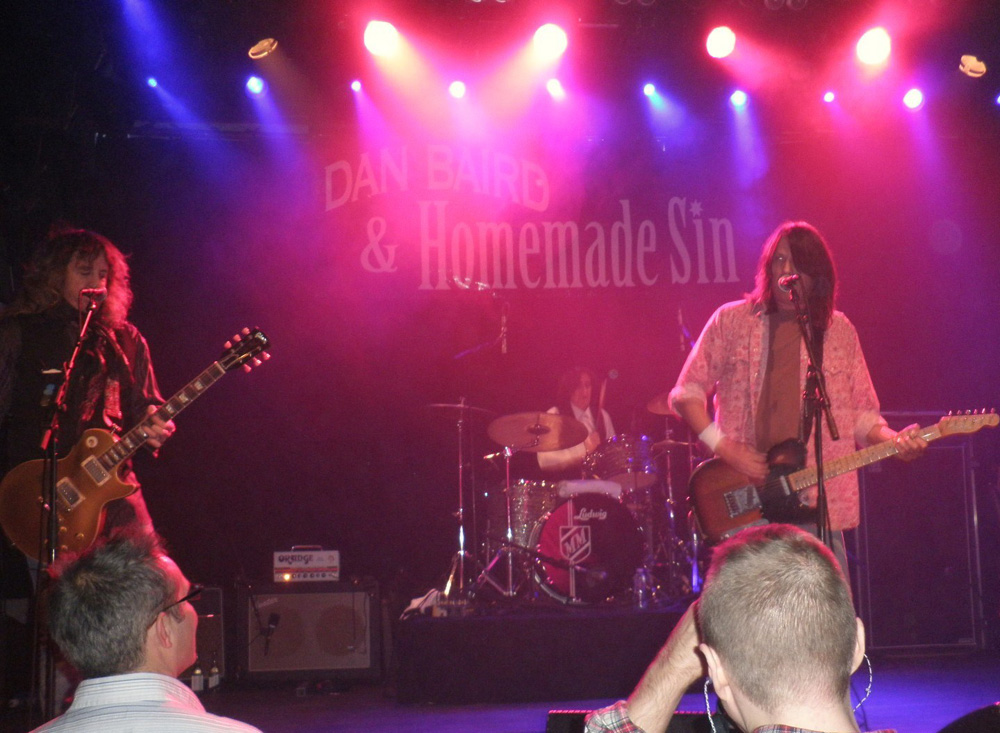 Dan Baird & Homemade Sin live i Stockholm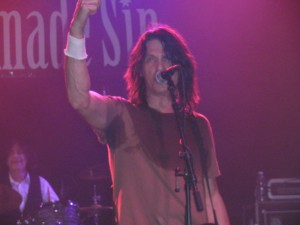 Den 10 november 2011 såg jag Dan Baird & Homemade Sin live på Göta Källare i Stockholm.
Dan Baird & Homemade Sin är ett av världens absolut bästa band. I Stockholm bjöd dom på en av årets absolut bästa konserter på Göta Källare. Det var en fenomenal uppvisning i rock'n'roll, som jag sent kommer att glömma.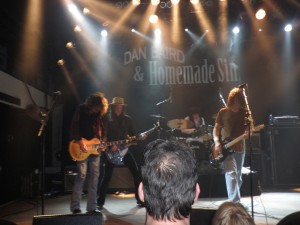 Dan Baird, Mauro Magellan och Keith Christopher spelade tidigare alla tre i Georgia Satellites medan Warner E Hodges är gitarrist i Jason & The Scorchers. Fyra otroligt bra musiker.
Spelningen öppnade i högsta fart med bl a I Dunno, Julie and Lucky och I Love You Period, som alla är ösiga rocklåtar som direkt satte stämningen.
L'il Bit, Dan Takes 5 och Keep Your Hands to Yourself är även dom rock'n'roll av högsta märke – det blir helt enkelt inte bättre än så.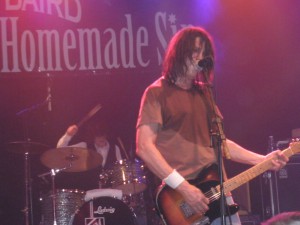 Dan Baird lirar också några låtar som är lite lugnare, men med jäkligt sköna melodier, t ex Two for Tuesday och Crooked Smile.
All Over But the Cryin' är en lysande låt som växlar tempo flera gånger. Detta var en av kvällens bästa låtar.
Keith Christopher tar över mikrofonen i She Dug Me Up och Warner E Hodges gör detsamma under Don't Pass Me By. Den senare tillhör Georgia Satellites bästa låtar.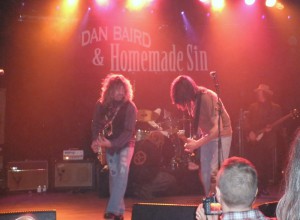 Under Younger Face kommer Pontus Snibb upp på scen och tar tillfälligt över trummorna. Mauro Magellan ställer sig alldeles framför mig i publiken och diggar som det värsta fanset. Riktigt coolt att se!
Avslutningen är en uppvisning i hur rock'n'roll ska låta – Railroad Steel och Sheila / Do You Wanna Dance / Sheila.
Tack för en fenomenal konsert!!!
Setlista
I Dunno

Julie and Lucky

Damn Thing to Be Done

I Love You Period

Crooked Smile

L'il Bit

Two for Tuesday

Lazy Monday

Dan Takes 5

Keep Your Hands to Yourself

She Dug Me Up

I Just Can't Wait

All Over But The Cryin'

Railroad Steel

Younger Face

Don't Pass Me By

Sheila / Do You Wanna Dance / Sheila
Övriga låtar minns jag inte
Dan Baird & Homemade Sin
Dan Baird (Sång & gitarr)
Warner E Hodges (Gitarr & sång)
Keith Christopher (Bas & sång)
Mauro Magellan (Trummor)
Övriga musiker
Pontus Snibb (Trummor på Younger Face)
Förband
Publik
Ca 250
Videos
I Love You Period
L'il Bit
Dan Takes 5
Keep Your Hands to Yourself
Railroad Steel
Younger Face