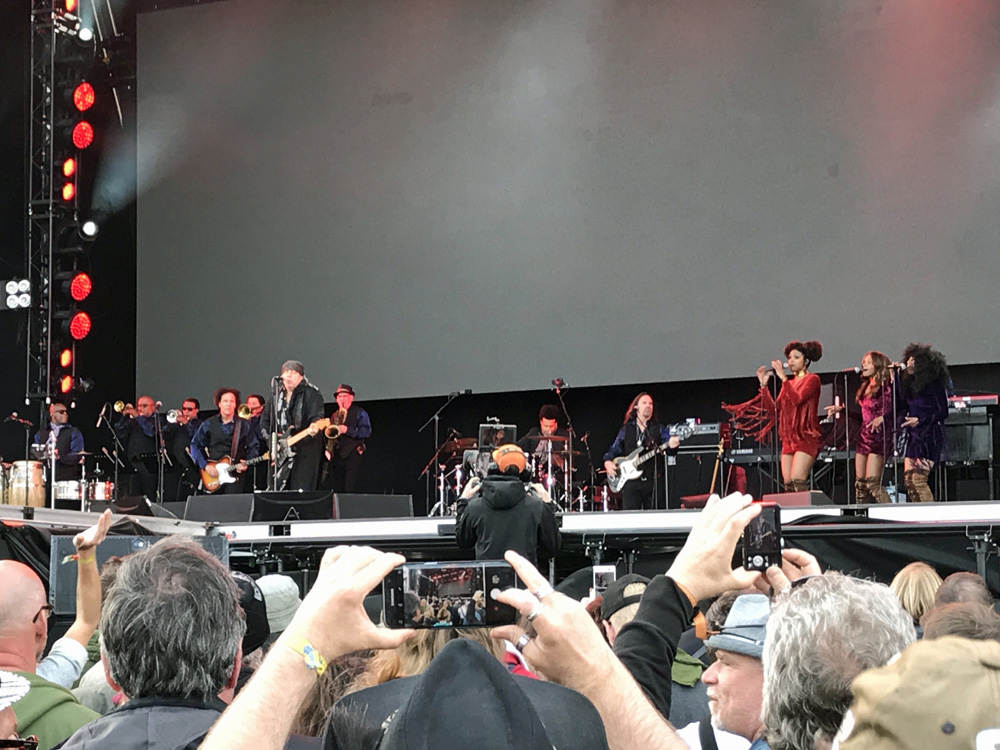 Little Steven & The Disciples of Soul live i Norje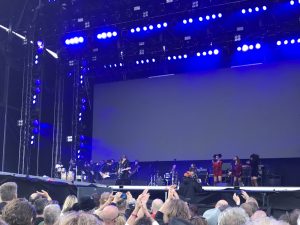 Den 9 juni 2017 såg jag Little Steven & The Disciples of Soul live på Sweden Rock Festival i Norje. De spelade på Festival Stage.
På kvällen spelade hela festivalens höjdpunkter – tyvärr delvis samtidigt. Jag har sett Little Steven många gånger när han spelat tillsammans med Bruce Springsteen & The E Street Band, men för första gången fick jag se Little Steven & The Disciples of Soul.
Jag stod väldigt långt fram nära scenen och fick se Little Steven och stora Disciples of Soul. Första låten "Salvation" från albumet "Born Again Savage" är kanske ingen av mina favoriter, men det är kul att se Little Steven på scen igen.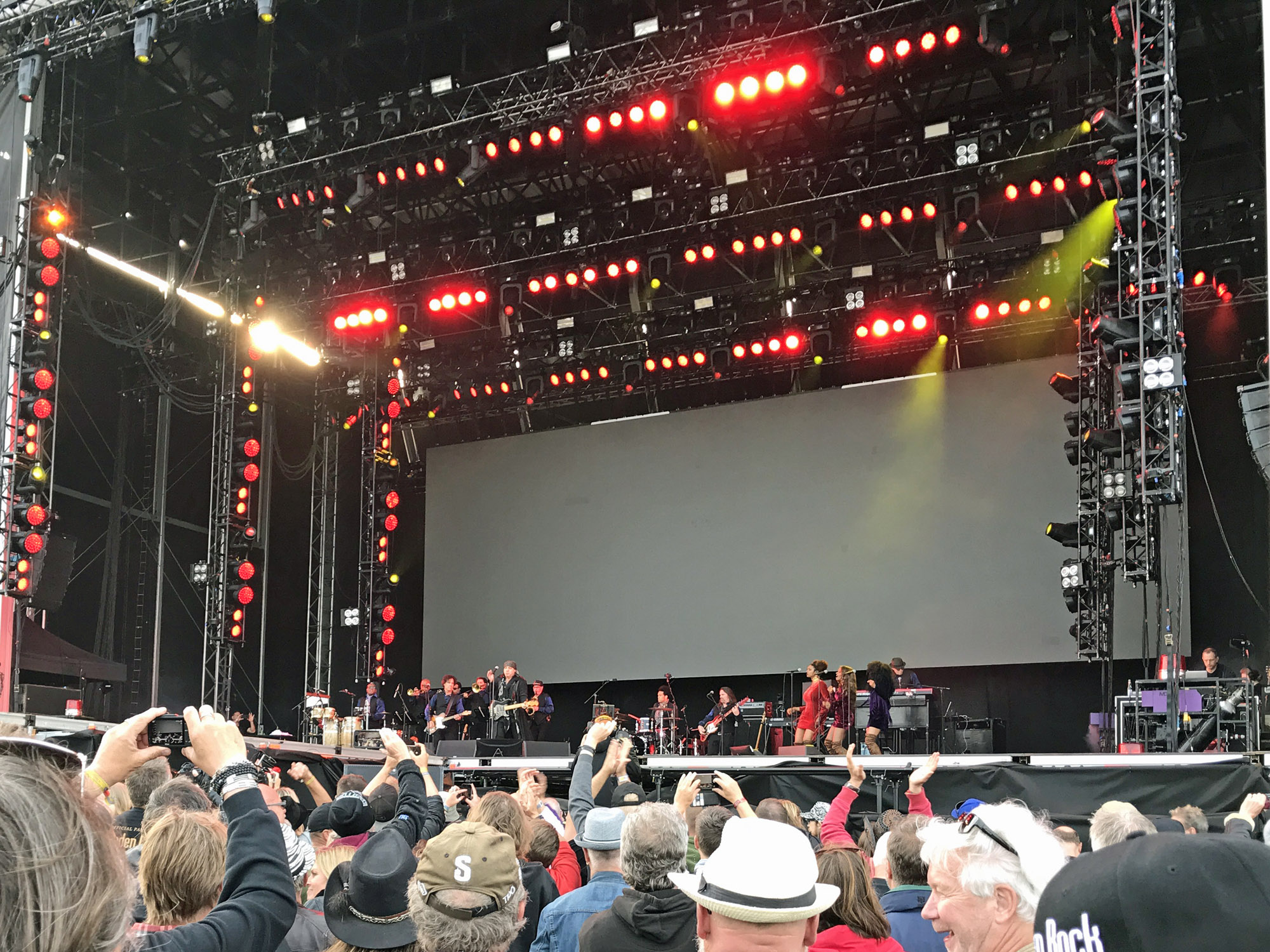 Hälften av setlistan kommer från nya albumet "Soulfire", som både består av nya låtar och sådana som Steve tidigare skrivit åt andra artister. Titellåten "Soulfire" är ny. Precis som låttiteln antyder är det en soullåt.
1991 släppte Southside Johnny & The Asbury Jukes sitt bästa album, "Better Days". Plattan producerades av Little Steven, som även skrev de flesta låtarna. En av de bästa låtarna bland dessa är "Coming Back", som nu även finns med Steve själv, på "Soulfire". Little Steven rockar och det är en av kvällens bästa låtar. Man ser direkt att det är en samling mycket duktiga musiker. Härlig rock'n'roll.
"The Blues is My Business" är en cover av Etta James som även den finns med på "Soulfire". "Freedom" är från albumet "Freedom No Compromise".
En av de bästa nya låtarna är "I Saw the Light". Jag är imponerad av de 3 körtjejerna som sjunger, dansar och hoppar konserten igenom – inte minst i denna låten. Charley Drayton har bra fart på trummorna, liksom Everett Bradley på percussion. Ja, det är härligt tryck på hela bandet.
"Standing in the Line of Fire" skrev Steve åt Gary U.S. Bonds, men finns även den på nya skivan. Little Steven har alltid varit mycket politisk engagerad, vilket märks tydligt i flera av hans låtar. En av dessa är "No More Party's" från "Freedom No Compromise". Det är en bra liveversion.
Avslutningen av spelningen är mycket bra. "Among the Believers" är en bra låt från "Voice of America". Ed Manion är mycket bra på saxofon. Jag har tidigare sett honom spela med Bruce Springsteen, Southside Johnny och senast på "Light of Day" i Hässleholm i vintras.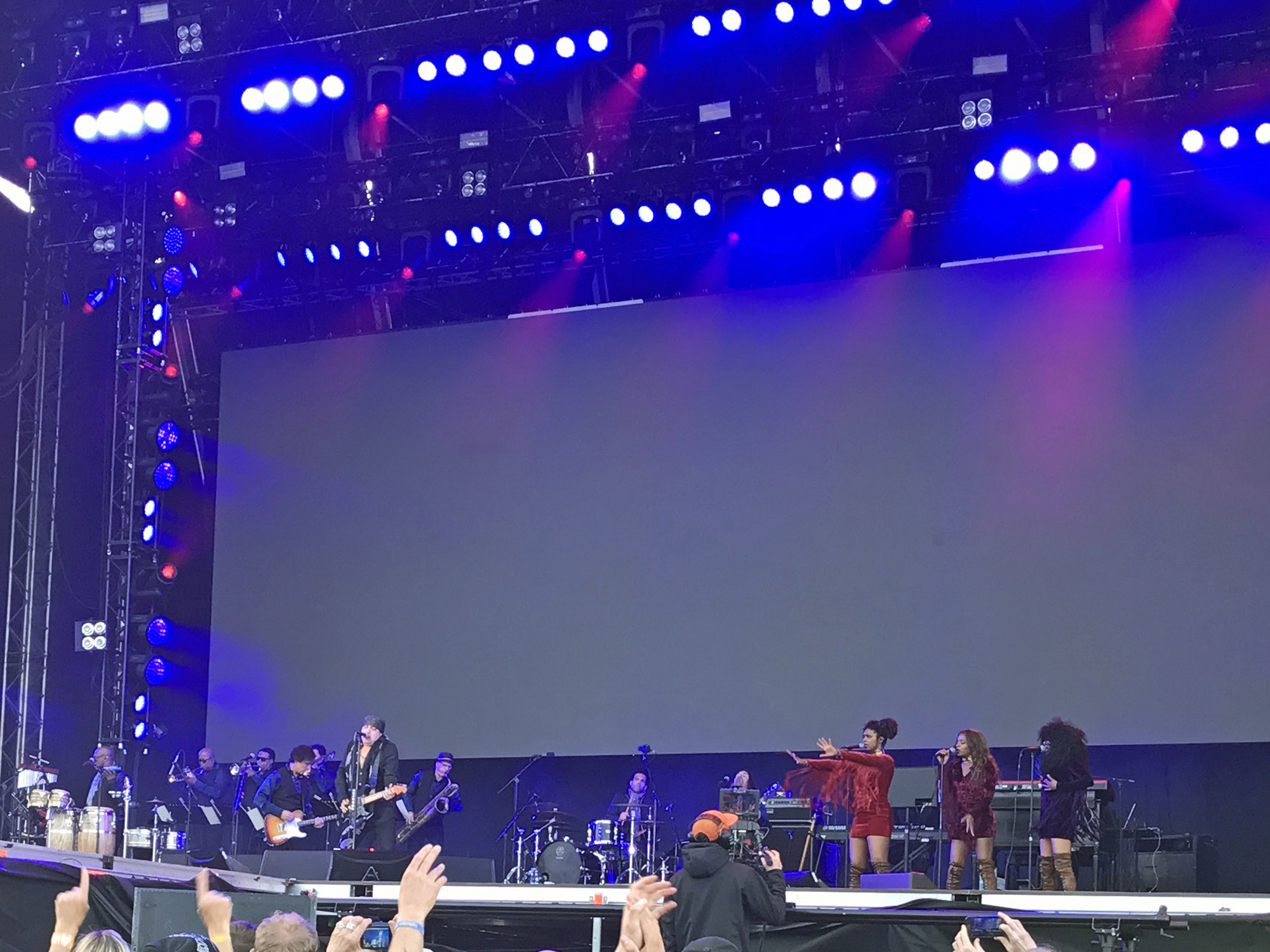 "Bitter Fruit" är kanske en av Little Stevens mest kända låtar. Den fanns också med på "Freedom No Compromise", men är inte någon av mina favoriter.
"Ride the Night Away" är en helt fantastisk rocklåt som tidigare spelats in av 2 av mina stora favoriter: Jimmy Barnes och Southside Johnny & The Asbury Jukes. Det är också en av de bästa låtarna på Little Stevens "Soulfire". "Ride the Night Away" är Little Stevens bästa låt på Sweden Rock. Grym rock'n'roll med ett härligt band som verkligen kan ösa på. Sköna gitarrsolon med både Little Steven och Marc Ribler.
Little Steven är en entertainer och bestämmer sig för att avslutningsvis bjuda på så stor glädje som möjligt. Både band och publik har hur kul som helst under den grymma covern av Chuck Berrys "Bye Bye Johnny".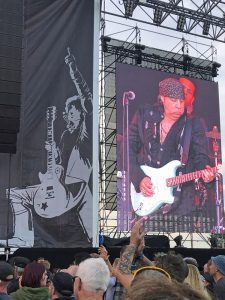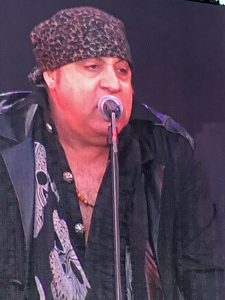 Little Steven & The Disciples of Soul gör en mycket bra spelning och det är kul att äntligen ha fått se dem live, men jag kan inte komma ifrån att jag är lite besviken över låtvalen. Visst, men hinner inte med så många under 1 timme och 1 kvart, men…
Debutplattan "Men Without Women" är Little Stevens bästa album. Från detta spelas inga låtar alls. Näst bästa skivan är "Voice of America" och därifrån hämtas bara 1 låt (och den tillhör inte dom bästa på plattan).
Under turnén 2017 har Little Steven bl a spelat följande låtar, som jag gärna hade hört under kvällens konsert: "Love on the Wrong Side of Town", "Until the Good is Gone", "Princess of Little Italy", "Solidarity", "I Am a Patriot", "Forever", "I Don't Want to Go Home", "Something's Just Don't Change", "It's Been a Long Time", "Inside of Me", "I Played the Fool" och inte minst "Out of the Darkness".
Little Steven har skrivit otroligt många bra låtar. Många fler än vad de flesta känner till. Han är en grym gitarrist och en härlig showman. Kvällens konsert var mycket bra, men med fler av de bästa låtarna från hans gedigna katalog hade det kunnat vara ännu bättre.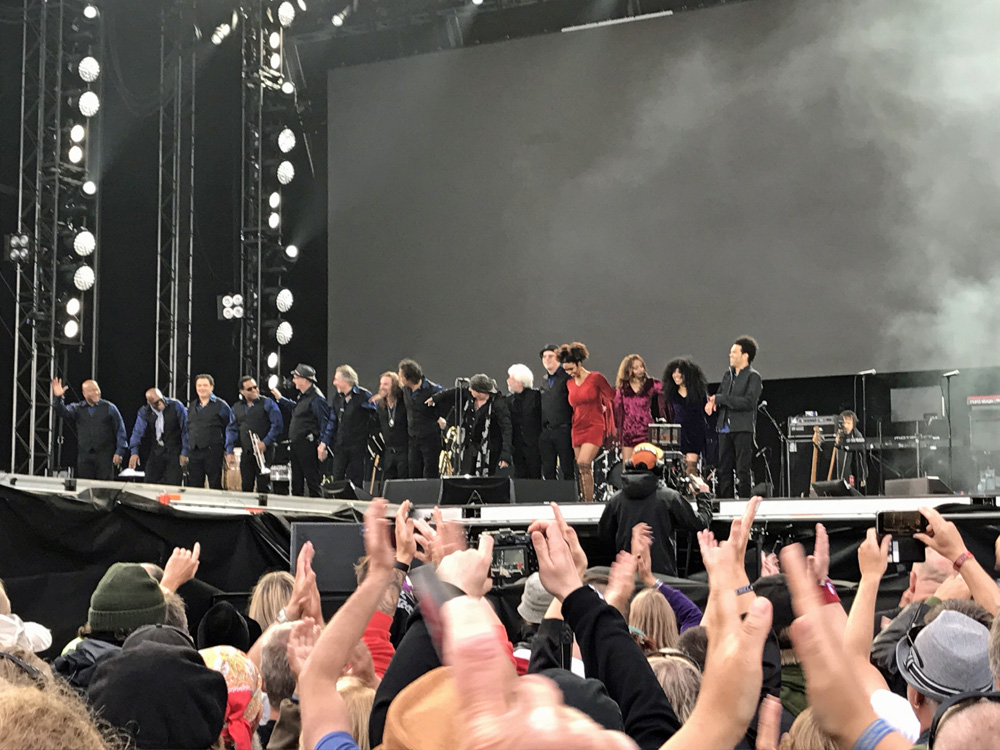 Little Steven & The Disciples of Soul
Steve Van Zandt (Sång, gitarr)
Marc Ribler (Gitarr)
Jack Bradley (Bas)
Charley Drayton (Trummor)
Lowell "Banana" Levinger (Piano)
Andy Burton (Orgel)
Everett Bradley (Slagverk)
Ed Manion (Saxofon)
Stan Harrison (Saxofon, flöjt)
Clark Gayton (Trombon)
Ravi Best (Trumpet)
Ron Tooley (Trumpet)
Jackie Perkins (Kör)
Sara Devine (Kör)
Tania Jones (Kör)
Evenemang
Recension
3 – Expressen
Video
Soulfire
Among the Believers