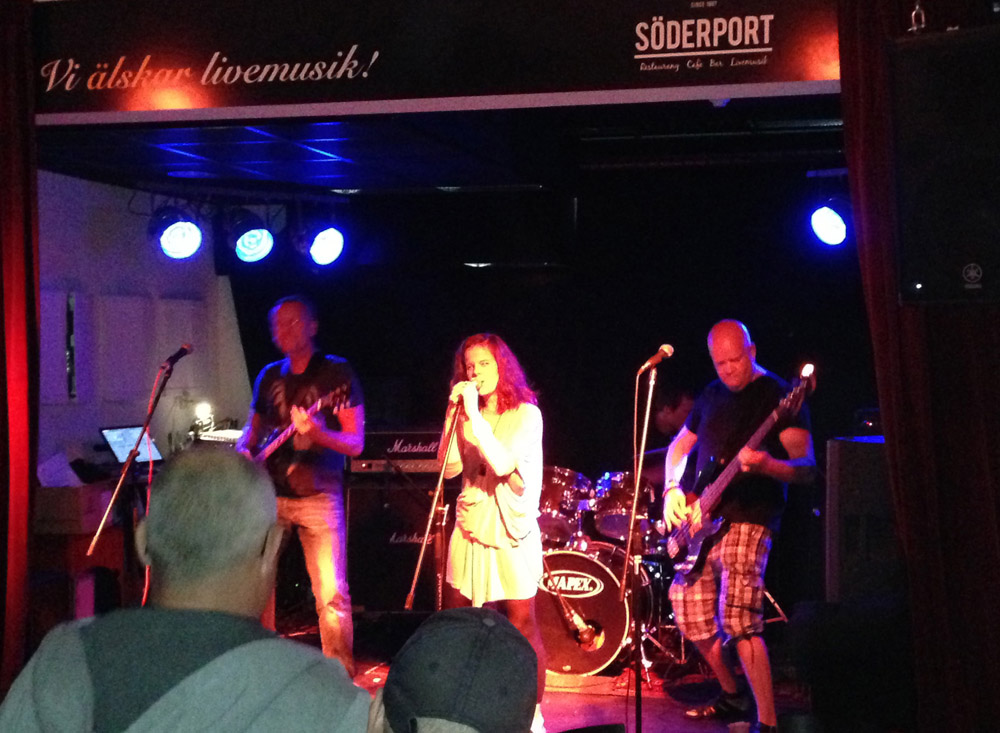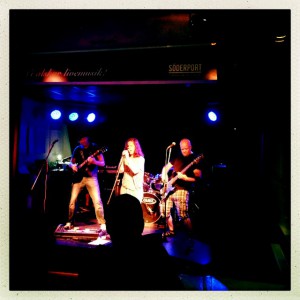 Den 10 augusti 2013 såg jag Squeak live på Söderport under Kalmar Stadsfest.
Squeak är Kalmarband där bl a min lagkamrat från pingislaget, Johan Israelsson, spelar bas. Det var deras första offentliga spelning.
Några timmar tidigare hade jag sett en ojämn spelning med Docenterna på Stadsfesten och jag cyklade vidare till Söderport för lite hårdrock.
Squeak öppnade lysande med You Shook Me All Night Long, Sad But True och The Number of the Beast.
Sångerskan Emilie Bertilsson har en bra rockröst och det var kul att höra bandet spela Highway to Hell  och i synnerhet Sleeping My Day Away.
Efter en paus fortsatte sedan andra set med bl a Back in Black, Enter Sandman, Walk This Way och Holy Diver.
Det var en mycket bra spelning, faktum är att Squeak var bättre än Docenterna…
Setlista
You Shook Me All Night Long (cover av AC/DC)
Sad But True (Metallica)
The Number of the Beast (Iron Maiden)
Becoming (Iron)
Highway to Hell (AC/DC)
Broken, Beat and Scarred (Metallica)
Killing in the Name (Rage Against the Machine)
Psycosocial (Slipknot)
Sleeping My Day Away (D-A-D)
Seek and Destroy (Metallica)
Back in Black (AC/DC)
Walk (???)
Enter Sandman (Metallica)
Walk This Way (Aerosmith)
Holy Diver (Dio)
I Dreamed I Die (Devil Driver)
Squeak
Emilie Bertilsson (Sång)
Johan Israelsson (Bas & sång)
Tomas Strid (Gitarr & sång)
Tobias Lundström (Trummor)
Evenemang
Videos
You Shook Me All Night Long
Highway to Hell
Sleeping My Day Away